150 Companies from 29 Countries to Exhibit at Inter Airport Southeast Asia 2023
[ad_1]


(08/02/23)
 RX Singapore has confirmed that Inter Airport
Southeast Asia (IASEA) 2023, the seventh edition of the airport
exhibition and conference, has attracted 150 exhibitors from 29
countries.
The event, which will take place after a four-year
hiatus at Marina Bay Sands from 1 to 3 March, will see exhibitors showcase
transformative airport equipment, technology, design and services
that are crucial in helping build, operate and maintain smarter
and more efficient airports.
The exhibition will
include 3 pavilions featuring airport innovations from Germany,
Italy and Singapore, of which Italy and Singapore Pavilions are
new additions to IASEA.
The German pavilion alone will bring 23
companies to IASEA – a 27 percent increase in German participation
compared to the previous edition of the event held in 2019.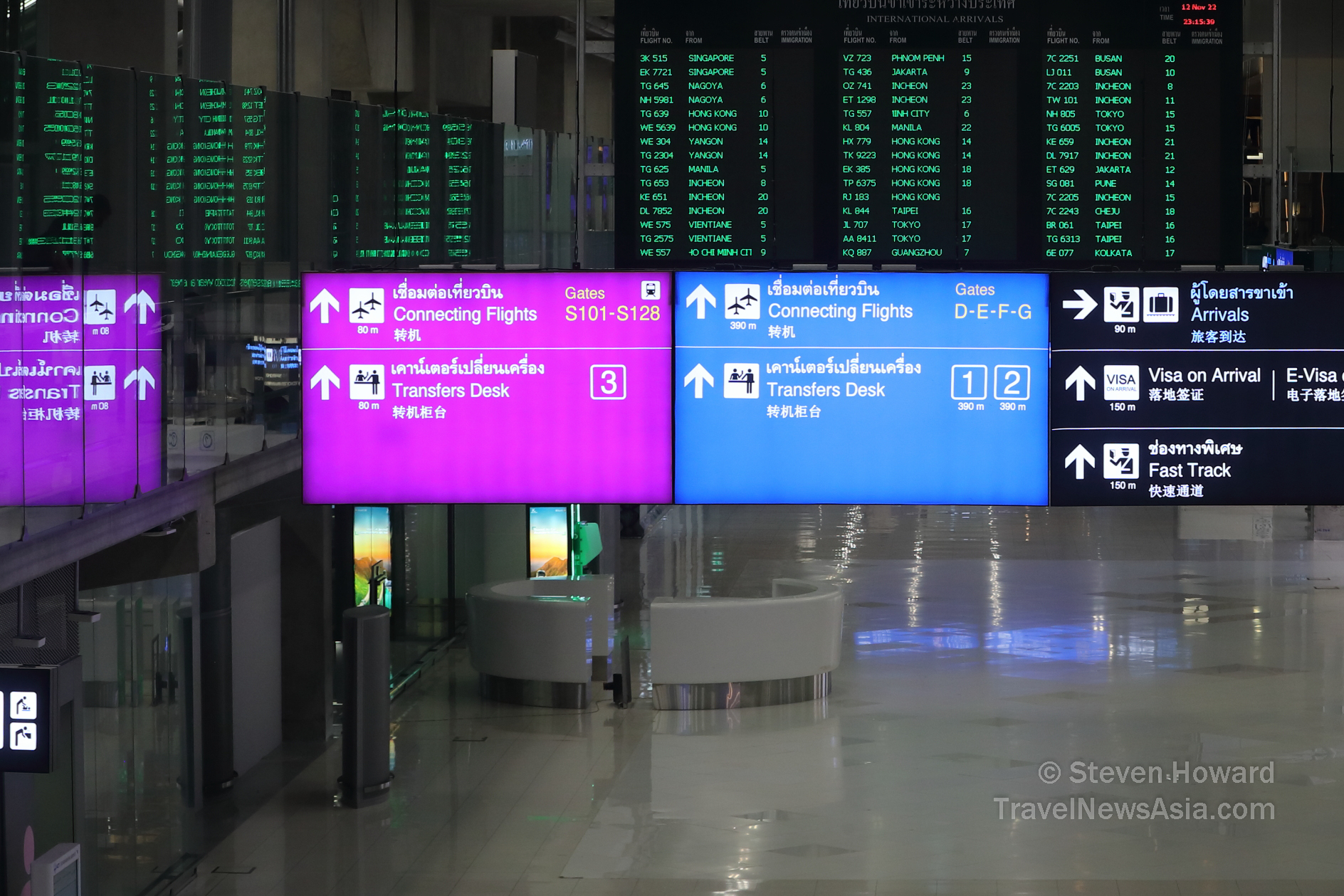 Suvarnabhumi Airport (BKK) near Bangkok, Thailand. Picture by Steven Howard of TravelNewsAsia.com
The
Singapore pavilion, led by the Association of Aerospace Industries
(Singapore), or AAIS, will showcase some made in Singapore airport
innovation solutions, from training to robotics, fuel management
solutions and more.
The Italy pavilion will be led by Air Tech
Italy.
"The Asia Pacific region includes some of
the world's busiest airports and the highest number of known
airport construction projects. Set against the backdrop of
Singapore's status as the global air hub, we felt that inter
airport Southeast Asia returns at an opportune time for us to
showcase some of the best German's innovation," said Christoph
Oftring, Vice President from GATE. "This year's strong German
presence underscores the interest German companies have in this
region and the confidence of IASEA to deliver the right audience
for us."
Some of the prominent exhibitors at IASEA
2023 include ADB Safegate, Avionics Airfield Lighting, Bliss-Fox
by Panus, CW Aero Services, Groupe ADP, Honeywell International,
ITW GSE, JBT AeroTech, TLD Asia Limited, Weihai Guangtai Airport
Equipment, and many more.
Professionals in the
airport, airlines, regulatory bodies, aviation authorities and all
other airport-related industry leaders, will get unlimited access
to the wide-array of airport solutions at the exhibition and
discover new sustainable offerings.
IASEA
2023 Conference: Reconditioning for Asia's Long-haul Growth
As the Asia-Pacific aviation industry is expected to
see faster recovery fuelled by China's reopening, the Spotlight on
China session fronted by Ma Yin, Vice President of Beijing Daxing
International Airport will feature the world's largest airport
project – Beijing Daxing International Airport (PKX) – which is
estimated to have a construction budget of US$11.5 billion. A
game-changer, PKX will increase passenger capacity to 100 million
passengers annually, transforming Beijing into the centre of
global aviation.
With the theme,
"Reconditioning for Asia's Long-haul Growth", the conference
will also cover the following hot topics:
– An Asia
Pacific Outlook Trends and Forecasts of the APAC Industry based on
exclusive statistics and analysis by Piyush Chawla, Managing
Director APAC, Cirium, an industry leader in aviation analytics;
– Global perspective by Jean Roche, Head of International
Engineering Services, ADP International;
– The Technology
Advantage: Identifying and implementing suitable technology to
improve airport sustainability by Ng Kuan Luen – Director, Ventures, Changi Airports International;
– The use of
data analytics for better airport planning – a sharing session by Piyush Chawla, Managing Director APAC and Pang Yee Huat, Solutions Consultant of Cirium. An Exclusive Aviation Data and Insights
Report will be made available to all delegates;
–
Kansai International Airport (KIX): Revamping to meet the needs of
inbound tourism by Ben Dawson, Principal of Populous;
–
The Big List Updated: Airport projects in Asia Pacific and related
opportunities by Brendan Sobie of Sobie Aviation.
Other panels include:
– Recovering from the Pandemic:
Opportunities within the airport ecosystem as traffic in APAC
returns & growth resumes;
– Future Terminals: What will it look
like & what are the opportunities for suppliers?;
– Rising
Southeast Asia: Airports with Big Ambitions;
– Transforming the
Passenger Experience: At the forefront of innovation;
– Back to
Basics: Getting Ahead of the Surge;
– Spotlight on the
Environment: Sustainability, carbon net zero & eco-airports;
and
–
Spotlight on India: Massive airport development underway.
In essence, the IASEA Conference will offer an overall
outlook of the APAC aviation industry, addressing necessary
challenges, underlining opportunities, and revealing exclusive
statistics/data/trends by leading analysts and consultants, to
ultimately allow strategic, sustainable reassessments and
safeguards, as industry landscapes evolve.
Other key airport executives who will
be sharing their expertise and views include:
– Latchida Apaphant, Executive Vice President
(Corporate Strategy), Airports of Thailand;
– Mohd Nadziruddin Mohd Basri, Chief Executive
Officer, Aviation Services (AVS), Malaysia Airlines;
– Anurag
Shandilya, Head of Operations, Noida International Airport;
–
Joseph Sweet, Aviation Business Leader | Australasia, ARUP;
– Tim Aldeburgh, Technical Director, Project Management Consultancy
& Advisory, WSP;
– Prabin Bahttarai, UAV Expert, Flight Safety
Standard Department, Civil Aviation Authority of Nepal;
–
Richard Tan, Regional Manager Operations, Safety and Security,
APAC, International Air Transport Association (IATA);
– Sameer Saksena, Industry Consultant; and
– Raghu Seelamonthula, Strategy &
Marketing, Airports & Tower Solutions, Airports Business,
Honeywell.
"Passenger travel has been on the rise. At Noida
International Airport, which is second Airport in the Catchment of
Delhi, the Capital city of India, it is our priority to enhance
passenger experience when they travel through our airports," said Anurag Shandilya, Head of Airport Operations, Noida
International Airport, India. "Many things have evolved with the
pandemic. We are now refining our offerings such as contactless
touchpoints and other digital solutions to create a safe
environment for our passengers and partners. We are also bringing
in elements for greater flexibility to ensure an efficient
process. I am looking forward to exchange ideas and best practices
with industry leaders in redefining the airport experience and
advancing the airport of the future."
The IASEA Conference is complimentary for all
attendees.
Latest videos: Noise
Cancelling Ear Plugs for a Perfect Night's Sleep,
Running
Lights – Lumefit Premium 360° Reflective Vest Review,

Steven Howard Outlines Travel News Asia's Video and Podcast Plans
for 2023, Amari
Watergate Bangkok – 4K Video Interview with Sukamal
Mondal, Area GM.
[ad_2]

Source link