Accor to Expand Legendary Orient Express Brand to Cruise Market
[ad_1]


(18/01/23)
 The legendary Orient Express brand, which has
over 140 years of unrivalled luxury train travel history, has
unveiled plans to head
out to sea with the world's largest sailing ship, the Orient
Express Silenseas.
The result of a partnership between two leading
French companies – Accor and the shipbuilding company, Chantiers de l'Atlantique
– the extraordinary sailing yacht of the future is expected to set sail in 2026.
"With a signed letter of intent to order two
ships, Chantiers de l'Atlantique is proud to herald a new era in
the shipbuilding industry with Silenseas. This concept, born in
our design offices in 2018, is the quintessence of our
savoir-faire in the fields of naval architecture, the construction
of sophisticated hulls, as well as the design of luxurious spaces,"
said Laurent Castaing, Managing Director, Chantiers de l'Atlantique.
"In addition, the installation of three SolidSail rigs, a
revolutionary 1,500-sqm unit wind propulsion system, for
which we have developed and tested a first prototype, will
contribute significantly to the propulsion of the ship. Combined
with a hybrid propulsion system running on liquefied natural gas
(LNG), Silenseas will thus become the ship of reference in terms
of environmentally-friendly operation and design."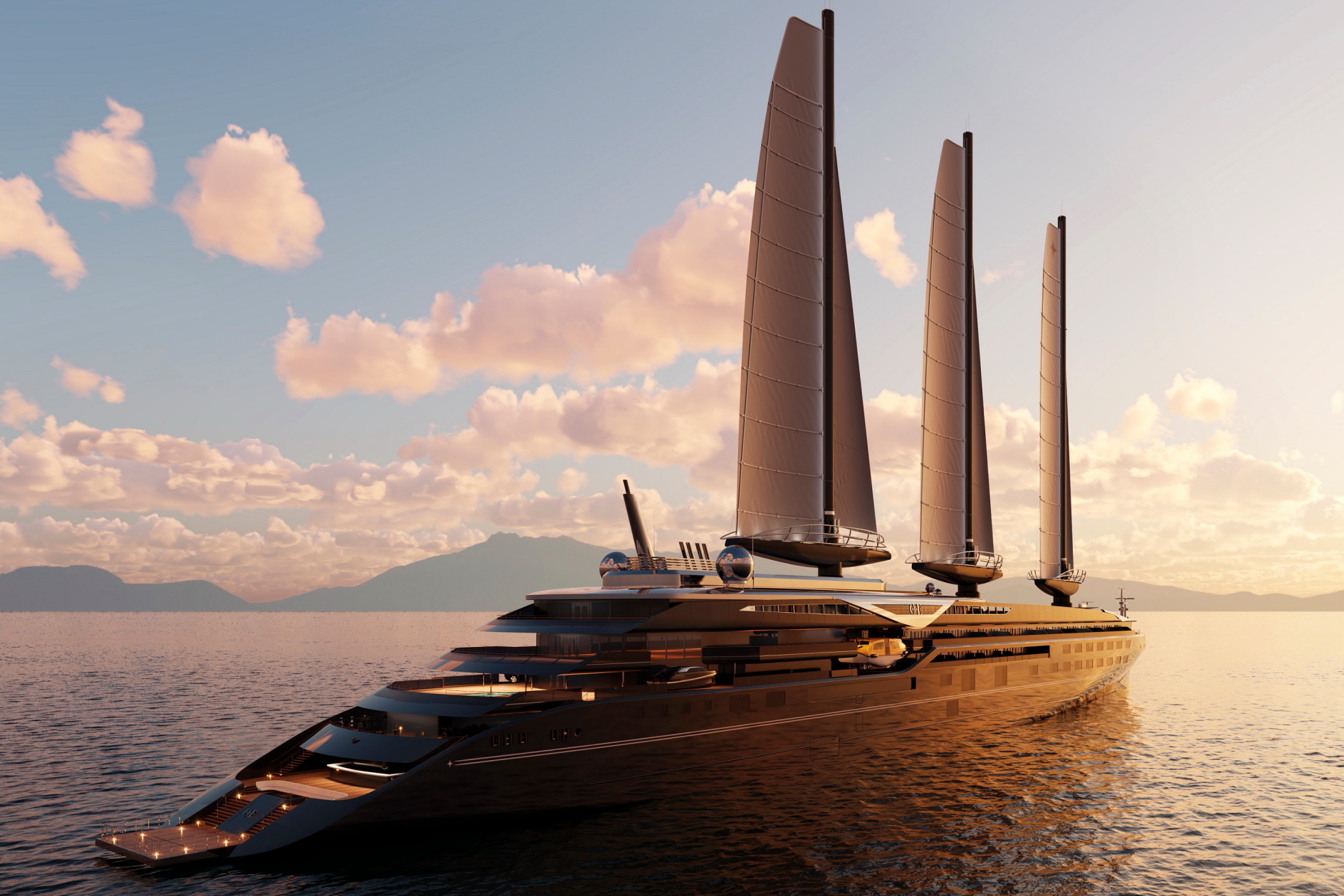 Orient Express Silenseas rendering by Martin Darzacq
In 1867, Georges Nagelmackers boarded the
transatlantic ships connecting Europe to America and set off on a
journey of discovery to the United States.
Fascinated by the
grandeur of those huge boats, the founder of Orient Express trains
explored the luxurious travelers' suites, with their rich and
sumptuous decor, adorned with exceptional marquetry. He
experienced the social scene in the restaurants and the unique
ambiance of the lounges, libraries and entertainment venues. That
journey would later inspire the 1883 launch of his
now legendary train: the Orient Express.
A 220-meter-long ocean treasure with a tonnage of
22,300 UMS, Orient Express Silenseas will feature 54 suites
measuring on average 70-sqm – including a
1,415-sqm Presidential Suite which will have a
530-sqm private terrace; an Amphitheatre-Cabaret; two swimming pools including a
lap pool; a spa; two restaurants; a private recording studio; and
a speakeasy bar.
"With Orient Express Silenseas, we are
beginning a new chapter in our history, taking the experience and
excellence of luxury travel and transposing it onto the world's
most beautiful seas," said Sébastien Bazin, Chairman and CEO, Accor.
"This exceptional sailing yacht, with roots in Orient Express'
history, will offer unparalleled service and refined design
spaces, reminiscent of the golden age of mythical cruises.
Innovation is at the heart of this ultra-modern ship that will
revolutionize the maritime world with new technology to meet
today's sustainability challenges. It is a boat designed to make
dreams a reality, a showcase for the best of French savoir-faire."
Capitalizing on the experience of these experts in
ocean racing, Orient Express Silenseas will sail with a
revolutionary technological design known as 'SolidSail': three
rigid sails with a surface area of 1,500 meters each will be
hoisted on a balestron rig, with three tilting masts reaching more
than 100 meters high, able to ensure up to 100% of the propulsion
in suitable weather conditions.
The hybrid propulsion formula will combine wind
power with a state-of-the-art engine running on liquefied natural
gas (LNG) and plans to use green hydrogen once the technology is
approved for ocean passenger ships.
Renowned architect Maxime d'Angeac will design the
interior layout and decor and Nantes-based design company Stirling
Design International will handle the exterior architecture.
The
entire project will be financed up to 70-80% by commercial banks,
with the remainder provided by a consortium of equity partners in
which Accor will have a minority stake.
Famous for its luxury trains, the Orient Express
brand's first hotels will open in 2024 – Orient Express
La Minerva in Rome and Orient Express Palazzo Donà Giovannelli in
Venice, with a project in Riyadh, Saudi Arabia already in the
pipeline.
Latest HD video interviews: Amari
Watergate Bangkok – 4K Video Interview with Sukamal
Mondal, Area GM, Bangkok Riverside Fest 2023 – 4K Video
Interview with Frederic Kolde, Business Travel Trends in Asia Pacific – Video Interview with Brett Thorstad, Sabre.
[ad_2]

Source link