Air India Signs LOI for 470 Aircraft
[ad_1]


(15/02/23)
 Air India, part of the Tata Sons conglomerate, has
signed letters of intent with Airbus and Boeing to acquire both widebody and single-aisle aircraft.
The LOI comprises 40 Airbus A350s, 20 Boeing
787s and 10 Boeing 777-9s widebody aircraft, as well as 210 Airbus
A320/321 Neos and 190 Boeing 737 MAX single-aisle aircraft.
The
A350 aircraft will be powered by Rolls-Royce engines, while the
B777/787s will have engines from GE Aerospace. All the single-aisle aircraft
will be powered by engines from CFM International.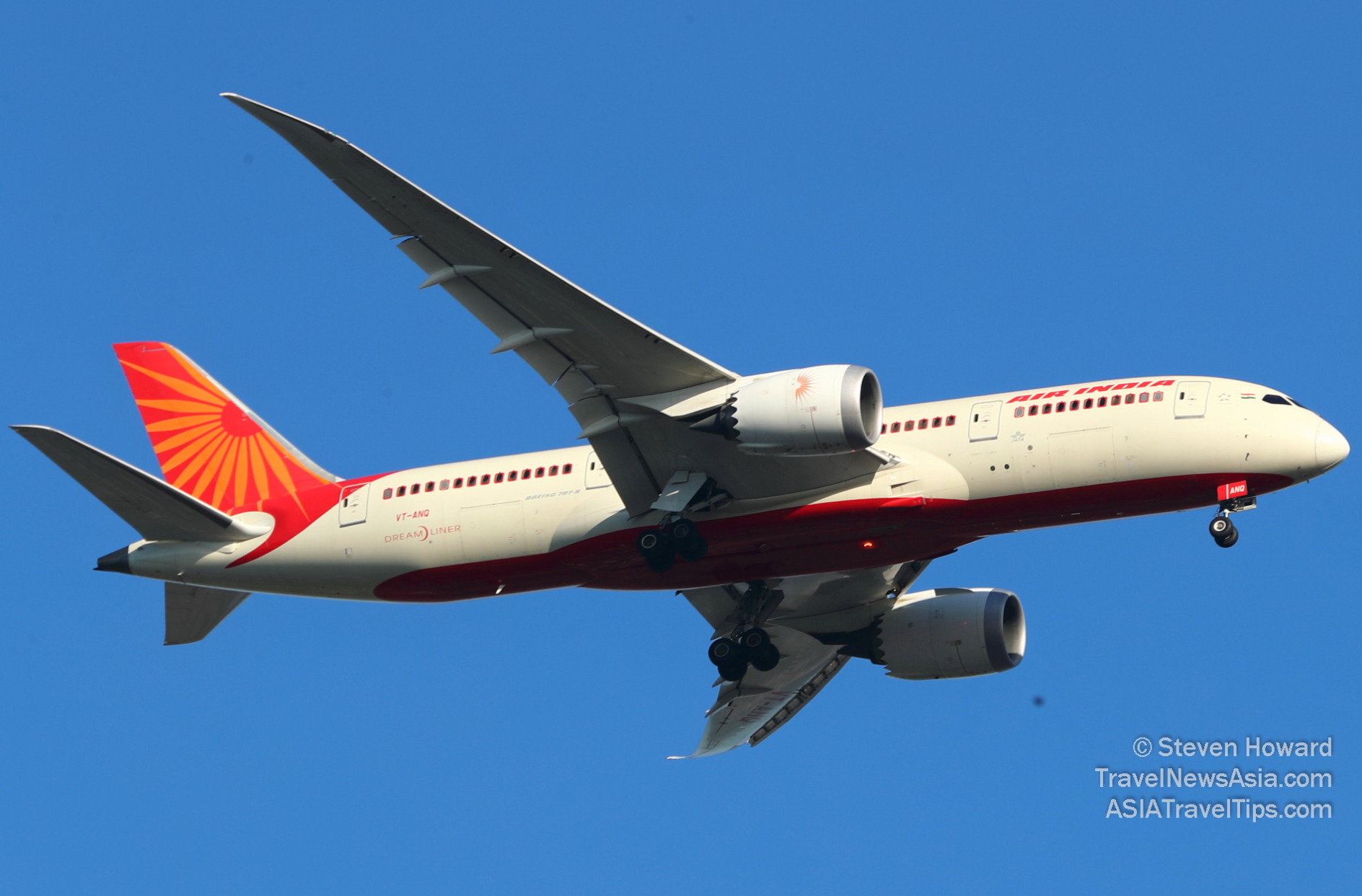 Air India Boeing 787-8 reg: VT-ANQ. Picture by Steven Howard of TravelNewsAsia.com
"India is on the verge of an international air
travel revolution and we are honoured that our partnership with
the Tatas and our aircraft solutions will write that new chapter
for the country's air-connectivity," said Christian Scherer,
Airbus Chief Commercial Officer and Head of International. "The
A350's unique capability will unlock the pent-up potential of
India's long-haul market, its technology, long reach and second to
none comfort will enable new routes and passenger experience with
better economics and enhanced sustainability. Alongside the A350s,
the A320 Family fleets will be the efficient, versatile asset to
continue democratising and decarbonising air travel in the country
– from domestic, regional, up to international levels."
The first of the new aircraft will enter service
in late-2023, with the bulk to arrive from mid-2025 onwards. In
the interim, Air India has already started taking delivery of 11
leased B777 and 25 A320 aircraft to accelerate its fleet and
network expansion.
The acquisition of new aircraft, which will come
with an entirely new cabin interior, complements Air India's
plan to refit its existing widebody B787 and
B777 aircraft with new seats and inflight entertainment systems.
The first of these refitted aircraft will enter service in
mid-2024.
"Air India's selection of Boeing's family of
passenger jets shows their confidence in our products and services
in the world's fastest growing aviation market, and their decision
will support engineering and manufacturing jobs at Boeing
factories in Washington state, South Carolina and across our
supply base," said Stan Deal, president and CEO of Boeing
Commercial Airplanes. "With the industry-leading fuel efficiency
of the 737 MAX, 787 Dreamliner and 777X, Air India is well
positioned to achieve its expansion plans and become a world-class
global airline with an Indian heart."
The Air India group currently comprises
full-service Air India, as well as two low-cost subsidiaries Air
India Express and Air Asia India which are in the process of
merging.
Tata Sons also recently unveiled plans
to merge Air India with full-service airline Vistara, a joint
venture between Tata Sons and Singapore Airlines in which the
former holds a 51% share.
Subject to regulatory
approval, the group will eventually comprise a single full-service airline,
Air India, and a single low cost airline, Air India Express.
"Air India is on a
large transformation journey across safety, customer service,
technology, engineering, network and human resources. Modern,
efficient fleet is a fundamental component of this transformation,"
said N Chandrasekaran, Tata Sons and Air India Chairman.
"This order is an important step in realising Air India's ambition,
articulated in its Vihaan.AI transformation program, to offer a
world class proposition serving global travellers with an Indian
heart. These new aircraft will modernise the airline's fleet and
onboard product, and dramatically expand its global network. The
growth enabled by this order will also provide unparalleled career
opportunities for Indian aviation professionals and catalyse
accelerated development of the Indian aviation ecosystem."
Latest videos: Noise
Cancelling Ear Plugs for a Perfect Night's Sleep,
Running
Lights – Lumefit Premium 360° Reflective Vest Review,

Steven Howard Outlines Travel News Asia's Video and Podcast Plans
for 2023, Amari
Watergate Bangkok – 4K Video Interview with Sukamal
Mondal, Area GM.
[ad_2]

Source link