Airbus Flight Academy Europe Inaugurates Campus in Angoulême, France
(03 Mar 2022, 11:18 +07)
 Airbus Flight Academy Europe (AFAE) has
inaugurated a new campus in Angoulême, France.
The new facility
provides AFAE, which is the first flight school to deliver the
Airbus Pilot Cadet Training Programme in Europe, with the
capacity to train up to 200 pilot cadets at any one time.
The
site spans 4.7 hectares and includes a new building of approximately
3,200 sqm which will be dedicated to the training of aspiring pilots
with 14 classrooms and briefing rooms, a simulator hall, an
auditorium and a restaurant.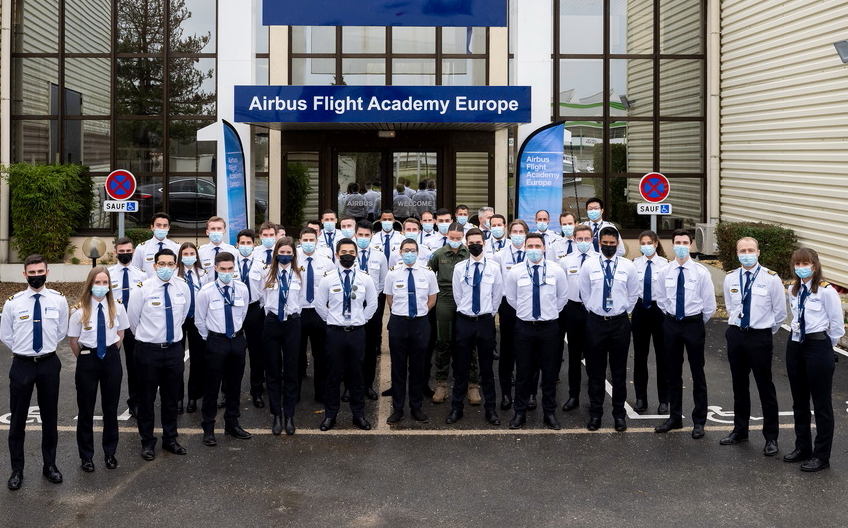 Pilot cadets at the new AFAE campus in Angoulême, France.
The
Airbus Pilot Cadet Training Programme is open to high school
graduates over 18 years old worldwide. Candidates will undergo
online and on-site screening tests before being eligible for
training which will include 750+ hours of ground school, plus 200
hours of practical (flight and simulator) training.
Airbus has forecast that airlines will need around 550,000
more pilots over the next 20 years.
Volotea First to Recruit
Airbus Pilot Cadets
During the
official inauguration of the AFAE campus in Angoulême, Airbus confirmed that Volotea, the Barcelona-based
airline, is the first to recruit its Airbus pilot cadets.
Currently in the final stages of their pilot training,
eleven newly graduated pilot cadets will join Volotea and fly as commercial airline
pilots from April-May this year.
"This is a very important
day for Volotea, as we are taking cadets directly from the Airbus
Flight Academy Europe for the first time. We're all very excited
by it as we know the programme quality is of a very high standard,
adapting perfectly to Volotea´s training philosophy," said Carlos
Muñoz, CEO Volotea. "Our company keeps on growing year after year
our Airbus fleet, and we're going to be needing many more pilots.
We certainly hope this is the beginning of a very successful
long-term partnership with the Airbus Flight Academy benefiting
many young pilots."