Amex GBT Renews Technology Agreement with Amadeus
[ad_1]


(16/02/23)
 American Express Global Business Travel (Amex
GBT) has renewed its strategic long-term technology agreement with
Amadeus.
Amex GBT's B2B travel platform will use a
broad range of Amadeus solutions through the renewed technology
collaboration to deliver servicing and support for customers, and
to provide state of the art disruption management solutions.
Amex GBT will use the Amadeus Travel Platform to
offer the widest possible range of content, including NDC-sourced
content, to customers in an efficient, scalable way through the
Amex GBT marketplace.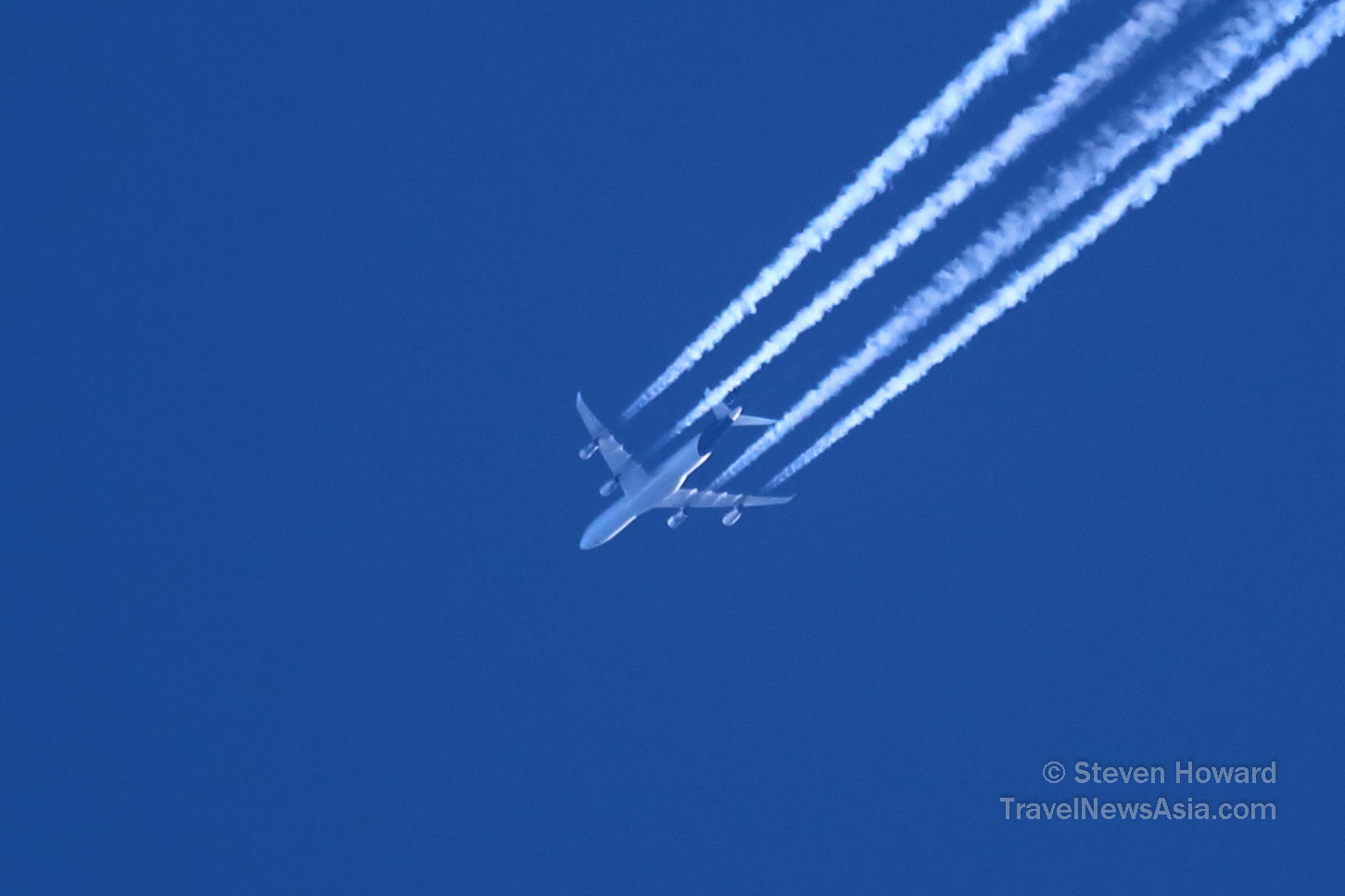 Aircraft flying overhead. Picture by Steven Howard of TravelNewsAsia.com
Rajiv Rajian, Amadeus EVP and Chief Commercial
Officer Travel – Americas, said, "Our new agreement with Amex GBT
focuses on meeting traveler demands of today and tomorrow,
delivering the right content and the right services at the right
moment in the traveler's journey. Our reach across the travel
ecosystem means we can connect the dots in ways that help overcome
content fragmentation. Combined with Amex GBT's expertise and
customer servicing, together we can build the journeys and
experiences travelers want. We look forward to working with Amex
GBT to support their growth for many years to come."
Amex GBT is one of the world's leading B2B travel
platforms, providing software and services to manage travel,
expenses, and meetings & events for companies of all sizes.
In December 2022, Amex GBT published Air Monitor
2023 which forecast widespread air fare price rises around the
world, due to a range of factors including inflation, rising fuel
costs and capacity issues.
The annual report found price changes likely to
vary widely by region, with distinctions across the two
hemispheres.
Europe-North America routes are expected to see
modest rises of 3.7%, while intra-European flights could see
stronger price rises (6% in the business cabin, 5.5% in economy)
as airline capacity recovery lags behind the resurgence of demand.
North American domestic fares are expected to see moderate rises
(3.4% business, 2.9% economy) as more capacity comes online in
2023.
In Asia, price rises are forecast to be sharper,
with economy flights to and from Europe up 12%, 7.6% in the
business cabin. Asia-North America flights are also slated to see
significant rises (5.6% business, 9.8% economy), while Australian
domestic flights are forecast to rise 19.4% in the business cabin.
Some countries in the Asia-Pacific region were slower to reopen
after COVID19 travel restrictions, and an increase in demand
combined with relatively strong economic prospects could put
upwards pressure on prices.
Rajiv Ahluwalia, Amex GBT's EVP, Global Supplier
Partnerships, said, "Having the most valuable marketplace in
travel means delivering the best-in-class air, hotel, and ground
content, along with a full suite of servicing products and
capabilities for our clients. As a key partner, Amadeus is ideally
placed to help us deliver value for customers and suppliers and
continue to bring innovation into the marketplace."
Latest videos: Noise
Cancelling Ear Plugs for a Perfect Night's Sleep,
Running
Lights – Lumefit Premium 360° Reflective Vest Review,

Steven Howard Outlines Travel News Asia's Video and Podcast Plans
for 2023, Amari
Watergate Bangkok – 4K Video Interview with Sukamal
Mondal, Area GM.
[ad_2]

Source link