Asia Digital Engineering Opens MRO Facility in Johor Bahru, Malaysia
[ad_1]


(18/01/23)
 Asia Digital Engineering (ADE), the engineering
arm of Capital A (the company formerly known as the AirAsia Group), has
opened the doors to a new Maintenance, Repair and Overhaul (MRO)
hangar facility in Senai, Johor Bahru.
The 5,000 sqm hangar, built on 107.4 acres at Senai
Airport's Free Industrial Zone (SAFIZ), is the first MRO facility
at the Senai International Airport Aviation Park and ADE's third
MRO facility.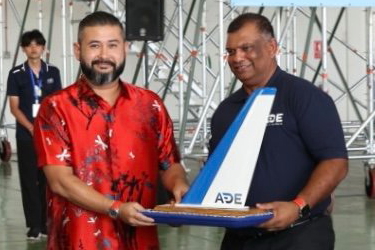 HRH Tunku Ismail Ibni Sultan Ibrahim, Crown Prince of Johor, receiving a personalised memento made from a repurposed aircraft part from Tan Sri Tony Fernandes, CEO of Capital A
"Senai Airport Terminal Services (SATS) has developed a
comprehensive 20-year master plan to transform Senai International
Airport and its surroundings to a world-class airport city. At
ADE, we see this as a golden opportunity for us to expand our
presence and expertise in the MRO space, especially in bringing
more foreign investments to the state and the nation in general
through the aerospace industry" said Mahesh Kumar, CEO of ADE. "In line with ADE's belief
in appreciating and nurturing the community, we look forward to
expanding our hangar facility functions into a training school for
aviation professionals and aerospace engineering students
nationwide and beyond. We believe the best way to grow our company
and the community we serve is to invest in our own people by
reskilling and upskilling them."
With over 20 years of engineering experience
servicing AirAsia, ADE is
extending its expertise and best practices in airline engineering
to third-party airlines providing services including component
support, line maintenance and base maintenance for various
aircraft models, such as the Airbus A320 and A330 aircraft
families, with plans to grow their capacity to service other
aircraft types in the future.
"We are proud that ADE marks a
milestone today in disrupting and changing MRO services in a
significant way, just like how AirAsia disrupted and created a
whole new market for travel more than 20 years ago. We owe a large
part of AirAsia to the maintenance and high efficiency of ADE, and
in turn, guarantee its fleet of work to ADE, which allows it to
reduce costs for airlines, thus lowering fares for customers,"
said Tan Sri Tony Fernandes, CEO of Capital A.
"Moreover, due to Capital A's digital ecosystem with our investment
into data, ADE has greatly been able to benefit using data science
to increase efficiency, reliability and productivity. As a 21st
century engineering company driven by big data, we are sure ADE
will put Johor and Malaysia firmly on the map as a world leading
MRO provider for AirAsia and other third party airlines within the
region."
Latest HD video interviews: Amari
Watergate Bangkok – 4K Video Interview with Sukamal
Mondal, Area GM, Bangkok Riverside Fest 2023 – 4K Video
Interview with Frederic Kolde, Business Travel Trends in Asia Pacific – Video Interview with Brett Thorstad, Sabre.
[ad_2]

Source link