At the BIOFACH joint booth of the Italian Trade Agency, 62 businesses from all over Italy present the culinary delicacies they have to offer
[ad_1]

Italy is leading the field when it comes to organically grown produce.
Italy counts among the leading producers of organic products worldwide. Domestic sales as well as exports have increased steadily in recent years. With an export volume estimated at 3.37 billion euros in 2022 (+ 16% in comparison with 2021), Italy currently holds first place in the ranking of European exporting nations and second place in a global comparison.
Joint booth of the Italian Trade Agency at BIOFACH: regional variety and authentic enjoyment.
Once again this year, the Italian Trade Agency (ITA) has a joint booth at BIOFACH, in order to support selected Italian producers and manufacturers in their marketing. 62 companies will present the organically produced culinary delicacies they have to offer. They come from 17 of 20 Italian regions: Abruzzo, Apulia, Basilicata, Emilia-Romagna, Friuli-Venezia Giulia, Calabria, Campania, Lazio, Lombardy, Marche, Molise, Piedmont, Sardinia, Sicily, Tuscany, Umbria and Veneto.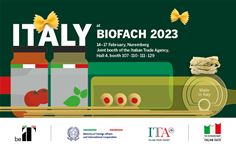 Italian Trade Agency at BIOFACH
Quality organic products from Italy will meet all expectations.
The portfolio of the Italian exhibitors comprises of exquisite olive oils and vinegar specialties, fresh and dried pasta, bakery products, sweet and salty snacks, sauces and pestos, spreads, coffee, lemonades, juices, wines, truffles, pickled or preserved fruit and vegetables and much more – from exclusively manufactured products to new, original ingredients, e.g. truffle flakes or prickly pear extracts in gel or powder form. Quite a few of the presented products bear one of the two EU seals of quality "protected designation of origin" or "protected geographical indication".
"With 62 exhibiting companies, we are setting a new record this year", says Francesco Alfonsi, director of the ITA in Berlin. "Alongside well-established traditional businesses, there are once again several newcomers, and we look forward to supporting their entry into the international market."
Continuous growth despite global crises
The growing interest of Italian firms to take part in BIOFACH points to the impressive dynamics of the Italian organic sector. With an increase of 181%, Italian export volume has almost tripled since 2012. In 2021, 86,144 certified production companies were reported, which corresponds to an increase of 5.4% compared to 2020.
Expansion of sustainable farmland: Italy on the right track
The organically farmed area was around 2.2 million hectares in 2021. Compared to the other countries of the European Union, this puts Italy behind Spain and France in a European comparison, ahead of Germany and Austria. According to Sinab (National Information System for Organic Agriculture) this area has almost doubled since 2010. The share of organic farmland is currently 17.4% (up from 16.6% in 2020). If this trend continues, a share of 25% will be reached by 2030, which is in line with the goals of the European "Green Deal".
Joint booth of the Italian Trade Agency at BIOFACH 2023
14 to 17 February 2023, Messe Nürnberg, Hall 4, Booths 107/110/111/129.
https://www.ice.it/en/markets/germany/bio-lebensmittel-und-getranke-aus-italien-auf-der-biofach-2023
Contact:
ITA – Italian Trade Agency – Trade Promotion Office of the Italian Embassy
Schlüterstrasse 39
10629 Berlin – Germany
Telephone: +49 30 884403-00
E-mail: [email protected]
www.ice.it
[ad_2]

Source link