BIXOLON Highlights its Competitive Printing Solutions for the Hospitality Industry at Internorga 2023
[ad_1]

Showcasing the latest in POS, Mobile and Labelling printing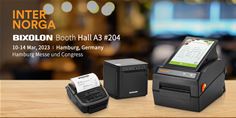 BIXOLON at Internorga 2023
INTERNORGA – (10-14.03.2023, Hamburg, Germany) BIXOLON Europe GmbH, a subsidiary of BIXOLON the global manufacturer of advanced Receipt, Label and Mobile printers, welcomes visitors onto stand A3/204, at Internorga 2023 where it will be showcasing its wide range of printing solutions for the hospitality market.
Key exhibition product highlights will include:
Mobile Printing Solutions – named 9x world leading mobile receipt printer manufacturer, BIXOLON will be demonstrating the SPP-R310plus, 3-inch (80mm) feature-rich receipt label and ticket mobile printer. Alongside, the SPP-R200IIIplus, 2-inch (58mm) highly adaptive mobile receipt printer.

POS Printing Solutions – Presenting its top selection of printing solutions for hospitality POS, BIXOLON will be featuring its multi-functional SRP-Q300 3-inch (80mm) ultra-compact receipt and ticket printer, in addition to the versatile SRP-275III 3-inch (80mm) 2-colour, dot-matrix kitchen printer and the powerful SRP-350plusIII, a 3-inch (80mm) solid thermal receipt printer solution. Furthermore, BIXOLON will be highlighting its growing range of linerless POS printing solutions, including the SRP-S300 3-inch (80mm) and SRP-S200 2-inch (58mm), which are ideal for a variety of receipt, ticket and linerless labelling applications.

Desktop Label Solutions – BIXOLON will also be showcasing the elite of its desktop labelling solutions with the outstanding XQ-840, a two-in-one stand-alone label printing solution, featuring an 8-inch Android tablet embedded on a 4-inch (118mm) Direct Thermal desktop label and barcode printer.
"The hospitality market continues to be of significant importance to BIXOLON," cites Jay Kim, Managing Director of BIXOLON Europe GmbH. "As one of the largest hospitality shows in Germany, Internorga provides us with the opportunity to showcase our cutting edge hospitality printing solutions to the key leaders within the industry."
To find out more, visit BIXOLON at www.BixolonEU.com or contact [email protected] to make an appointment to meet the team.
– o –
About BIXOLON
BIXOLON is a leading global manufacturer of innovative, advanced printing technologies including point-of-sale receipt, label, Auto ID and mobile printers for a wide range of environments. Millions of BIXOLON printers are used today in retail, hospitality, healthcare, banking, ticketing, post/parcel, warehousing and other transaction-intensive industries. In 2022, for the ninth consecutive year BIXOLON was named global mobile receipt printer market leader by Japanese research company Chunichisha.
For more information contact:
Jada Kim
Senior Marketing Manager
BIXOLON Co., Ltd.
[email protected]
Tel: +82-31-218-5500
www.Bixolon.com
Annette Carr
Senior European Marketing Manager
BIXOLON Europe GmbH
[email protected]
Tel: +49-211-68-78-54-0
www.BixolonEU.com
Liz Crouch
Marketing Manager
BIXOLON America Inc.
[email protected]
Tel: + 1 858 764 4582
www.bixolonusa.com
[ad_2]

Source link