Boom In HRTech M&A With $11 Billion Investment Reveals Hampleton Partners
[ad_1]

HR Departments look to technology to solve retention, engagement and productivity issues
London, 25 January 2023 – The HRTech M&A Market Report from Hampleton Partners, the international M&A and corporate finance advisory firm for technology companies, reveals that HRTech deal transaction value achieved nearly $11 billion in 2022, an increase of 282 per cent since the pandemic in 2020.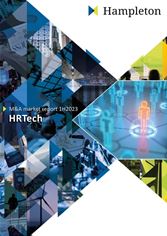 Hampleton Partners HRTech M&A Report Cover
The two largest HRTech deals of 2022 were Roper Technologies' acquisition of Frontline Technologies for $3.7bn in August and Blackbaud's acquisition of EverFI for $754m in January.
Deal volume is also on the rise, with 217 transactions in 2022 compared to 201 transactions in 2021.
Axel Brill, director, Hampleton Partners, said: "Organisations continue to face the challenge of finding, keeping and developing new hires to their full potential. Combined with AI- and technology-based advances, these motivations are driving the HRTech market. As a result, what used to be a slow-moving corporate technology space a decade ago is now a multi-billion dollar market of HR cloud solutions that address the needs for the future of work.
"High growth companies, innovative solutions and breakthrough technologies are dominating the space and both financial and strategic investors are determined to be part of this development.
"HR leaders worldwide have recognised the importance of rethinking their people strategy and placing employee wellbeing on top of the agenda. They know that achieving employee satisfaction is a key ingredient to attract and retain talent."
HRTech M&A trends
Decentralisation of HR – With the global increase in remote working models, teams are increasingly getting direct access to information previously held centrally by HR, including online pay reports, holiday planning, accessing health plan coverage. This allows HR to focus more on strategic goals, particularly recruitment, in a highly competitive hiring landscape.
Hybrid working – Cloud-based human capital management (HCM) solutions are helping employers manage their remote workforce, measure productivity, and promote cooperation between teams.
Diversity and inclusion (D&I) – Creating an inclusive culture by promoting transparency, fairness and equality within an organisation can be helped by using a data-driven approach which eliminates bias. Decisions on goal setting, performance feedback, appraisals, and compensation management can be fully supported by data and facts.
Health and wellbeing – Levels of anxiety, stress and depression, exacerbated by the pandemic, are causing organisations to place a greater emphasis on employee well-being and mental health. Companies are reacting by providing access to Employee Assistance Programmes (EPA), mental health apps, and wellness tracking platforms.
Top HRtech acquirers
Three companies made five HR tech acquisitions each in the past 30 months. Their three most recent investments are:
HealthStream – CloudCME, healthcare continuing education SaaS; Rievent Technologies, e-learning SaaS; myClinicalExchange, clinical training management SaaS.
YCombinator – Deal, compliance and payroll solution; Gimo, payroll platform for Vietnamese workers; NowPay, fintech platform to improve financial wellness of employees.
Sdworx – Intelligo Software, HR SaaS; HRPRO doo, Human resources management SaaS; Aditro Public Oy, HR & payroll management SaaS.
Axel Brill continued: "The fact that start-up accelerator, Y Combinator, is one of the three most active acquirers in this space shows that many HRTech companies are still in their early stages. We expect the following years to see a further boom in the sector, as more and more HR leaders start reshaping their people strategies by integrating new technologies and platforms to drive retention, engagement and productivity."
Download the full Hampleton Partners' HRTech M&A Market Snapshot here: https://www.hampletonpartners.com/reports/hrtech-report/
ENDS
Note to Editors:
Hampleton Partners' M&A Market Reports are compiled using data and information from the 451 Research database (www.451research.com); Capital IQ and CB Insights.
Media Contact for interview requests, reports and photography:
Jane Henry
Marylebone Marketing
E: [email protected]
M: +44 789 666 8155
W: marylebonemarketing.com
About Hampleton Partners
Hampleton Partners is at the forefront of international mergers and acquisitions and corporate finance advisory for companies with technology at their core. Hampleton's experienced deal makers have built, bought and sold scores of fast-growing tech businesses and provide hands-on expertise and unrivalled advice to tech entrepreneurs and companies which are looking to accelerate growth and maximise value.
With offices in London, Frankfurt, Stockholm and San Francisco, Hampleton offers a global perspective with sector expertise in: Artificial Intelligence, Autotech, Cybersecurity, Digital Commerce, Enterprise Software, Fintech, Healthtech, HR Tech, Insurtech and IT & Business Services.
Follow Hampleton on LinkedIn and Twitter. For more information visit http://www.hampletonpartners.com


[ad_2]

Source link