Capital A Partners Sivilai Asia to Launch AirAsia Cambodia
[ad_1]


(13/12/22)
 AirAsia Aviation Group, part of Capital A, has signed a joint
venture agreement with Sivilai Asia to establish a low cost
airline in the Kingdom of Cambodia.
AirAsia Cambodia will enable the group to expand
passenger and cargo operations in the country as well as across
the ASEAN region and beyond.
The JV was signed by Tony Fernandes, CEO of
Capital A, and Vissoth Nam, Director of Sivilai Asia, at the
luxurious Rosewood hotel in Phnom Penh.
Subject to obtaining the relevant regulatory
approvals, the JV is expected to commence operations in late 2023.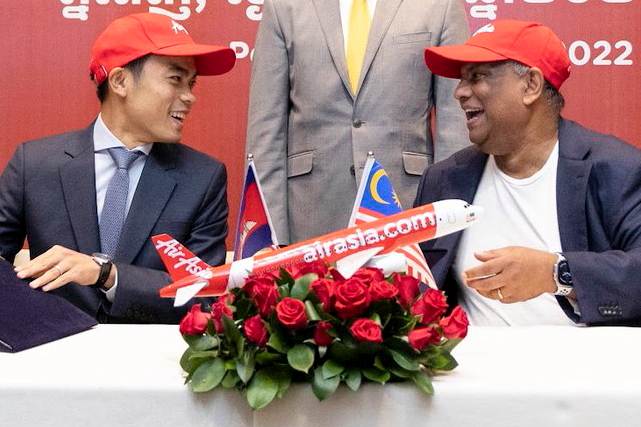 Vissoth Nam (left), Director of Sivilai Asia, with Tony Fernandes, CEO of Capital A
"Cambodia is the fifth ASEAN country where we are
continuing our march of being the region's number one mover of
people and cargo, and providing a linchpin of economic growth,"
said Tony Fernandes. "2022 was about restarting our airline to pre-Covid
levels. That machine is in place and will be completed by the
second quarter of 2023. The second half of 2023 will be when we
focus on our continued efforts in growth. We are confident of
profitability in the first year. As Cambodia is a market that is
familiar to us and where we have deep infrastructure in place.
That's why all our future airlines will be based in ASEAN. As this
is an area we know well and can derive quick profitability and
connect our very large network to the main points of Cambodia,
namely Phnom Penh, Siem Reap and Sihanoukville."
"As
one of the first countries to open up international travel with no
quarantine in November 2021, Cambodia has led the way in ASEAN's
air travel recovery journey post-Covid, with the rest of countries
in the region following suit. Today, we are proud to be the
catalyst for a new low cost airline operating from Cambodia," said Vissoth
Nam. "An increase in connectivity alongside best value
fares, will certainly stimulate demand for air travel amongst the
population due to increased airline and destination choices. This
will open the doors for students travelling abroad, supporting
work-related travel, boosting trade ties, and providing a welcome
boost for the growth of new small and medium enterprises."
AirAsia operates five routes to Cambodia from Kuala
Lumpur to Siem Reap and Phnom Penh, from Penang to Phnom Penh
(starting 23 January 2023) as well as from Bangkok (Don Mueang) to
Siem Reap and Phnom Penh.
Pre-pandemic, the company operated 90 weekly flights from
Malaysia and Thailand to Cambodia and is currently flying about 49 weekly
flights to the country.
Since entering the Cambodian market in
2005, AirAsia has carried over 10 million guests to and from
Cambodia.
See also:

HD Video Interviews from Cambodia Travel Mart 2019.
Latest HD video interviews: Amari
Watergate Bangkok – 4K Video Interview with Sukamal
Mondal, Area GM, Bangkok Riverside Fest 2023 – 4K Video
Interview with Frederic Kolde, Business Travel Trends in Asia Pacific – Video Interview with Brett Thorstad, Sabre.
[ad_2]

Source link