Cathay Pacific Reports December Traffic; Expects Return to Pre-Pandemic Flight Capacity by End-2024
[ad_1]


(24/01/23)
 Cathay Pacific carried 801,088
passengers in December 2022, an increase of 768.7% compared with
December 2021, but a 73.3% decrease compared with December 2019.
The month's revenue passenger kilometres
(RPK) increased 545.2% year-on-year, down 68.4% on
December 2019.
Cathay's passenger load factor increased by 46.7 percentage
points to 83.3%, while capacity, measured in available seat kilometres (ASK), increased by 183.5% year-on-year,
a decrease of 67.8% compared with pre-pandemic December 2019 levels.
The number of passengers carried in 2022 increased by 291% against a
51.6% increase in capacity and a 258.3% increase in RPK, as
compared with 2021.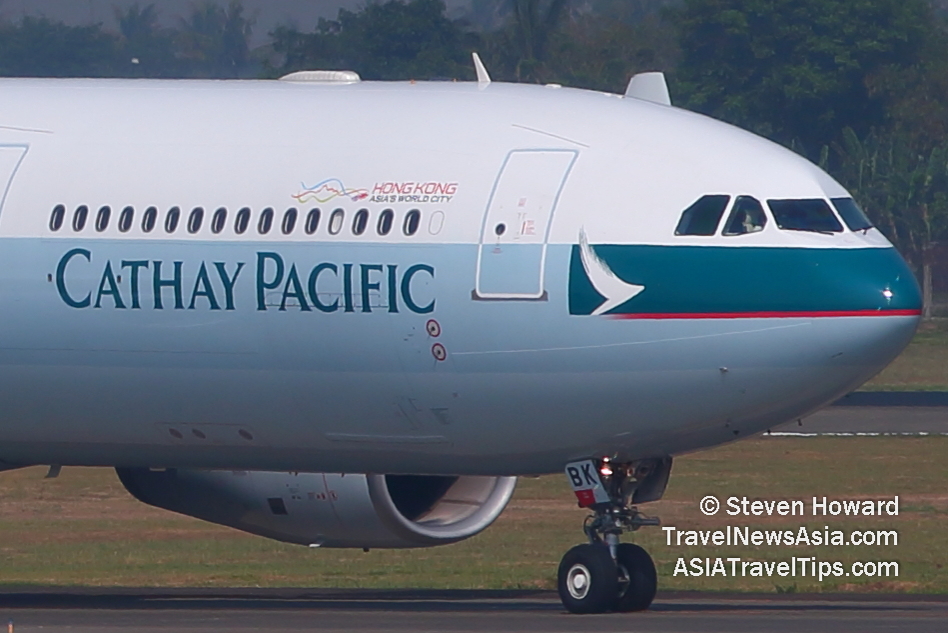 Cathay Pacific A330 reg: B-LBK. Picture by Steven Howard of TravelNewsAsia.com
"December saw a drastic uptick in travel demand with
Christmas being the first major holiday since travel restrictions
in Hong Kong were lifted, although we were still only operating
about 32% of pre-pandemic passenger flight capacity levels. We
carried over 25,800 passengers per day on average," said Chief
Executive Officer, Ronald Lam. "Demand
was overwhelming for travel to short-haul leisure destinations as
we continued to ramp up our frequencies. We also added more
destinations in December, including Sapporo, Fukuoka, Penang and
Dhaka, ending the year with close to 60 destinations in our
network – double the 29 we flew to in January 2022."
The
airline carried 106,471 tonnes of cargo last month, a decrease of
21% compared with December 2021, and a 40% decrease compared with
the same month in 2019.
The month's cargo revenue tonne
kilometres (RFTK) decreased 22.6% year-on-year, a drop of 34%
compared with December 2019.
Cargo load factor decreased by
16.9 percentage points to 67.3%, while capacity, measured in
available cargo tonne kilometres (AFTK), decreased by 3.2%
year-on-year and 35% on December 2019.
In FY2022, tonnage decreased by 13.4% against a 19%
decrease in capacity and a 29.8% decrease in RFTK, as compared
with 2021.
"In terms of cargo, overall market demand
continued to be flat in December, as was the case for the fourth
quarter. Tonnage saw a mild month-on-month increase of 3% against
a 4% increase in cargo flight capacity. Overall in December, we
operated 65% of pre-pandemic cargo flight capacity levels," said
Mr. Lam.
Cathay Pacific's FY2022 Financial Performance
Based on a
preliminary review of unaudited consolidated management
accounts, the Cathay Pacific Group is expected to record a
consolidated loss attributable to shareholders of approximately
HK$ 6.4 – 7 billion. This compares to the attributable loss to
shareholders of HK$5.5 billion for the year ended 31 December
2021.
H2 2022 results for the group's airlines
and subsidiaries were a marked improvement over the H1
2022 results, although still a small loss overall for FY2022. However, the results from associates, the majority
of which are recognised three months in arrears, and which in some
cases have already been announced, include significant losses.
"I am very encouraged to see a trend of
continuous improvement in our operations and financial performance
for our airlines and subsidiaries in the second half of 2022," Mr.
Lam said.
"Progressive relaxations to travel restrictions and quarantine
requirements in Hong Kong enabled us to be operating cash
generative overall in the second half of 2022."
Cathay
Pacific is expected to publish its
annual results in March 2023.
Looking Ahead
"Looking ahead into 2023, we are very
excited to be firmly on the path to rebuilding Cathay Pacific and
the Hong Kong international aviation hub. Nevertheless, challenges
still remain and we are taking a measured and responsible approach
to our rebuilding efforts," said Mr. Lam. "We remain fully committed to restoring
connectivity and capacity at our home hub. As a Group, which
includes passenger airlines Cathay Pacific and HK Express, we
anticipate we will be operating about 70% of pre-pandemic
passenger flight capacity by the end of 2023 with the aim of
returning to pre-pandemic levels by the end of 2024.
"In
terms of passenger travel, we expect demand will continue to be
strong in January and the Chinese New Year period, driven by
leisure traffic from Hong Kong. Following the return of
quarantine-free travel between Hong Kong and the Chinese Mainland,
we are continuing to add more flights and more destinations as
quickly as is feasible. We aim to operate more than 100 return
flights per week to and from 14 cities in the Chinese Mainland by
the end of February.
"Concerning cargo, the easing of
restrictions for cross-border trucking between Hong Kong and the
Chinese Mainland is welcome news. On the other hand, with COVID-19
still impacting various parts of the country, coupled with Chinese
New Year occurring in January, the air cargo market will continue
to experience challenges until mid-February. We will remain agile
in our response to these new challenges."
Latest HD video interviews: Amari
Watergate Bangkok – 4K Video Interview with Sukamal
Mondal, Area GM, Bangkok Riverside Fest 2023 – 4K Video
Interview with Frederic Kolde, Business Travel Trends in Asia Pacific – Video Interview with Brett Thorstad, Sabre.
[ad_2]

Source link