Consortium for Development of European Protected Waveform Kicks off
[ad_1]

Key industry stakeholders to establish agile, secure, affordable and interoperable satellite communications suitable for all European nations and joint EU operations
Sint-Niklaas, Belgium, 28 February 2023 – ST Engineering iDirect's EU Satcom Centre of Excellence, ST Engineering iDirect Europe, located in Sint-Niklaas, Belgium, which specialises in the development of ground segment technology and equipment for the EU, is leading a consortium of leading satellite industry players to develop the European Protected Waveform (EPW) for the European Defence Fund (EDF).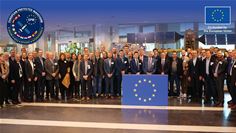 Consortium for Development of European Protected Waveform Kicks off
In today's military applications supported by satellite communications, high data rates, security, resilience, information assurance and link efficiency technologies are inextricably linked. Military operations are becoming more complex as conflict areas grow more dispersed on a global scale, with a growing need to support a diversity of on-the-move, on-the-pause and fixed platforms on land, in the air and at sea over both GEO and multi-orbit satellite constellations.
The EPW is built around four cornerstones: agile, secure, affordable and interoperable satellite communications. It will be developed in tandem with current and future requirements for military and secure operations considering upcoming disruptive technologies, EU initiatives such as GovSatCom and IRIS2, and multi-layered security and resiliency solutions.
Through the EDF initiative, the investment for an interoperable and affordable secure defence-grade EPW becomes accessible to small and mid-sized European nations alongside large EU nations seeking to embrace today's and future challenges related to increased throughput demand over satellite, joint operations, mobility and new security threats.
Through disruptive, innovative technology coming from key stakeholders in EU industry and universities, the EPW addresses the growing demand for European autonomy linked to defence and space capabilities.
"The development of waveforms has always been part of our company's DNA, and we aim to seek the best balance between efficiency, agility and security," said Koen Willems, VP, EU Programmes and Government Relations. "With their combined knowledge and experience, bringing together these key players under the EPW consortium will equip European countries with highly reliable, seamless satellite communications to ensure that they can communicate with confidence and security no matter where they operate."
The consortium
Comprising satcom companies and academia from 12 nations across Europe, the consortium includes: Airbus D&S, Antwerp Space, Amphinicy, Belgian Royal Military Academy, CTG Celestia, Eutelsat, Elital, GISS, Indra, NeoSat, Quadsat, Lasting, Leonardo, LuxGovSat, NLR, OHB, ST Engineering iDirect Europe, Telespazio, Thales Alenia Space and Thales Six.
Members will work together over a period of 39 months to design the waveform and accompanying technologies for resilient and secure satellite communications. The project kicked off in January 2023 at the EU Commission Headquarters, with representation from the EU as well as national and military delegates from participating EU nations. Further information on the EPW and consortium members can be found at EDF21_Outcome_Template (europa.eu)
The EPW is funded by the European Union. Views and opinions expressed are however those of ST Engineering iDirect Europe only and do not necessarily reflect those of the European Union or the European Commission. Neither the European Union nor the granting authority can be held responsible for them.
*****
ST Engineering iDirect Europe, located in Sint-Niklaas, Belgium, is ST Engineering iDirect's EU Satcom Centre of Excellence specialising in the development of ground segment technology and solutions specifically for the EU. As a legal Belgian entity, ST Engineering iDirect Europe has its own board of directors to comply to the guidelines and conditions as put forward by the EU Commission and the Belgian Government. With over 35 years of experience, a portfolio of high-value product lines and services in addition to a dedicated team of domain specialists and a ISO9001 certified manufacturing centre, ST Engineering iDirect Europe's portfolio of capabilities cater to the specific needs of European funded satellite communications programmes. For more information visit https://www.idirect.net/st-engineering-idirect-europe/
Media contact:
Helen Reynolds
Senior PR Manager
ST Engineering iDirect
Email: [email protected]
Tel: +44 7878 432 940
[ad_2]

Source link