Emirates Tests GE90 Engine with 100% SAF
[ad_1]


(24/01/23)
 Emirates has completed ground engine tests on a
Boeing 777-300ER's GE90 engine using 100%
Sustainable Aviation Fuel (SAF).
Results of the ground tests pave the way for
the airline's first experimental test flight using 100% SAF in one
engine, which is due for take-off this week.
The tests involved running one engine on 100% SAF and the other
on conventional jet fuel to better analyse the fuel system's
behaviour and performance under each fuel type, compare specific
outputs of each engine and ensure seamless operation of the
aircraft's engine and airframe fuel systems during the planned
test flight.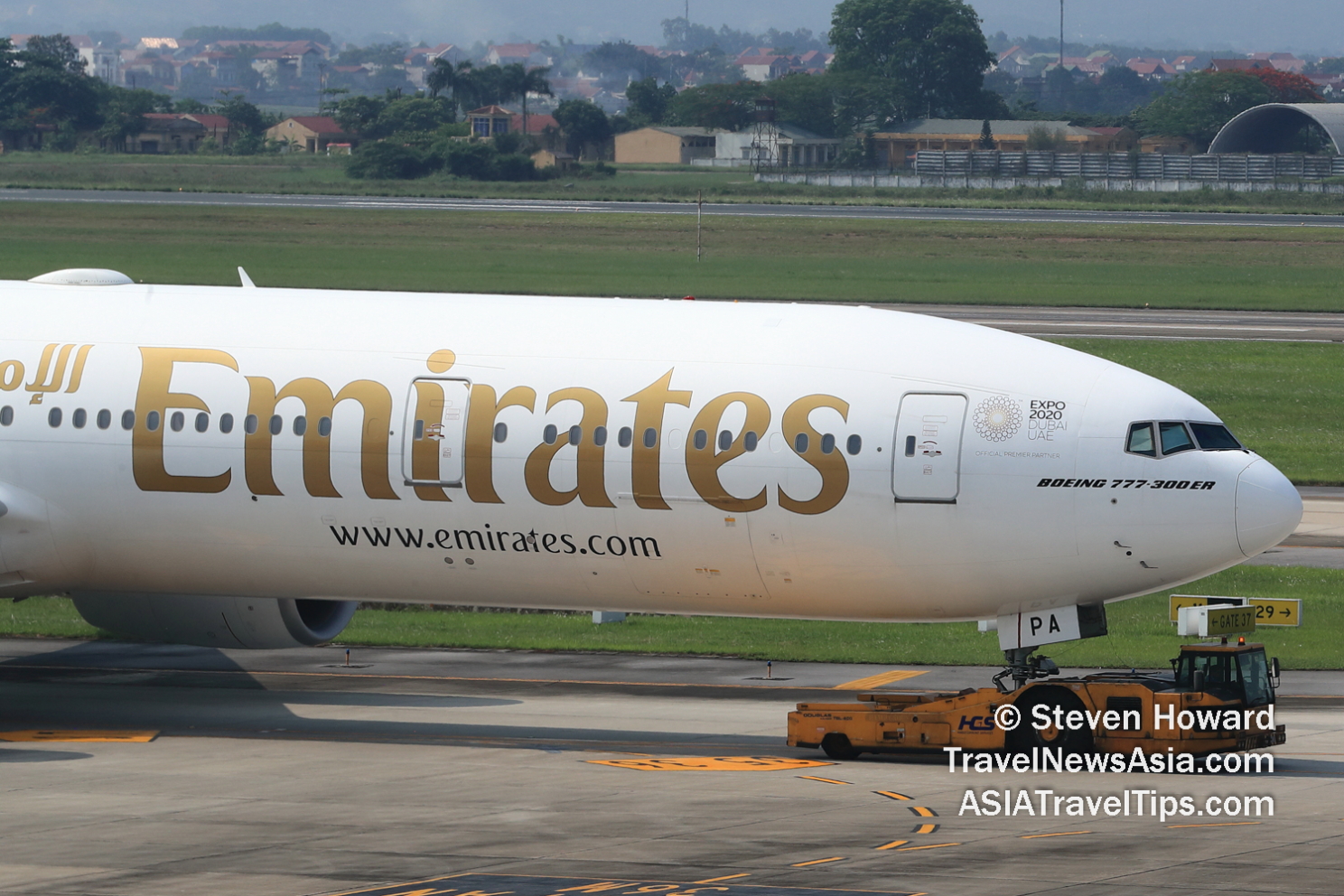 Emirates Boeing 777-300ER reg: A6-EPA. Picture by Steven Howard of TravelNewsAsia.com
Conducted at the
Emirates Engineering Centre in Dubai, the aircraft first went
through standard pre-inspection activities before
stationary operating tests began by first running the Honeywell
331-500 auxiliary power unit (APU) on 100% SAF.
The APU was then
put under full load with SAF to start the engines. The left engine
was exercised through its full power range, utilising the same
settings that will be used for the experimental flight, including idle, 'take-off' and 'climb settings' at full flight
profile durations, running at maximum speed and intensity. Engines
were then operated at 'cruise' settings for 15 minutes.
After the
simulation ended, the engines were cooled down. Fuels were
isolated in separate fuel tanks to maintain segregation of test
fuels. Upon completion of the ground tests, engine data was
downloaded for review, comparison and analysis.
Sustainable Aviation Fuel
Emirates has been working on SAF fuel blend
testing with its partners GE
Aerospace, Boeing, Honeywell, Neste and Virent – a subsidiary of
Marathon Petroleum Corp.
The partners have developed a blend with the same
qualities and performance characteristics of conventional jet fuel
and have collaborated on the technical analysis and operational
requirements surrounding ground testing and experimental flight
activities.
The results of the initiative will provide additional
data and research around synthetic fuel blend components and
biofuels, supporting standardization and future approval of 100%
drop-in SAF.
Currently, SAF
is approved for use in blends of up to 50% with conventional jet
fuel. SAF reduces carbon emissions over the fuel's life cycle by
up to 80%.
Emirates has long been a supporter of industry and
government efforts to encourage the development of the SAF
industry and regularly participates in initiatives to contribute
to SAF deployment.
Its first flight powered by SAF blended with
jet fuel was in 2017, operating from Chicago O'Hare airport on a
Boeing 777.
Emirates received its first A380 powered by SAF in
December 2020 and uplifted 32 tonnes of SAF for its flights from
Stockholm earlier that year, with the support of Swedavia's
Biofuel Incentive Programme. Flights from Oslo have also begun
operating on SAF.
Emirates is on the Steering Committee of the World
Economic Forum's (WEF) Clean Skies for Tomorrow initiative, which
seeks to promote SAF deployment worldwide. The airline has also
contributed to the UAE government's work on a SAF roadmap and the
WEF-supported Power-to-Liquids Roadmap for the UAE.
Latest HD video interviews: Amari
Watergate Bangkok – 4K Video Interview with Sukamal
Mondal, Area GM, Bangkok Riverside Fest 2023 – 4K Video
Interview with Frederic Kolde, Business Travel Trends in Asia Pacific – Video Interview with Brett Thorstad, Sabre.
[ad_2]

Source link