Four Seasons Hotel to House Nobu's First Restaurant in Singapore
(14 Mar 2022, 12:03 +07)
 Nobu Matsuhisa, a celebrity chef and
restaurateur known for marrying traditional Japanese cooking with
Peruvian flavours, will open his first restaurant in Singapore in
May.
Located at the Four Seasons Hotel Singapore, Nobu Singapore
will feature its own entrance and be housed alongside an open-air
Japanese garden and bar.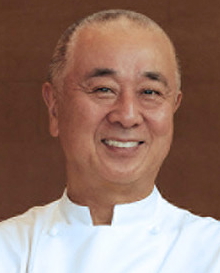 Nobu Matsuhisa
While his Singapore menu is still being finalised,
Nobu's signature dishes will feature his famed Black Cod Miso,
Yellowtail Sashimi with Jalapeño and world class sushi.
Additionally, the menu will also offer special dishes inspired by
local flavours and ingredients of Singapore.
"Singapore is an amazing culinary destination with an
impressive food scene – so many flavours and cultures to
experience in a single place,"
said Nobu Matsuhisa. "Being one of my favourite cities with a
sophisticated restaurant and bar landscape, I am very much looking
forward to bringing Nobu to the gateway of Asia!"
Born in
Saitama, Japan, Nobu spent his formative years studying Japanese
cuisine at Matsuei, a respected sushi bar in Tokyo, before
traversing across the Pacific Oceans to Lima, Peru to open his
very own sushi bar.
As a classically trained sushi chef, he was
challenged by the new culture and regional ingredients, which
kindled his inventive style.
Part-owned by Nobu himself, Hollywood superstar Robert De Niro,
film producer and entrepreneur Meir Teper and HPL Properties, Nobu
Singapore will join a portfolio of approximately 51 Nobu hotels
and / or restaurants around the world.
"This is exciting news for
Singapore's food and beverage scene. Local foodies have been known
to book seats in advance of their travels New York, Malibu,
London, Ibiza or Dubai to name but a few, just to experience Nobu's
unique cuisine. With this new addition of Nobu Singapore, we are
excited to bring the vibrant Nobu dining experience to the
doorstep of this gastronomic-hub that is Singapore," said Peter Draminsky, Regional Vice President and General Manager, Four
Seasons Hotel Singapore. "Curating and developing world-class
dining destinations at our properties such as with Nobu Singapore
is a key priority – experiences that bring people closer one
plate, one glass, one unforgettable conversation at a time."