GKN Aerospace Tests New Lightweight Turbine Rear Structure
[ad_1]

(03 Mar 2022, 11:18 +07)
 GKN Aerospace engineers in Trollhättan, Sweden
have successfully tested a new lightweight demonstrator of a
Turbine Rear Structure (TRS) as part of the Clean Sky-2 Engines
research programme.
The purpose of a TRS is to manage the flow from
the engine's low-pressure turbine and maximize the axial thrust.
It is a key component in improving the efficiency of an
aero-engine.
Innovative design and state-of-the-art
manufacturing methods have resulted in a shorter and lighter structure
compared to a traditional TRS. This was achieved by using a novel
metallic alloy with higher temperature capability, as well as both
metal casting and 3D-printed technology.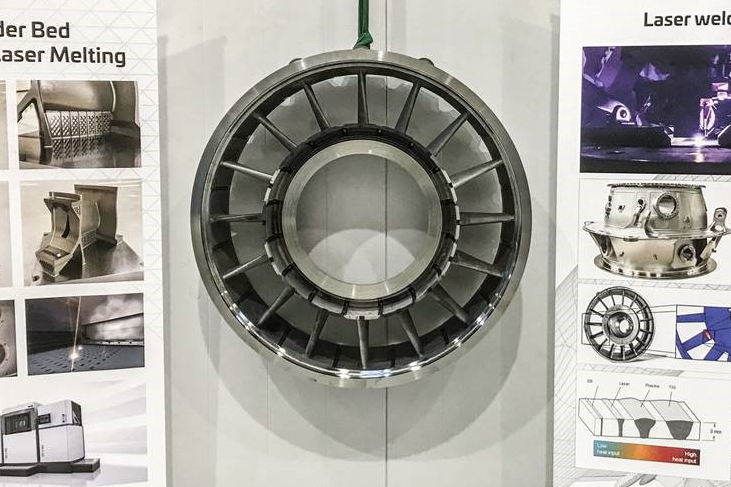 GKN Aerospace Turbine Rear Structure (TRS)
The optimized balance
between aerodynamic performance, weight and mechanical properties
demonstrates a significant 14% weight reduction potential,
contributing to lower carbon emissions of the engine.
The complex component was manufactured with
laser-welded assembly methods and additive manufacturing
technology.
Henrik Runnemalm, Vice President for GKN
Aerospace's Global Technology Centre in Trollhättan, said,
"At GKN Aerospace we put a sustainable future of aviation at the
heart of our business and collaboration in the aerospace
eco-systems is key to achieve this. The new TRS demonstrator is a
great example of how national, regional, EU and industry-funded
activities are coordinated towards final validation of an
innovative concept that will contribute to our net zero journey."
Collaboration partners include the regional manufacturing
technology centre PTC/Innovatum, while aerodynamic validation took
place at a unique test facility at Chalmers University, funded by
Vinnova through the SE NFFP programme. Brogren Industries (SME),
also funded by Vinnova in the national SE Innovair programme
INTDEMO MOTOR, provided supporting activities.
[ad_2]

Source link