Hilton Opens 50th Garden Inn Hotel in Asia Pacific
(25 Mar 2022, 11:46 +07)
 The Hilton Garden Inn Jinzhou Central Street in
China has become the brand's 50th hotel to open in the Asia
Pacific region.
With a pipeline of 114 properties in Asia Pacific,
Hilton Garden Inn is expected to double its current footprint in
the region by 2024, of which, more than 20 hotels are expected to
open this year.
"As one of the fastest
growing Hilton brands in the region, Hilton Garden Inn offers a
myriad of opportunities for owners to effectively tap into the
travel recovery in Asia Pacific and capture the growing demand for
midscale lodging solutions," said Clarence Tan, Senior Vice President
of Development – Asia Pacific, Hilton. "Its efficient and lean operating model
also makes it an ideal fit for franchising with owners who are
pursuing agility post-pandemic and long-term investment success.
We are thrilled to be in a position to offer the Hilton Garden Inn
franchise model to business partners in key cities in Asia
Pacific."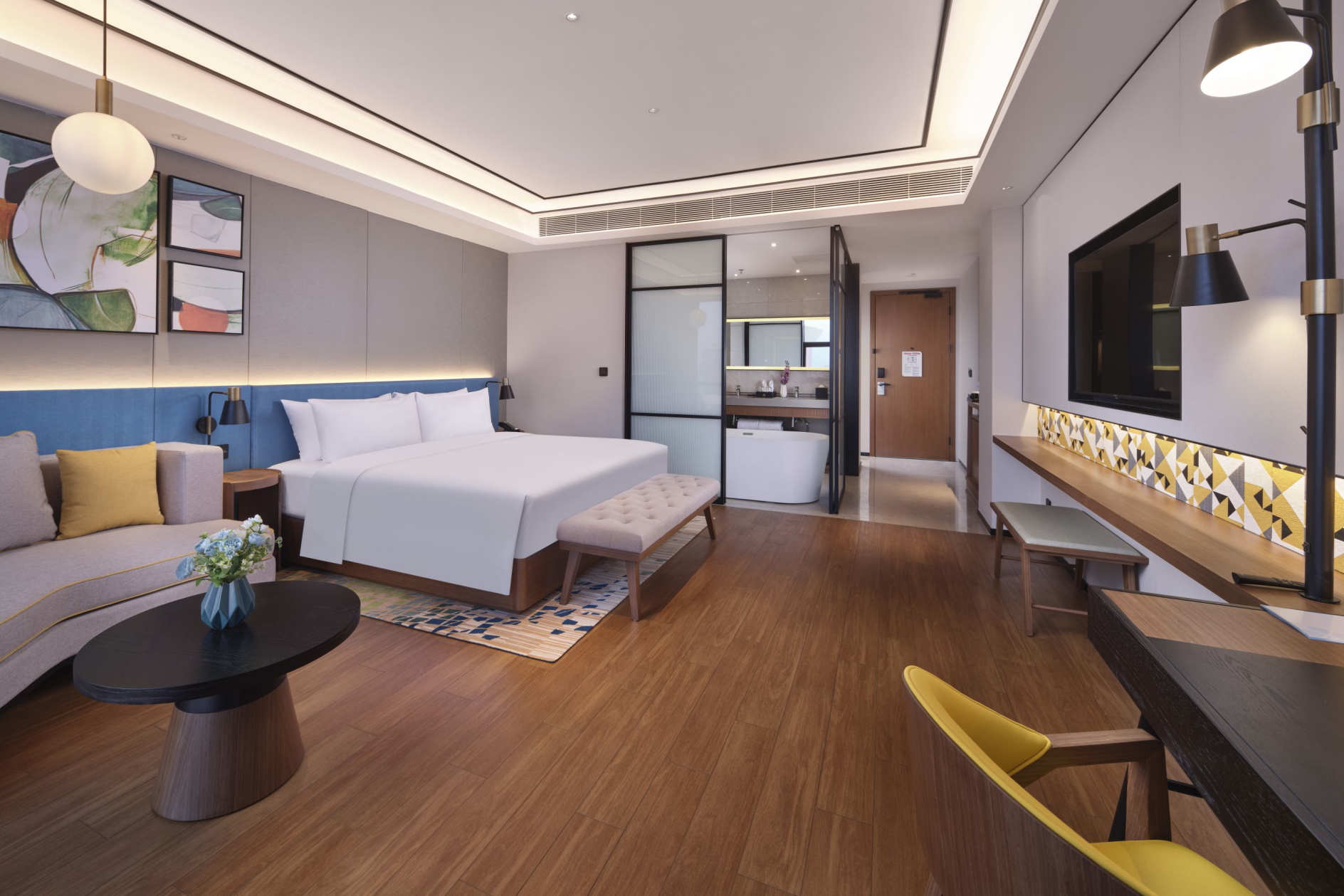 Room at the Hilton Garden Inn Jinzhou Central Street
In 2021, Hilton Garden Inn achieved significant
growth across Asia Pacific with the opening of the brand's first
hotels in South Korea (Hilton Garden Inn Seoul Gangnam), Australia
(Hilton Garden Inn Albany), Thailand (Hilton Garden Inn Phuket
Bang Tao), as well as the first hotel in the city of Jakarta,
Indonesia (Hilton Garden Inn Jakarta Taman Palem).
The brand also
made its entry into Sydney, Australia with the signing of Hilton
Garden Inn Sydney Kingswood in November 2021, which is due to
debut in early 2023.
The growth momentum has continued into 2022, with
the opening of the Hilton Garden Inn Jinzhou Central Street and
the brand's first hotel in Bengaluru, India.
The company has also signed the Hilton Garden Inn
Brisbane City Centre North with momentum expected to continue throughout
the year, to be capped off with the launch of the brand in
Japan, with the anticipated opening of Hilton Garden Inn Kyoto in
December 2022.
Jenny Milos, vice president, Focused Service & All
Suites Brands, Asia Pacific, Hilton, said, "As an upscale and
affordable accommodation that offers modern amenities, coupled
with the brand's signature positive and upbeat service, Hilton
Garden Inn is a top choice for guests who are not only seeking to
maximize the value of their travel, but are also looking for
exceptional hospitality experiences. The pace of growth of Hilton
Garden Inn across Asia Pacific is a testament of the brand's
appeal and versatility for owners and guests alike, as we continue
delivering on our promise to offer better and brighter stays, with
the right partners in the right locations and at the right time."
A
large-scale franchise model for Hilton Garden Inn was launched in China
in September 2021, and is now being expanded to key cities in Asia
Pacific. The franchise
model helps to meet the evolving demand of owners for leaner, more
flexible solutions.
See also:

Exclusive Travel Industry Interview with Kurt Ekert, President of
Sabre.