Hong Kong Airport Handled 5.7 Million Passengers in 2022
[ad_1]


(17/01/23)
 Hong Kong International
Airport (HKIA) handled a total of 5.7 million
passengers in 2022, a year-on-year increase of 318.4%.
Total
cargo throughput and flight movements dropped by 16.4% and 4.2%,
to 4.2 million tonnes and 138,700, respectively.
"The airport endured
another challenging year in 2022 as the impact of the pandemic
continued. Nevertheless, we saw the light at the end of the tunnel
when the HKSAR Government relaxed travel restrictions and
quarantine requirements for inbound travellers in the second half
of the year," said Fred Lam,
Chief Executive Officer of Airport Authority Hong Kong (AAHK). "Passenger traffic at HKIA started to pick up in the
last quarter of 2022. We also have a good start of 2023 with the
resumption of normal travel with the mainland. We are confident
that passenger traffic will continue to recover at HKIA."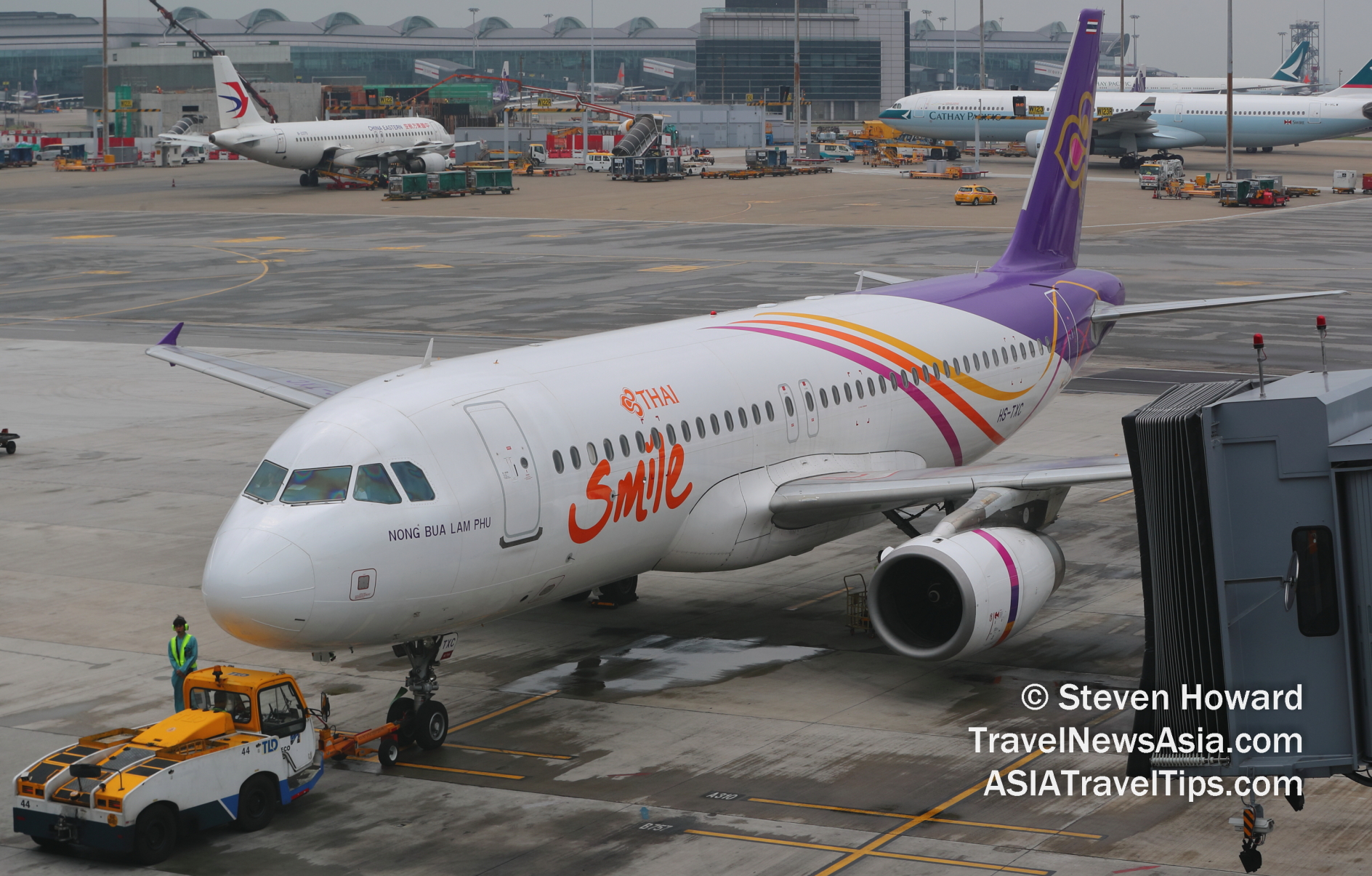 Thai Smile A320 reg: HS-TXC at HKIA. Picture by Steven Howard of TravelNewsAsia.com
In December 2022, HKIA handled
1.6 million passengers, representing a surge of 938.7% compared
with the same month in 2021.
Flight movements increased by 8.7%
year-on-year to 15,770, while cargo throughput saw a 26.4% drop to
351,000 tonnes compared to the same month last year.
Both
Hong Kong residents and visitors were drivers of the traffic growth in
December 2022, with traffic to and from Southeast Asia and Japan
experiencing the most significant increases.
Cargo volume
continued to be impacted by the global economic uncertainties,
geopolitical tensions and disruptions to global supply chains.
Import and export cargos decreased by 33% and 26% year-on-year
respectively, compared to the same month in 2021. Southeast
Asia, North America, and Europe recorded a similar significant
decrease in terms of cargo volume during the month.
"Despite the pandemic AAHK spares no effort in
improving the airport's facilities to prepare for the recovery of
air traffic," added Mr Lam. "In the past year, the third runway
was officially commissioned, which was a significant milestone for
the Three-Runway System project.

Sky Bridge, the 200m-long footbridge connecting Terminal 1 and
T1 Satellite Concourse, opened last November to offer convenience
and new experience.

Facial recognition is applied to the entire departure journey.
The luxury zone and boarding gate areas have been revamped to
amaze passengers with new looks and facilities."
Latest HD video interviews: Amari
Watergate Bangkok – 4K Video Interview with Sukamal
Mondal, Area GM, Bangkok Riverside Fest 2023 – 4K Video
Interview with Frederic Kolde, Business Travel Trends in Asia Pacific – Video Interview with Brett Thorstad, Sabre.
[ad_2]

Source link