Hong Kong Airport Reports November Traffic; Receives IATA CEIV Live Animals Accreditation
[ad_1]


(15/12/22)
 Hong Kong International Airport handled 1.05
million passengers in November, a surge of 769.6%, or around 7.7
times, compared to the same month in 2021.
Flight movements and cargo volume recorded
year-on-year decreases of 8.3% and 25.9% to 13,645 and 354,000
tonnes, respectively.
The relaxation of inbound and outbound travel
restrictions led to significant increases in Hong Kong residents
and visitors, compared to November 2021. Traffic to and from
Southeast Asia and Japan experienced the most significant
increases compared to other regions.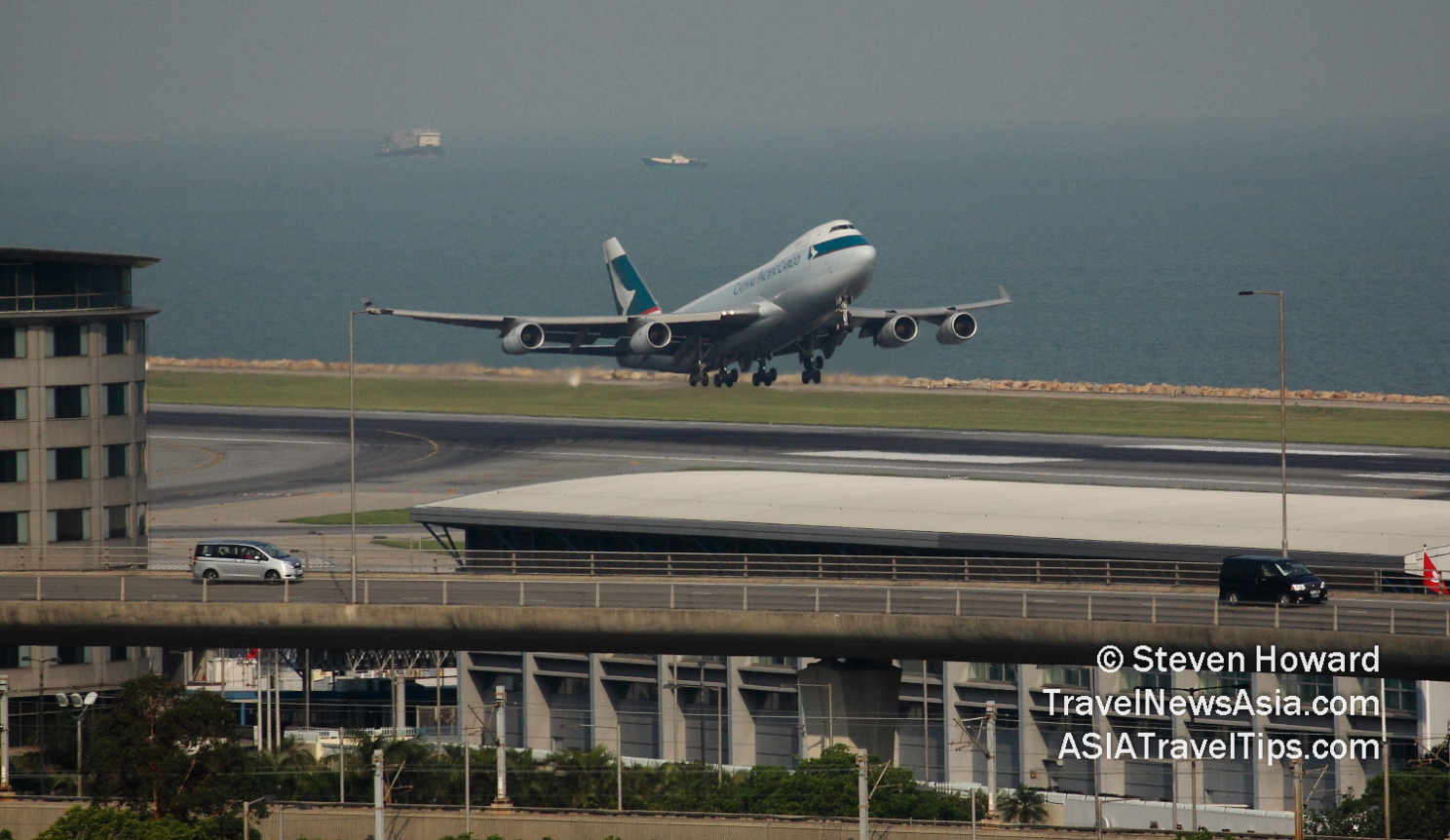 Cathay Pacific B747F taking off from HKIA. Picture by Steven Howard of TravelNewsAsia.com
Cargo volume continued to be impacted by global
economic uncertainties, ongoing geopolitical tensions and
disruptions to global supply chains. Both imports and exports
showed significant declines compared to the same month last year.
North America and Europe saw the most significant decreases in
terms of cargo volume.
Over the first 11 months of the year, the airport
handled 4.1 million passengers, marking a year-on-year increase of
238.5%. Flight movements and cargo volume dropped by 5.7% and
15.4% to 122,930 and 3.8 million tonnes respectively, compared to
the same period last year.
On a 12-month rolling basis, passenger volume
increased year-on-year by 226.6% to 4.2 million, while flight movements
and cargo throughput saw declines of 3.9% and 13.3% to 137,435 and
4.3 million tonnes respectively.
Partner Airport of IATA
CEIV Live Animals
HKIA has become a Partner
Airport of IATA's Center of Excellence for Independent Validators
for Live Animals (IATA CEIV Live Animals), making it the first
airport community in the world to obtain the accreditation.
Live
animals handled as special air cargo range from domestic pets such
as cats and dogs, to horses, leopard, alpacas and more.
HKIA is
one of the few airports in the world where all cargo terminal
operators have attained the IATA CEIV standards for transporting
cargo that requires special handling.
Cissy Chan, Executive Director, Commercial of
Airport Authority Hong Kong (AAHK), said, "We are delighted that
HKIA has been recognised as a CEIV Live Animals Partner Airport by
IATA. HKIA is the world's busiest cargo airport, and this
accreditation further affirms its cargo community's capabilities
in handling special cargo, as well as its dedication to the
welfare and safety of animals throughout the air journey. AAHK
will continue to work closely with its business partners to
further strengthen HKIA's position as a leading air cargo hub."
HKIA and its cargo business partners have now
achieved three IATA CEIV standards for the handling of
pharmaceuticals, perishable products and live animals
respectively.
Latest HD video interviews: Amari
Watergate Bangkok – 4K Video Interview with Sukamal
Mondal, Area GM, Bangkok Riverside Fest 2023 – 4K Video
Interview with Frederic Kolde, Business Travel Trends in Asia Pacific – Video Interview with Brett Thorstad, Sabre.
[ad_2]

Source link