Introducing the SPP-C200 – BIXOLON's NEW 2-inch Low-Cost Mobile Receipt Printer 
[ad_1]

Bringing Lower Cost of Ownership Options to its Thriving Mobile Printer Portfolio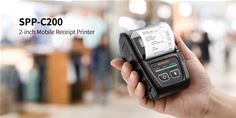 BIXOLON SPP-C200
BIXOLON Europe GmbH, a subsidiary of BIXOLON Co. Ltd, a leading global Mobile, Label and POS printer manufacturer, today announced the launch of the SPP-C200 to its award-winning Mobile Receipt Printer line-up. An ultra-compact, lightweight 2-inch (58mm) mobile receipt and ticket printer which produces print speeds of up to 80mm/sec at 203dpi. Offering basic user-friendly functions at a competitive price, the SPP-C200 is designed to withstand multiple drops from 1.5m (5 ft), while providing an IP42 water and dust proof rating.
Equipped with an easy-to-replace single cell 3000 mAh battery, which has the largest capacity in its class. The SPP-C200 hosts USB and Bluetooth connectivity options, with support for charging and data transferring via universal Type-C® cable. The mobile printer is compatible with a range of drivers and SDKs for major operating systems including iOS™, Android™, and Windows®, plus web/mobile printing software. All while bundled with a 2-year warranty as standard.
The key features of the SPP-C200 include:
Fast print speed of up to 80mm/sec at 203dpi

Seamless connectivity via USB and Bluetooth®

Equipped with 3000 mAh single cell battery

Charging and data communication with a universal USB Type-C® cable

Super compact design (224g) with intuitive LED lighting

Support a media roll diameter up to 40mm

1.5m (5ft) drop rating and IP42 water and dust proof rating

Supported by a range of drivers and SDKs across various platforms including iOS™, Android™ and Windows®, plus web/mobile printing software
"Offering a broad portfolio of mobile printing solutions staged at differing price points highlights BIXOLON's ongoing commitment to providing printer ownership inclusivity to our growing customer base," cites Jay Kim, Managing Director of BIXOLON Europe GmbH. "The NEW budget-friendly SPP-C200 supports value-added features and printing flexibility for a range of industries including Retail, Hospitality, Logistics and more."
To find out more, visit BIXOLON at www.BixolonEU.com or contact [email protected].
– o –
About BIXOLON
BIXOLON is a leading global manufacturer of innovative, advanced printing technologies including point-of-sale receipt, label, Auto ID and mobile printers for a wide range of environments. Millions of BIXOLON printers are used today in retail, hospitality, healthcare, banking, ticketing, post/parcel, warehousing and other transaction-intensive industries. In 2022, for the ninth consecutive year BIXOLON was named global mobile receipt printer market leader by Japanese research company Chunichisha.
For more information contact:
Jada Kim
Senior Marketing Manager
BIXOLON Co., Ltd.
[email protected]
Tel: +82-31-218-5500
www.Bixolon.com
Annette Carr
Senior European Marketing Manager
BIXOLON Europe GmbH
[email protected]
Tel: +49-211-68-78-54-0
www.BixolonEU.com
Liz Crouch
Marketing Manager
BIXOLON America Inc.
[email protected]
Tel: + 1 858 764 4582
www.bixolonusa.com
[ad_2]

Source link