Lake Oconee Church Enhances Community Hub Services with WBA OpenRoaming Wi-Fi Deployment
[ad_1]

Major U.S. Church Highlights How OpenRoaming Enhances the Worship Experience by Eliminating the Need for Repeatedly Logging in While Ensuring Secure Connectivity
London, UK, February 22, 2023: The Wireless Broadband Alliance (WBA) today announced that, together with Cisco, Lake Oconee Church in the US has upgraded its campus Wi-Fi network with Cisco Meraki to support WBA OpenRoaming™, which simplifies how the congregation and their guests securely connect to parish networks and one another.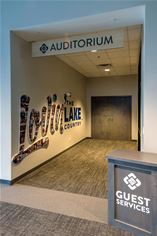 Lake Oconee Church Inside Hall
Lake Oconee Church has served as a hub for the Greensboro, Georgia, community since 2013, supporting local businesses, social enterprises, not-for-profits, education and more. In 2021, the church deployed a cloud-managed network powered by Cisco Meraki Wi-Fi 6 access points. In less than two years, Lake Oconee Church has tripled the amount of space its network supports, allowing parishioners and guests to stay seamlessly connected, providing instant access to information, such as scriptures and song lyrics, and enabling remote participation in services. With Wi-Fi 6, church members and guests can enjoy these benefits with six times faster upload speeds and four times faster download speeds, when compared with legacy Wi-Fi networks.
To further enhance the community experience, Lake Oconee Church has newly deployed WBA OpenRoaming, which enables parishioners and guests to log in only once and then have their smartphone, tablet or laptop automatically connect every time they return. Available at over 1 million hotspots worldwide, WBA OpenRoaming has become the global standard that Wi-Fi network owners, service providers and others are adding. It eliminates the need for users to constantly re-register or re-enter log-in credentials — all while maintaining enterprise-grade security.
Tiago Rodrigues, CEO of the Wireless Broadband Alliance, said: "Lake Oconee Church is the latest example of how WBA OpenRoaming deftly eliminates one of the biggest barriers to staying connected: the hassle of constantly remembering and submitting log-in credentials. OpenRoaming's convenience frees Lake Oconee parishioners and guests to enjoy the speed of Wi-Fi 6 instead of continually finding the network and then logging back in."
Morgan Herselman, Lake Oconee Church Director of Ministry Services, said: "WBA OpenRoaming provides the Lake Oconee community with convenient, seamless and secure Wi-Fi connectivity throughout our campus. The area our networking environment covers has tripled in size over the past few months, which highlights how important Wi-Fi has become not only to traditional worship, but also the education, volunteer work and the myriad other activities that our ministry and community engage in every day."
Matt MacPherson, Wireless CTO at Cisco, said: "With WBA OpenRoaming, organizations such as Lake Oconee Church can seamlessly and securely onboard guests to their wireless networks without the need for user names and passwords. OpenRoaming was developed with privacy first and provides users with trusted and secure onboarding with authentication from hundreds of identity providers they already use. This enables Cisco customers, whether using Meraki or Catalyst networks, to deliver the fastest, most trusted connections possible to get their users connected and engaged."
About the Wireless Broadband Alliance
Wireless Broadband Alliance (WBA) is the global organization that connects people with the latest Wi-Fi initiatives. Founded in 2003, the vision of the Wireless Broadband Alliance (WBA) is to drive seamless, interoperable service experiences via Wi-Fi within the global wireless ecosystem. WBA's mission is to enable collaboration between service providers, technology companies, cities, regulators and organizations to achieve that vision. WBA's membership is comprised of major operators, identity providers and leading technology companies across the Wi-Fi ecosystem with the shared vision.
WBA undertakes programs and activities to address business and technical issues, as well as opportunities, for member companies. WBA work areas include standards development, industry guidelines, trials, certification and advocacy. Its key programs include NextGen Wi-Fi, OpenRoaming, 5G, IoT, Testing & Interoperability and Policy & Regulatory Affairs, with member-led Work Groups dedicated to resolving standards and technical issues to promote end-to-end services and accelerate business opportunities.
The WBA Board includes Airties, AT&T, BAI Communications, Boingo Wireless, Broadcom, BT, Cisco Systems, Comcast, Deutsche Telekom AG, Intel, Reliance Jio, Turk Telekom and Viasat. For the complete list of current WBA members, click here: https://wballiance.com/join-us/current-members/
Follow Wireless Broadband Alliance:
www.twitter.com/wballiance
http://www.facebook.com/WirelessBroadbandAlliance
https://www.linkedin.com/company/2919934/


[ad_2]

Source link