Marina Bay Sands Becomes Largest Hotel in Singapore to be GSTC-Certified
[ad_1]


(20/02/23)
 Marina Bay Sands has become the largest hotel in
Singapore to be certified to the
Global Sustainable Tourism Council (GSTC) Industry Criteria for
Hotels and Accommodation.
The GSTC Industry Criteria for Hotels was created
to
promote the best sustainable tourism practices around four main
themes: effective sustainability management; minimising
environmental impact; maximising social and economic benefits for
the local community; and enhancing cultural heritage.
Marina Bay Sands'
certification is in line with the Singapore Tourism Board (STB)
and Singapore Hotel Association's (SHA) sustainability roadmap
which is aiming for 60 per
cent of the hotel room stock in Singapore to attain
internationally recognised hotel sustainability certification by
2025.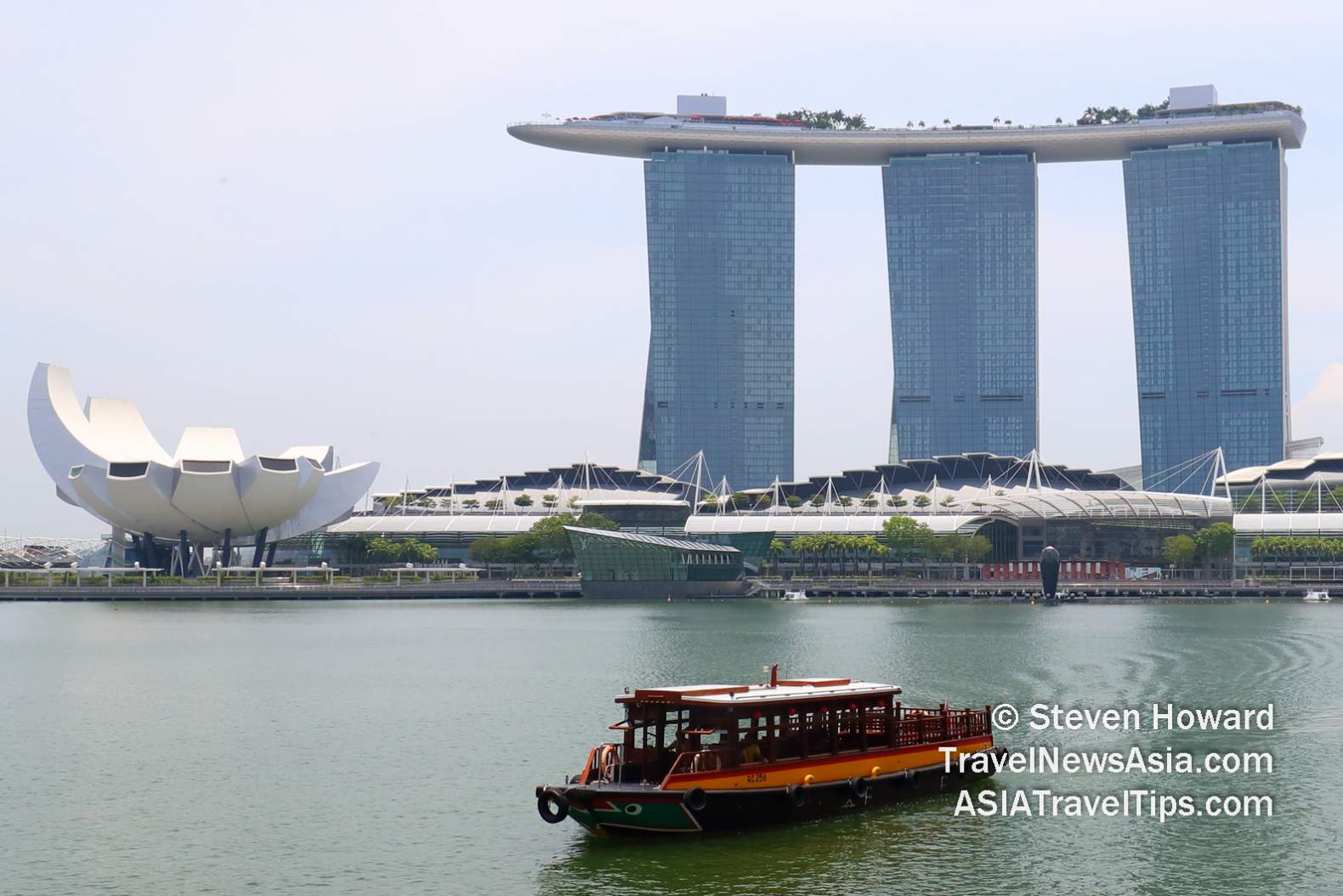 Marina Bay Sands. Picture by Steven Howard of TravelNewsAsia.com
"We
congratulate Marina Bay Sands on this significant achievement,"
said Jeannie Lim, Assistant Chief Executive, Policy and Planning
Group, Singapore Tourism Board.
"Their efforts support our goal to become one of the world's most
sustainable urban destinations, guided by the Singapore Green Plan
2030. We also hope that their example will inspire other hotels to
strive toward similar goals in line with the Hotel Sustainability
Roadmap. STB will continue to support hotels on their
sustainability journey, working together to reduce impact on the
environment, maximise the social and economic benefits of tourism,
while enhancing cultural heritage and meeting the needs of
travellers."
Having reduced its carbon footprint by over 50 per
cent since 2012, Marina Bay Sands also surpasses the roadmap's
ambition for hotels in Singapore to commence tracking of emissions
by 2023 and reduce emissions by 2030.
"Congratulations to the team at Marina Bay Sands on becoming
certified to the GSTC Industry Criteria. We commend their
continued efforts in reducing carbon emissions and environmental
impact, prioritising sustainable management, and for their overall
commitment to innovative sustainable solutions," said Randy
Durband, CEO of GSTC.
The integrated resort is focused on annual performance goals
in energy, waste, water, resource management, sustainable
pProcurement, biodiversity and has an ambitious global commitment
to the Science Based Targets Initiative (SBTi), pledging to reduce
Las Vegas Sands Corp's greenhouse gas emissions 17.5 per cent by
2025.
Just a few of the initiatives that Marina Bay
Sands undertakes to minimise its environmental impact, include:
• Reduced its carbon footprint and
water consumption by over 50 per cent and 13 per cent
respectively from 2012.
• Since 2012, the integrated resort has saved over
9.5 million kWh of energy annually through investments in an
intelligent Building Management System, building artificial
intelligence data analytics and other carbon-tech efficiency
measures.
• Marina Bay Sands uses several technologies
including tracking solutions to help chefs measure, monitor, and
reduce food waste. In addition to its five aerobic digesters, the
integrated resort is piloting a fully circular processing
technology converting food waste into a high-calorific substrate
that may be used as insect feed, while continuing to work with
local food charities to donate unserved food to underprivileged
communities. Over 1.5 million kgs of food waste was diverted
from the landfill in 2022.
• Adoption of the E3R strategy – Eliminate, Reuse,
Replace, and Recycle, guides the integrated resort's efforts to
reduce its carbon emissions arising from the use of single use
disposables.
"The GSTC certification is a testament to Marina
Bay Sands' ongoing commitment to minimise our environmental impact
while providing our guests with a luxurious experience. Being the
largest hotel in Singapore to be GSTC-certified shows our
commitment in raising the bar for the industry and inspiring other
players to adopt more sustainable practices," said Meridith
Beaujean, Executive Director of Sustainability, Marina Bay Sands.
The GSTC certification follows
Marina Bay Sands' Special Award for Sustainability at
Singapore Tourism Board's annual awards in
2022.
Latest videos: Noise
Cancelling Ear Plugs for a Perfect Night's Sleep,
Running
Lights – Lumefit Premium 360° Reflective Vest Review,

Steven Howard Outlines Travel News Asia's Video and Podcast Plans
for 2023, Amari
Watergate Bangkok – 4K Video Interview with Sukamal
Mondal, Area GM.
[ad_2]

Source link