Minor Hotels Signs Riverside Resort in Chiang Mai, Thailand
(04 Mar 2022, 11:48 +07)
 Minor Hotels, the parent company of NH
Collection Hotels, has signed the brand's first property in Asia.
Scheduled to open in Q1 2023, the NH Collection
Chiang Mai Ping River will be located on a bank of the Mae Ping
River in northern Thailand.
The resort, which will occupy two low-rise buildings,
will feature 79 rooms
and suites – some with private swimming pools; a
multipurpose space combining a restaurant, cafe, art space and
bar; a swimming pool with a deck; as well as a fitness centre.
Right across the river from the resort lies the
Old City with its trendy art galleries, craft shops
and numerous dining options, while Chiang Mai International
Airport (CNX) is only 4 kilometres away.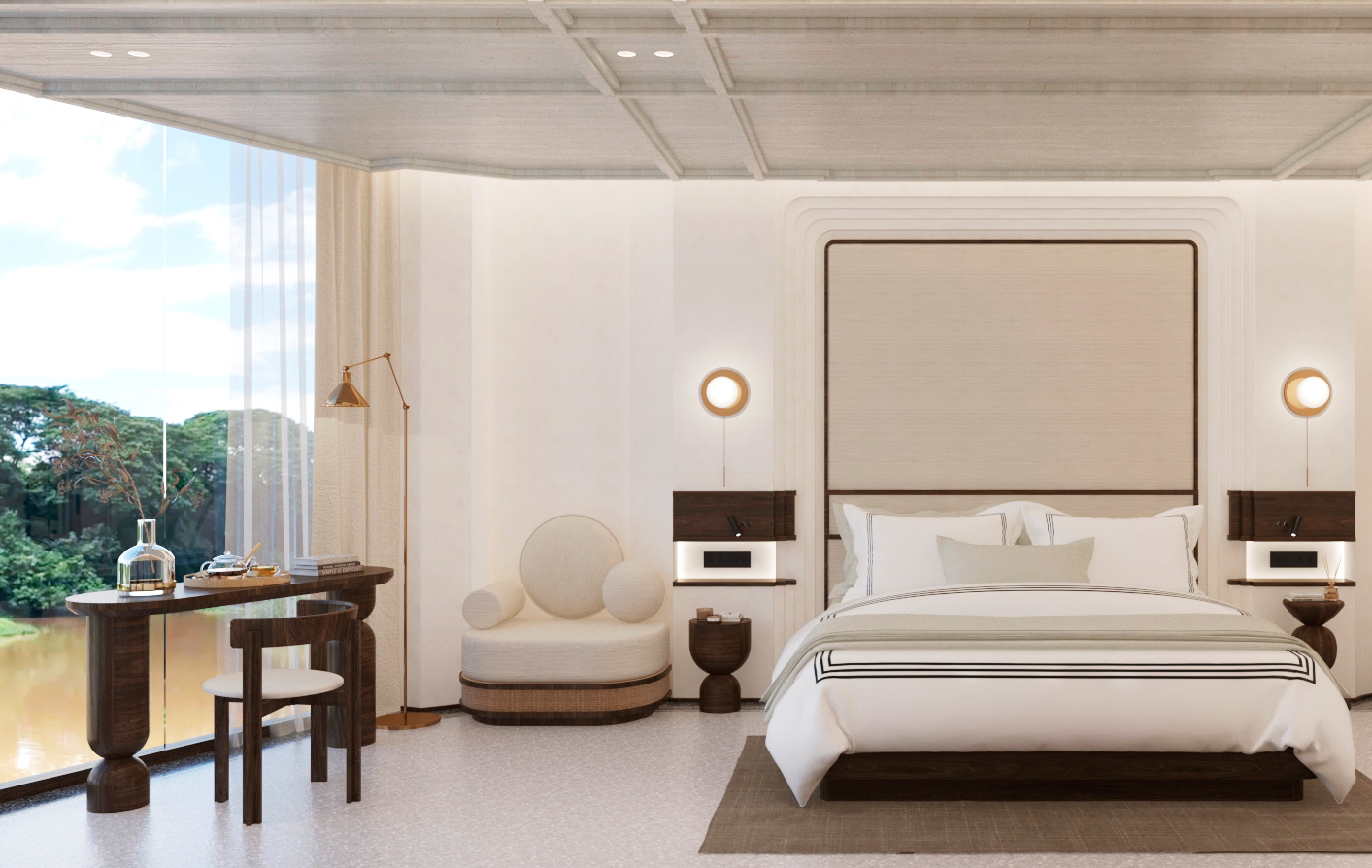 Suite at the NH Collection Chiang Mai Ping River
A partnership between Osmo Ping River, a
subsidiary of Osmo Properties Group and Minor Hotels, the
development marks a debut of the NH Collection brand outside of
Europe and Latin America, where the upper-upscale chain has 93
hotels.
"NH Collection Chiang Mai with its riverside
location minutes away from the Old City, is a singular venue
surrounded by history, culture and nature," said Dillip Rajakarier,
Chief Executive Officer, Minor Hotels. "Every NH Collection
experience is based on our promise to connect guests with the
city's soul, so getting the destination right was extremely
important for our first NH Collection property in Asia. Together
with our partner Osmo Ping River we look forward to giving the
city of Chiang Mai a truly standout property that will speak of
its standing as Thailand's centre of creativity."
Nestled in the mountains of northern Thailand,
the laid-back city of Chiang Mai is one of the most visited
destinations in the country known for its long history of
traditional craftsmanship. The inauguration of Chiang Mai's
contemporary art museum in 2016 further cemented the city's reputation
as an art hub.
Founded in 1296, Chiang Mai was capital of the
independent Lanna Kingdom until 1558, and the Old City area still
retains vestiges of walls and moats as well as hundreds of
elaborate Buddhist temples reflecting the city's importance as a
cultural and religious centre.
In addition to cultural pursuits, such as visits
to artisan villages and mountain hill tribes, guests can immerse
themselves in nature with trips to hot springs, natural parks and
waterfalls.
"We are confident that Thailand will reclaim its
position as a top tourism destination, especially Chiang Mai which
is blessed with natural beauty, cultural diversity, local cuisine
and a pleasant climate in the cool season that has made the city
popular to both Thai and international guests. It is our honour to
partnered with Minor Hotels on the first NH Collection in
Thailand. We are excited to work with local Chiang Mai craftsmen
in incorporating art, culture and lifestyle of Lanna people into
the design of this first luxury hotel brand, which is already well
established in Europe,"  said Mr. Jirath Pavaravadhana,
Chairman of Osmo Properties Group.