Mount Graham Regional Medical Center selects HealthStore® to retire legacy systems & access historical patient data
[ad_1]

WOBURN, MA – 23 February 2023 – Mount Graham Regional Medical Center (MGRMC), Arizona, has appointed leading healthcare data management specialists, BridgeHead Software, to implement HealthStore® to retire its inherited and legacy healthcare applications whilst retaining easy access to their valuable, historical patient data.
BridgeHead's award-winning clinical data repository, HealthStore, will provide clinicians and support staff at MGRMC with access to a richer patient record. It will also significantly decrease the time and costs associated with managing and supporting legacy applications, and reduce the security threats associated with aging systems.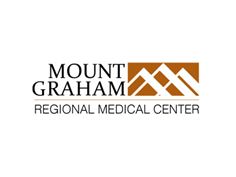 Mount Graham Regional Medical Center Logo
In recent years, Mount Graham Regional Medical Center has experienced significant growth through the acquisition of multiple clinics, resulting in the inheritance of many clinical applications with duplicated functionality. Data residing within these legacy applications was trapped – each a data silo containing important patient, clinical, and/or administrative information that was difficult for users to access. Furthermore, legacy applications carried significant overhead for the organization, including licensing, support and maintenance costs; IT time and resource; and ongoing skills and training. Ageing applications can also become increasingly vulnerable to cyber-crime; posing significant risk to hospital operations and the continuity of patient care provision and delivery. HealthStore® will enable MGRMC to overcome these challenges.
Justin Millar, Director of Information Technology, Mount Graham Regional Medical Center explained, "Our longstanding partnership with BridgeHead Software spans more than a decade, and we knew it could provide the best solution to help us overcome the immediate issues around retiring multiple, legacy applications.
"HealthStore® enables the preservation of, and access to, valuable patient data extracted from multiple sources, and mitigates the risks associated with legacy systems. With HealthStore, the historical patient data contained within our legacy systems will not only be retained and efficiently managed, but accessible at the point-of-care via one easy-to-use, cost-effective, and reliable solution. This will help improve clinical workflow and enable better continuity of care for patients. It also provides MGRMC with a futureproof data management platform to accommodate all kinds of structured and unstructured healthcare information, such as images, documents, and discrete data. We're really excited by what HealthStore can do for Mount Graham Regional Medical Center in both the short term and over time."
With BridgeHead's HealthStore, Mount Graham Regional Medical Center will be able to extract all data from inherited and/or legacy systems, and store and protect it within the clinical data repository. Staff will be able to access data anytime, anywhere, and on any approved device directly via HealthStore® or through integrations with other systems, such as its MEDITECH Electronic Health Record system. Following this, source legacy applications can be decommissioned, saving time and money whilst reducing risk.
Jim Beagle, President and CEO at BridgeHead Software said, "Outdated, redundant and duplicate systems are common within the healthcare sector and pose significant financial, operational, and clinical risks. HealthStore® removes these risks, enabling hospitals to retire legacy applications whilst still retaining access to the valuable patient data stored within those systems.
"BridgeHead has a strong, long-established relationship with Mount Graham Regional Medical Center, and we are proud to further strengthen our collaboration and support the team with innovative technologies to drive better patient care and safety."
ENDS
About BridgeHead Software
BridgeHead Software is a leader in data and storage management dedicated entirely to the healthcare industry and is trusted by over 1,200 hospitals worldwide. Today, BridgeHead Software helps healthcare facilities overcome challenges stemming from rising data volumes and increasing storage costs while delivering peace of mind around how to consolidate, store, protect, and share patient, clinical, business, and financial information.
BridgeHead's Healthcare Data Management solutions are designed to work with any hospital's chosen applications and storage hardware, regardless of vendor, providing greater choice, flexibility and control over the way data is managed, now and in the future.
For more information
Visit http://www.bridgeheadsoftware.com/
Follow the BridgeHead Software blog
Follow us on Twitter
Follow us on LinkedIn
Like BridgeHead Software on Facebook
About Mount Graham Regional Medical Center
Mt. Graham Regional Medical Center is located in Safford, Arizona, and is the primary source of healthcare for both Graham and Greenlee Counties. Named after the area's most striking landmark, Mt Graham Regional Medical Center is as committed to providing the finest healthcare to its valley's residents today as it was when it opened over 48 years ago.
For more information visit www.mtgraham.org
BridgeHead Software Media Contacts:
Dannii Burrell
Mobile: +44 (0)7919 124090
Email: [email protected]


[ad_2]

Source link