oneworld to Purchase 200 Million Gallons of SAF from Gevo
(22 Mar 2022, 10:47 +07)
 Members of the oneworld airline alliance plan to
purchase up to 200 million gallons of sustainable aviation fuel
(SAF) per year from Colorado-based renewable fuels producer, Gevo.
Delivery of the fuel is scheduled to commence from
2027, for a five year-term.
oneworld members Alaska Airlines, American
Airlines, British Airways, Finnair, Japan Airlines and Qatar
Airways expect to utilise the SAF for
operations in California including San Diego, San Francisco, San
Jose and Los Angeles International Airports.
This is the second SAF commitment by oneworld
member airlines in just five months. In November 2021,
oneworld signed an agreement to purchase more than 350
million gallons of blended sustainable aviation fuel from Aemetis
for operations at San Francisco.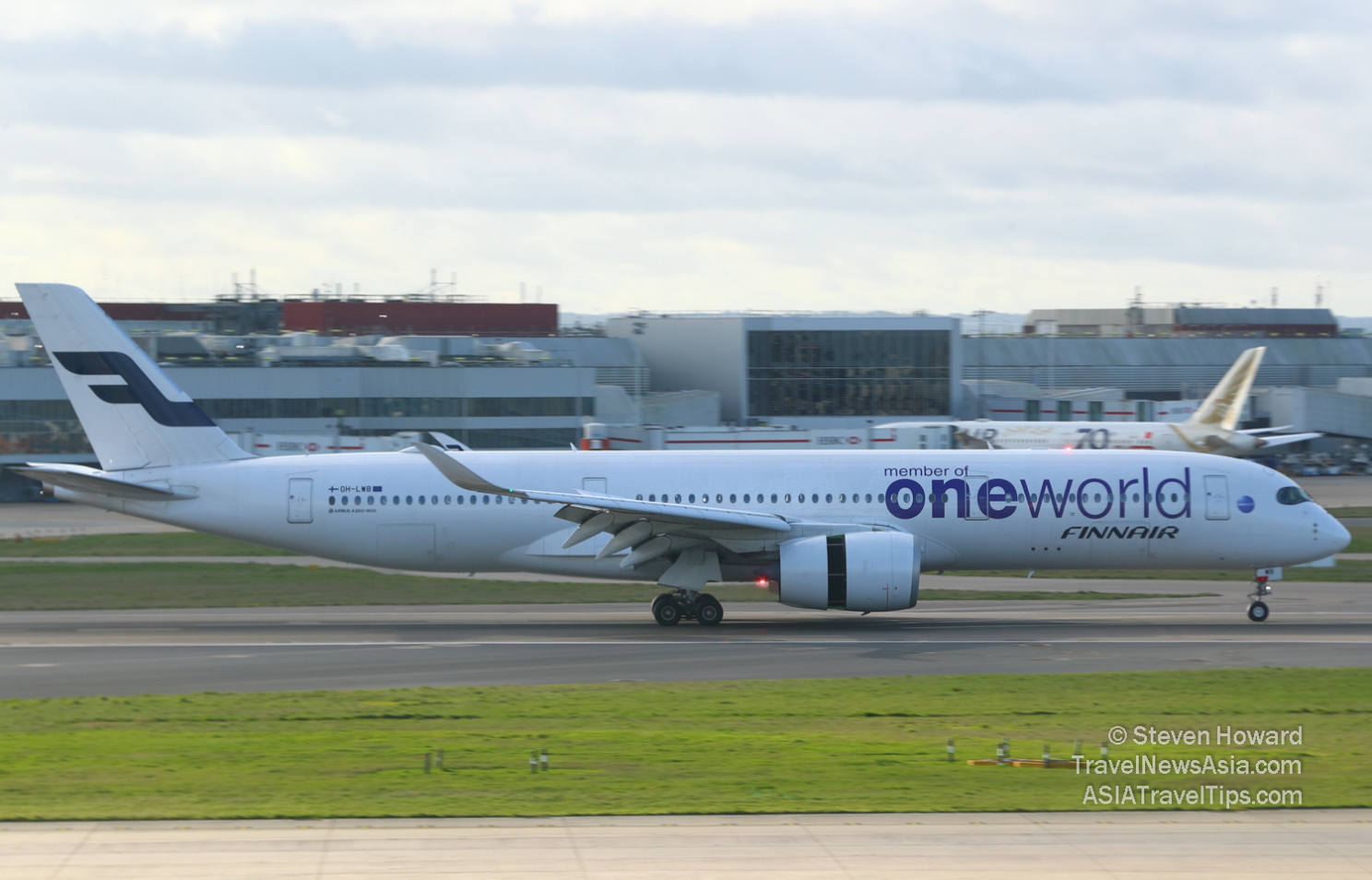 Finnair A350-900 reg: OH-LWB. Picture by Steven Howard of TravelNewsAsia.com
"Five months ago, we
committed as an alliance to a target of 10% sustainable aviation
fuel by 2030," said oneworld CEO Rob Gurney. "Today's announcement of a second major sustainable
aviation fuel offtake among member airlines builds further upon
that commitment, while demonstrating the value that can be
delivered when our member airlines work together."
Gevo's
sustainable aviation fuel is expected to be produced using
inedible corn products that will be processed to create ethanol
that will then be converted into sustainable aviation fuel. The
fuel is expected to be produced at three
facilities under development in the Midwest of the United States. The entire supply chain will be certified by the Roundtable for
Sustainable Biomaterials (RSB) standard which is widely recognised
as the most robust certification scheme for bioenergy.
"When
oneworld member airlines show they understand the importance of
reducing fossil-carbon greenhouse gas emissions, they start making
real change in the industry," said Dr. Patrick R. Gruber, Gevo's
Chief Executive Officer. "Eliminating fossil-based emissions from
the life-cycle of jet fuel is our mission. Net-Zero SAF is what we
all want. I'm pleased that oneworld is on board."
oneworld airlines can still source their own
sustainable aviation fuel. Finnair, for example, has already partnered with Neste in
Finland to increase its use of SAF.
"The high price and limited availability of
sustainable aviation fuels still present challenges for increasing
its usage in commercial aviation, and thus stimulating demand and
supply is important to drive down the price of SAF and to increase
its availability – underlining the importance of joint commitments
like that of oneworld member airlines," said Eveliina Huurre, SVP
Sustainability at Finnair.