POLATIS 576 optical circuit switch makes its debut at OFC 2023
[ad_1]

CAMBRIDGE, UK – February 27, 2023 – The latest addition to the POLATIS all-optical switch portfolio from HUBER+SUHNER has been designed to provide operators with 80% more capacity than any other solution on the market.
The POLATIS 576 software-defined optical circuit switch has a resilient, redundant, and modular architecture that underpins the reliability and availability of the switch in a network environment. To further protect mission-critical services, the POLATIS 576 can be equipped with field-addressable spare ports so that an interruption on any port can be bypassed rapidly by moving the fiber to a spare and reassigning the port in software.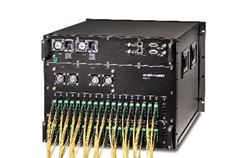 New POLATIS optical circuit switch extends range to 576×576 fiber ports
Extending the company's leadership in this field, the new high-performance, high-density POLATIS optical switch platform offers maximum connectivity and reliability with exceptionally low optical loss and fast switching speeds for even the most demanding of applications.
The matrix of 576×576 non-blocking fiber ports enables operators to remotely connect a greater number of fibers together in a compact form factor in applications such as cybersecurity and network monitoring, test lab automation and data center cross connects. The POLATIS 576 variant with MPO connectors occupies just 8RU of precious rack space.
"Our POLATIS optical circuit switches enable network automation directly at the fiber layer to save time, cost and power when creating new user connections, upgrading data center line rates, monitoring network services or managing test operations," said Nick Parsons, Vice President of Technology at HUBER+SUHNER Communications. "We have re-architected the core switch engine in our new POLATIS platform to feature resilient, distributed control and a compact, integrated design that improves both energy efficiency and port density. The 576×576 has been designed for volume manufacture and with future scalability in mind. We expect to roll out the new platform across the whole POLATIS portfolio in the near future."
The low-loss POLATIS 576 optical switch utilises the patented DirectLightTM transparent, dark-fiber optical switching platform that has been proven in the most challenging data center, telecom, test and defense applications for more than two decades.
With support for Software-Defined Networks (SDNs) via embedded NETCONF and RESTCONF interfaces, POLATIS optical circuit switches are 100x more energy-efficient than conventional electronic switching equipment and enable dynamic routing, monitoring, protection and test of real-time traffic directly at the fiber layer with speed-of-light data latency.
END
More to explore
For more information on Polatis 576 please visit – https://www.hubersuhner.com/en/products-en/fiber-optics/optical-switches/polatis-optical-switches/polatis-576/polatis-576
Contact
Trade media
Proactive International PR
[email protected]
HUBER+SUHNER
Jim Mack
[email protected]
HUBER+SUHNER Group
The globally active Swiss company HUBER+SUHNER develops and produces components and system solutions for electrical and optical connectivity. The company serves the three main markets Industry, Communication and Transportation with applications from the three technologies of radio frequency, fiber optics and low frequency. HUBER+SUHNER products excel in excellent performance, quality, reliability and long service lives – even under the most demanding conditions. Through a global production network, combined with subsidiaries and representatives in over 80 countries, the company is close to its customers worldwide.
[ad_2]

Source link