Sabre Completes Sale of AirCentre to CAE
( 2 Mar 2022, 11:27 +07)
 Sabre has completed the sale of its AirCentre
airline operations portfolio to CAE.
The transaction, valued at US$392.5 million,
includes the Sabre AirCentre product portfolio, related technology
and intellectual property as well as the transfer of AirCentre's
team members from Sabre to CAE.
The divestiture of AirCentre supports
Sabre's
efforts to streamline its product portfolio in order to focus more
intently on its technology transformation as well as plans
to identify and maximize new revenue opportunities for the company
and its customers.
"Today's announcement marks an important milestone
for Sabre as we take bold steps toward achieving our vision to be
held as the premier global technology platform in travel," said
Sean Menke, Sabre CEO. "With the close of this transaction, Sabre
is better positioned for the future and ready to deliver on the
incremental revenue and growth opportunities that are before us."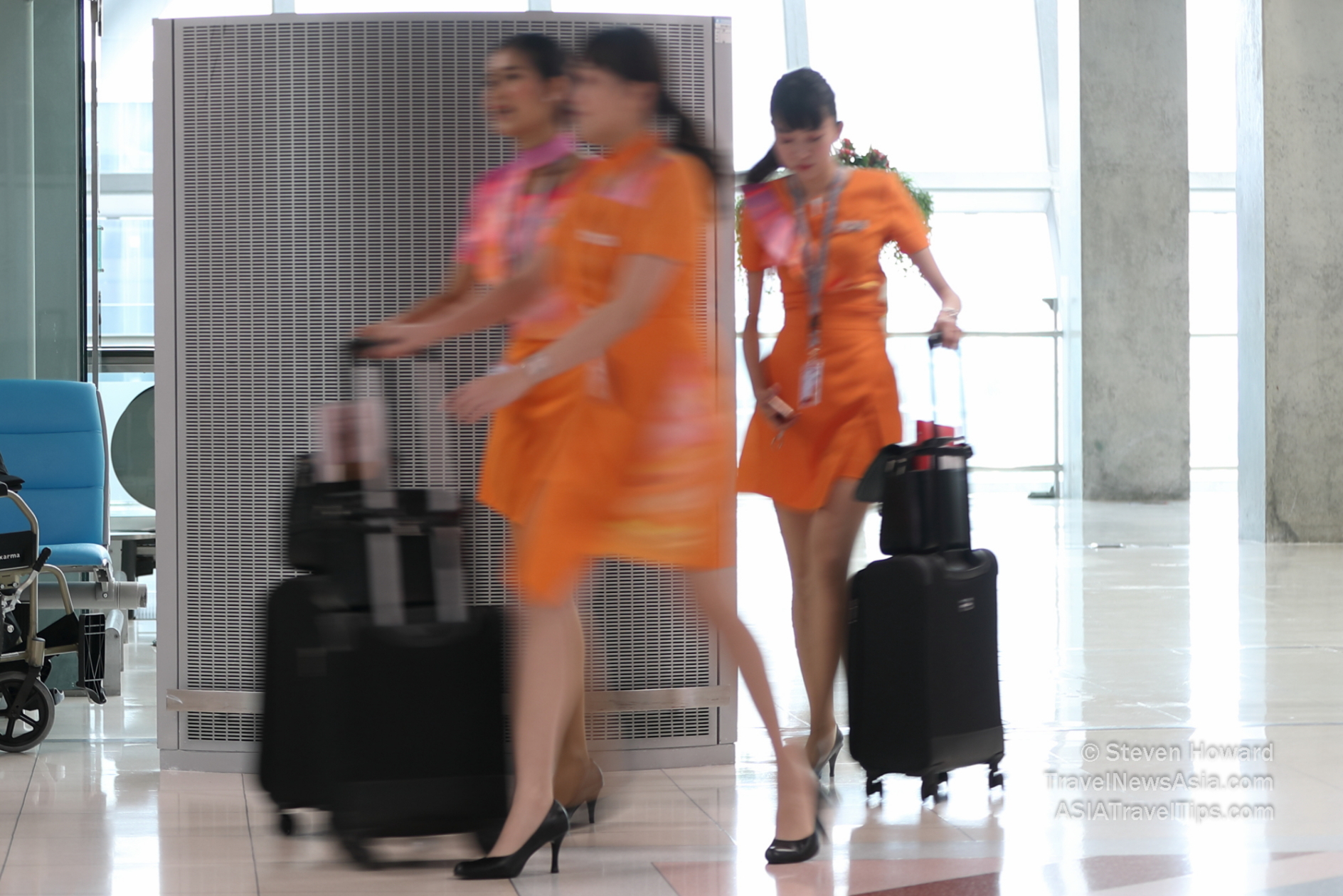 Thai Smile cabin crew at BKK. Picture by Steven Howard of TravelNewsAsia.com
Sabre's Airline Operations business employs almost
500 people located in 12 countries, including 6 hubs (Dallas,
Bangalore, Vienna, Krakow, Montevideo, and Shanghai). It delivers
software solutions to more than 150 airline customers, with a
portfolio that includes:
Crew Management:
Enables enhanced long-term planning, innovative tracking and
management, and disruption management decision support to help
carriers manage crew schedules and keep crew members informed with
real-time data.
Flight Management:
Allows airlines to manage the core functions of flight operations
to deliver efficient flight plans and support increased
productivity.
Movement Manager:
Helps airlines to gain a competitive advantage by optimizing the
use of aircraft and operational plans to help meet commercial
objectives such as protecting schedules, reducing disruptions and
minimizing passenger impact.
Airport Management:
Manages airport operations such as planning, gate assignments and
staffing to support increased operational efficiency, help
optimize costs and improve the customer experience.
In-Flight: Spans
all aspects of service planning, meal ordering, forecasting,
operations, materials management, financial controls and
reporting.
"We are very pleased to welcome Sabre's Airline
Operations customers and employees to CAE," said Marc Parent,
CAE's President and CEO. "This acquisition, in addition to our
ongoing technological transformation and our previous acquisitions
of Merlot and RB Group, allows us to expand our reach into
digitally-enabled flight and crew management and optimization
services and create additional value for our customers."
CAE has been carrying out a growth strategy with
the intent to emerge from the COVID19 pandemic as a larger, more
resilient, and more profitable company than ever before. The acquisition, the ninth accretive acquisition
for CAE since the COVID19 pandemic began, further expands
CAE's reach across its broad customer base beyond simulators and
pilot training and establish the company as a technology leader in
the growing marketplace for industry-leading, digitally enabled
flight and crew operations solutions.
CAE acquired Merlot and RB Group in December 2020
and April 2021, respectively.