Sihot Completes Acquisition of Addipos
[ad_1]


(14/12/22)
 Sihot, a German provider of property management
systems, has expanded its hardware portfolio through
the acquisition of Addipos.
Based in Saarbrucken and founded in 2004, Addipos
has become one of Germany's leading providers of integrative POS
systems for catering, hotels and bakeries. Over the years, the company has
completed 1,138 installations to date.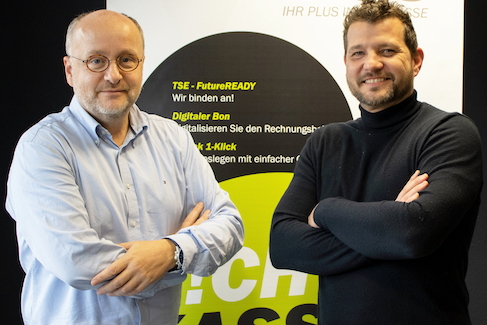 Joerg Berger (left) with Carsten Wernet
With the purchase, Sihot's parent company Gubse
will take over control of the company enabling it to expand its
portfolio with POS hardware that complements its Cloud SaaS
system.
Sihot has collaborated with Addipos for a number
of years, working together to deliver POS hardware and software to
the hospitality industry.
Addipos employees across all its German offices in
Saarbrücken, Berlin and in its network of 17 countries will not be
affected.
The founders of Addipos, Kai Grobusch and Peter
Schmelzer, will also remain with the business for the foreseeable
future.
"We have always seen a great deal of value in our
collaboration," said Carsten Wernet, Chief Executive, Sihot. "This
will now allow us to even further bring our strengths together,
and enable the expertise of Peter and Kai to invest in the
software development processes and resources of Gubse to take the
POS market to the next level."
Latest HD video interviews: Amari
Watergate Bangkok – 4K Video Interview with Sukamal
Mondal, Area GM, Bangkok Riverside Fest 2023 – 4K Video
Interview with Frederic Kolde, Business Travel Trends in Asia Pacific – Video Interview with Brett Thorstad, Sabre.
[ad_2]

Source link