Simpson Associates is officially one of UK's Best Workplaces™ for Wellbeing!
[ad_1]

York 15th February 2023 – Simpson Associates has officially been named one of the UK's Best Workplaces™ for Wellbeing (2023) by Great Place to Work®, the global authority on workplace culture. This prestigious accreditation follows a comprehensive audit of the organisation's workplace culture, management and policies, where it excelled in creating an environment of wellbeing for its employees.
The commitment of the leadership team at Simpson Associates has helped to make it a great place to work. Their compassion and commitment to the health and wellbeing of every employee is something to be celebrated and admired.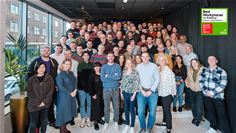 Simpson Associates
"I'm incredibly proud that Simpson Associates has earned a place on the 2023 UK's Best Workplaces Wellbeing List. We work hard to ensure we've grown a culture where our employees feel happy and genuinely cared for. To be recognised for this is so special because it confirms we're doing the right things."
Rachel Hillman Finance and Operations Director at Simpson Associates
Great Place to Work's culture experts analysed thousands of employee surveys, assessing people's holistic experiences of wellbeing at work to determine the UK's Best Workplaces™ for Wellbeing list. The surveys asked employees to comment on how their company supports their work-life balance, sense of fulfilment, job satisfaction, psychological safety, and financial security. Evaluations also included an assessment of how well the organisation was able to deliver consistency of their employee experience across all departments and seniority levels.
"Genuinely care about the health and career progression of employees, something I've never experienced before."
"The Directors of the business are genuinely passionate about making Simpson Associates a great place for everyone to work. This is rare and to be celebrated."
"At the heart of every organisation are its people and looking after their wellbeing should be much more than a package of impressive perks on a careers website," explains Benedict Gautrey, Managing Director of Great Place to Work® UK. "We know when employees feel genuinely contented and at ease within their roles, they are much more engaged and productive. Now in our second year of the UK's Best Workplaces™ for Wellbeing list, we're once again able to showcase the leading organisations providing cultures conducive to outstanding psychological, physical and social wellbeing. A huge congratulations to Simpson Associates for making this prestigious list."
About Simpson Associates
Simpson Associates is a leading UK Data Analytics Consultancy and Managed Service Provider, specialising in data consultancy, data performance and data management. Their solutions empower forward-thinking organisations to understand and resolve some of the most complex and common challenges. As a Microsoft Gold Partner, they hold four Gold Competencies in Data and BI. They are also an IBM Gold partner, specialising in Cognos Analytics, Planning Analytics (TM1) and Information Governance, and an Informatica Partner. This ecosystem of technology vendor relationships equips Simpson Associates with a deeper expertise, enabling them to deliver market-leading data management and data performance solutions.
About Great Place to Work®
Great Place to Work is the global authority on workplace culture. Since 1992, they have surveyed more than 100 million employees around the world and used those. The UK's Best Workplaces™ for Tech list enables these outstanding organisations to celebrate their achievements, build their employer brand, and inspire others to take action. For more information, visit www.greatplacetowork.co.uk.
Lorna Appleton
Simpson Associates
01904 234510
[email protected]
[ad_2]

Source link