Star Micronics launches mUnite range of Tablet Stands and CD4 Series of Cash Drawers
[ad_1]

High Wycombe, UK, 31 January 2023 International POS hardware manufacturer Star Micronics announces the launch of a range of versatile tablet stands for retail and hospitality POS, visitor management and self-service applications, alongside the launch of its CD4 Series of cash drawers. Reinforcing Star's position as a leading hardware solutions provider, these new products demonstrate the manufacturer's focus on providing POS peripherals and accessories that respond to the changing nature of point of sale.
The universal mEnclosure tablet holder for a wide variety of Apple, Android and Windows tablets provides a versatile and secure solution that is compatible with the new range of mUnite stands. The durable steel enclosure features locking arms to prevent theft, horizontal or vertical mounting options, clean cable management and is available in either black or white to match existing POS systems.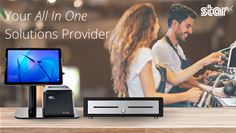 Star mUnite Tablet Stands and CD4 Series of Cash Drawers
The range of compatible mUnite stands maintain a clean design, concealing all the cables that keep devices connected whilst routing power supplies under the counter to recapture space in busy environments. With desk mounted, wall mounted and floor standing versions available, the stands offer universal VESA mounting to secure any tablet of choice which can be positioned in either portrait or landscape view or tilted for customer display. There is also the option for an additional customer-facing tablet.
Desk and floor mounted versions are available specifically for self-service environments allowing customers to check in or place orders independently, while wall mounted options provide an ideal solution for retail and QSR applications where multiple tablets and devices need to be easily accessible but fully secured and clear of workspaces.
Further extending its range of POS peripherals, Star offers the new CD4 Series of cash drawers. Available in two sizes for medium and high cash volume applications with a black or white finish and stainless steel front design, the CD4 Series provides the versatility retail and hospitality businesses demand. Moreover, a reinforced durable top surface ensures secure support for POS terminals and tablets. Each cash drawer includes a standard cable, 10 different lockset options for additional security as well as a foldable hinged key. An optional secure dual-drawer cable offers enhanced security and allows two cash drawers to be controlled by one printer. Finally, an under counter mounting bracket enables valuable countertop space to be maximised.
"As an established POS hardware solutions manufacturer, Star is pleased to announce the launch of its versatile range of mUnite tablet stands and CD4 Series of cash drawers", states Simon Martin, Director & General Manager, Star Micronics EMEA. "Successfully combining functionality and stylish design, Star continues to develop innovative solutions that meet the demands of tomorrow's retail and hospitality POS environments."
About Star Micronics
Founded in 1947, Star Micronics is one of the world's largest printer manufacturers and has facilities for worldwide production, marketing and support. Employing over 1500 staff and achieving turnover in excess of £400 million, Star Micronics has developed a POS printer portfolio that spans thermal and dot matrix printers and mechanisms, designed for barcode, ticketing, receipts and labelling. Star's proven technology is also being utilised to install print mechanisms in multimedia kiosk environments. The Star Micronics' range is available internationally via a distribution channel comprising distributors and dealers.
-oOo-
For further information, please visit www.Star-EMEA.com or contact:
Claire Smith
PR Manager
Star Micronics EMEA
Tel: +44 (0)1494 471111
Email: [email protected]
[ad_2]

Source link