Thai AirAsia Reports FY2021 Results; Plans to Reduce Fleet to 53 Aircraft
(25 Feb 2022)
 Asia Aviation, a
stock exchange of Thailand-listed company and major
shareholder in Thai AirAsia, has reported a total revenue of Baht
2,152 million and a net loss of Baht 993 million for the fourth
quarter of 2021.
For the year ended 2021, the company
reported a total revenue of Baht 4,508 million and a net loss of Baht
6,647 million.
Overall for the full year, the company
carried 2.93 million passengers with a load factor of 68%.
Asia Aviation and Thai AirAsia recently commenced
a restructuring plan, increasing capital to Baht 14
billion and also completing the sale and leaseback transactions of
seven aircraft with net proceeds of Baht 1.7 billion.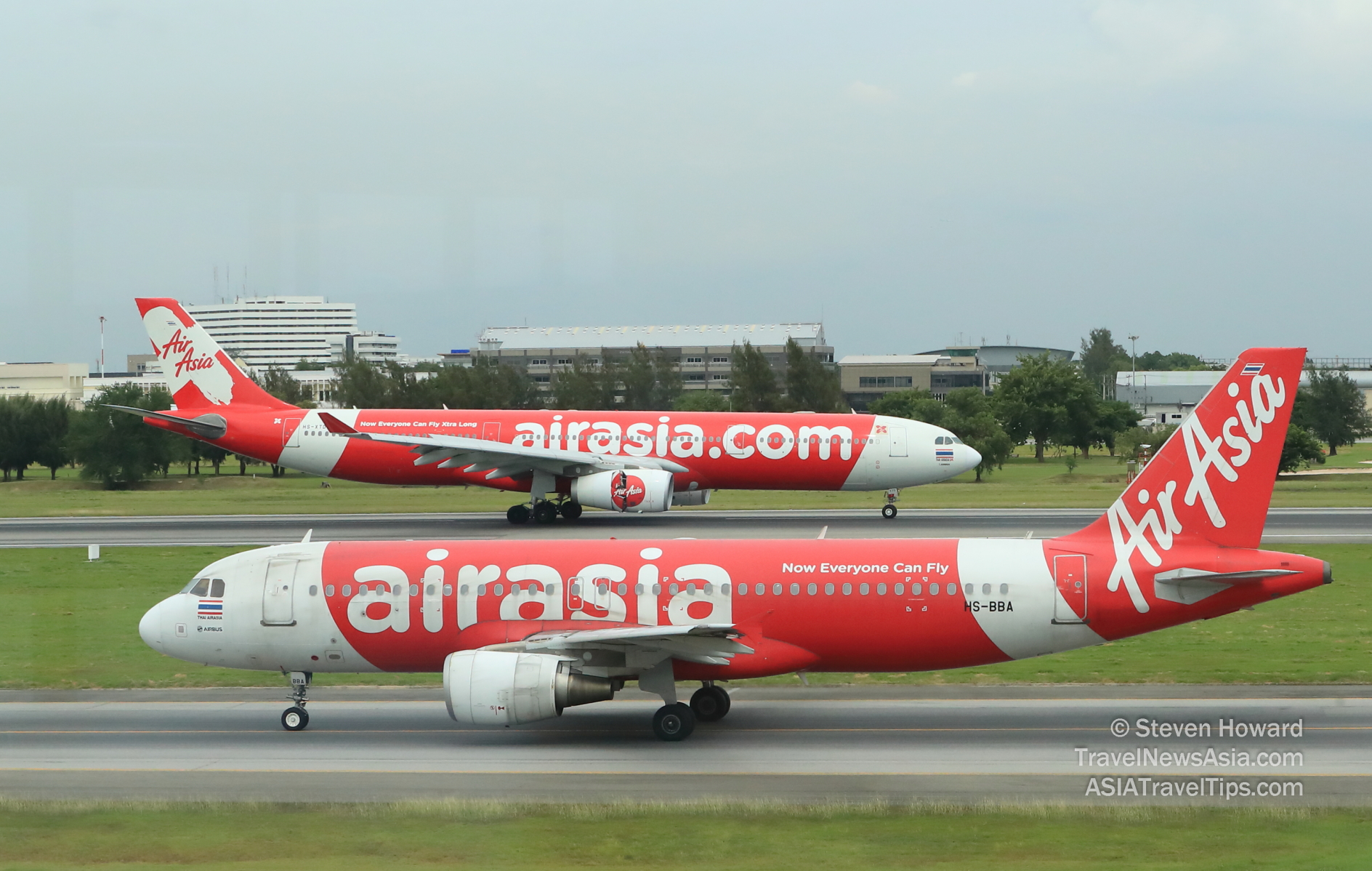 Thai AirAsia A320 and Thai AirAsia X A330 at DMK. Picture by Steven Howard of TravelNewsAsia.com
Santisuk Klongchaiya, Chief Executive Officer of
Asia Aviation and Thai AirAsia, said,
"2021 was a difficult year due to the ongoing effects of the
COVID19 pandemic, which was especially severe throughout the
third quarter and necessitated a temporary suspension of all
domestic flights in support of government containment policies.
The complete suspension of all flights impacted Asia Aviation's
liquidity and cash flow and resulted in a major shareholder
restructuring. The company was nonetheless successful in raising
funds and restructuring operations during the end of 2021 and
stands ready to compete and quickly recover.
"We spent the entire year adapting and seeking out
new opportunities, to build a sustainable and viable platform for
the future. We focused on expanding our operations into cargo
services and chartered flights, where these segments contributed
3% of our total revenue in 2021. We also rebranded to introduce
airasia Super App as a broad based digital travel and lifestyle
business to extend our customer base and to build new revenue
streams in addition to our flight operations."
For 2022, the company aims to carry 12.3 million
passengers and improve its load factor to 78 percent.
Thai AirAsia has no plans to acquire additional aircraft in the near term,
while plans are in place to return aircraft that will expire under
lease agreements, and rotate aircraft within AirAsia Aviation
Group, resulting in a target fleet size of 53 aircraft by the end
of the year. The airline currently has 60 aircraft in its fleet.