The Regent Hong Kong Accepting Room Reservations Following Major Renovation
[ad_1]


(28/02/23)
 A favourite with travellers from around the
world since it first opened in 1980, The Regent Hong Kong is now
once again accepting room reservations following a transformation
by world-renowned architect and design visionary, Chi Wing Lo.
With over 30 years of
experience in architecture and design across the United States,
Greece and Italy, Lo brought his unique blend of artisan craftsmanship and understated elegance to his first hotel project,
which represents not only a homecoming for the hotel but also the
designer as he returns to his roots.
Located on the edge of Victoria Harbour, seemingly
a world away from the crowded streets of Tsim Sha Tsui, The Regent
Hong Kong has long been popular with travellers, whether they are
in the vibrant city for business, leisure or both.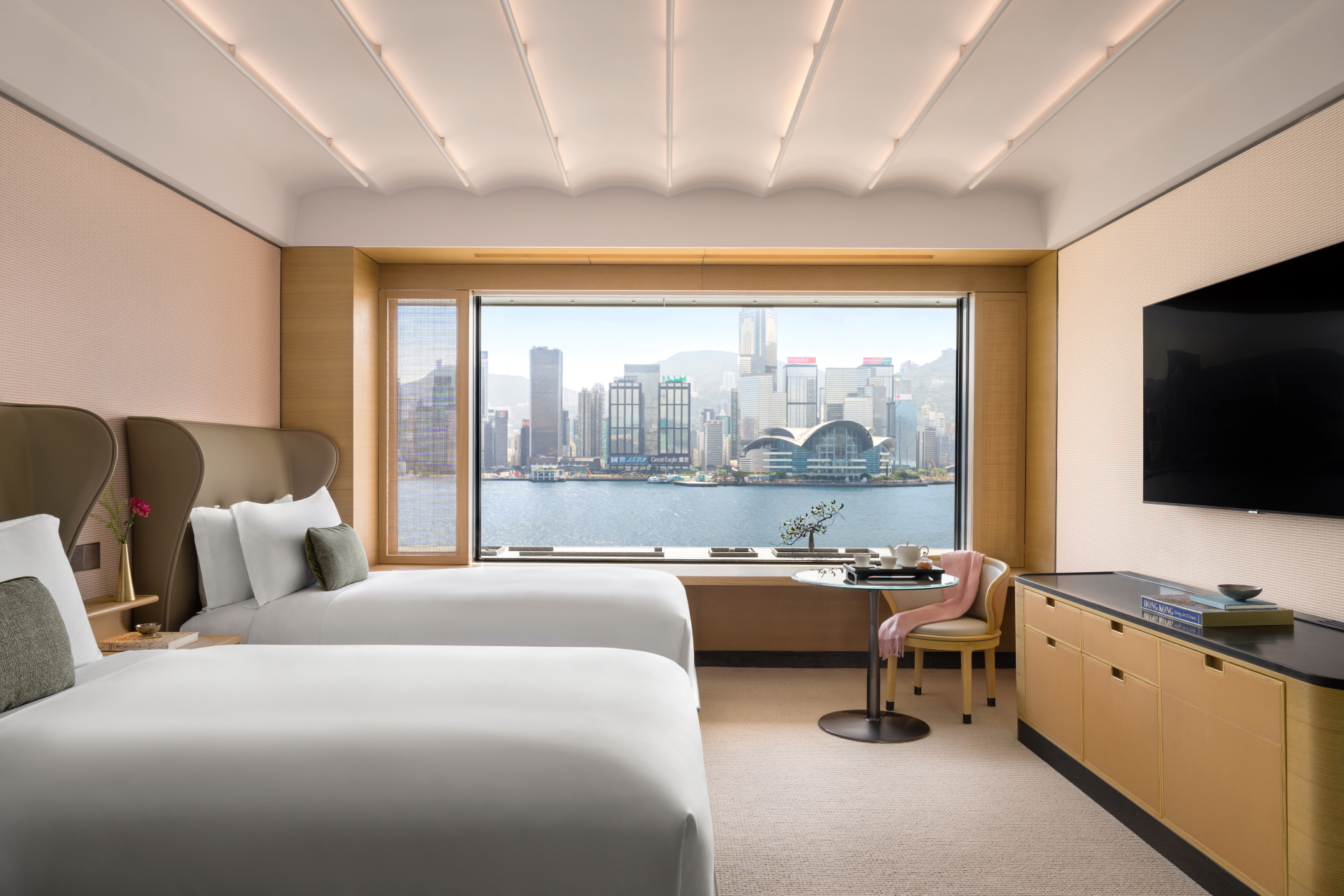 Classic Harbourview Room at The Regent Hong Kong
Being able to look out over the water to Hong Kong
Island on the other side from the comfort of your own room, or
from the Lobby Lounge or one of the many restaurants and event
spaces, provides memories that stay with you forever.
"A
beautiful view without a special vantage is merely a postcard
anyone can buy," Lo said. "A view without a frame is simply a view that has
not passed through the eyes' lens."
When it comes to the guestrooms, Lo's design
philosophy was centered around the
breathtaking 'Framed Views' of the harbour.
The
open, spacious layout, combined with soft-tone carpets, patterned mirror,
rhythmic vaulted ceiling, and fine craftsmanship in wood, leather,
fabric, glass and stone creates a world of peace and quiet. The
window-front daybed is a place of inspiration and relaxation.
In select harbourview rooms, a sliding door
opens to reveal the spectacular view of the harbour from the
curved, free-standing soaking tub. In others, an unique moongate
design of Nero African granite leads to a one-of-a-kind bath and
shower experience.
The curtainless shower provides a sense of
spaciousness and the Axor overhead showerhead with rain, rain
flow and mono modes, is designed to revitalize and invigorate.
"My
vision for the hotel was to provide a sanctuary rather than simply
a place to stay," said Lo. "I wanted my design to embody the
spirit of The Regent and provide a sense of peace, serenity, and
balance amidst the bustling metropolis."
Room reservations are available for stays from March
onwards via the hotel's website, IHG One Rewards App and Wechat Mini-program.
Latest videos: Noise
Cancelling Ear Plugs for a Perfect Night's Sleep,
Running
Lights – Lumefit Premium 360° Reflective Vest Review,

Steven Howard Outlines Travel News Asia's Video and Podcast Plans
for 2023, Amari
Watergate Bangkok – 4K Video Interview with Sukamal
Mondal, Area GM.
[ad_2]

Source link