United Orders 156 Boeing 787s and 737s; Exercises Options for 44 MAX Aircraft
[ad_1]


(14/12/22)
 United Airlines has ordered
100 Boeing 787 aircraft, with options on 100 more.
United expects to take delivery of the new widebody planes
between 2024 and 2032, and has negotiated the flexibility to
choose among the 787-8, 787-9 or 787-10 models.
United also exercised options to purchase 44 Boeing 737 MAX
aircraft for delivery between 2024 and 2026, and ordered 56 more MAX aircraft
for delivery between 2027 and 2028.
The airline now expects
to take delivery of about 700 new narrow and widebody aircraft by
the end of 2032, including an average of more than two every week
in 2023 and more than three every week in 2024.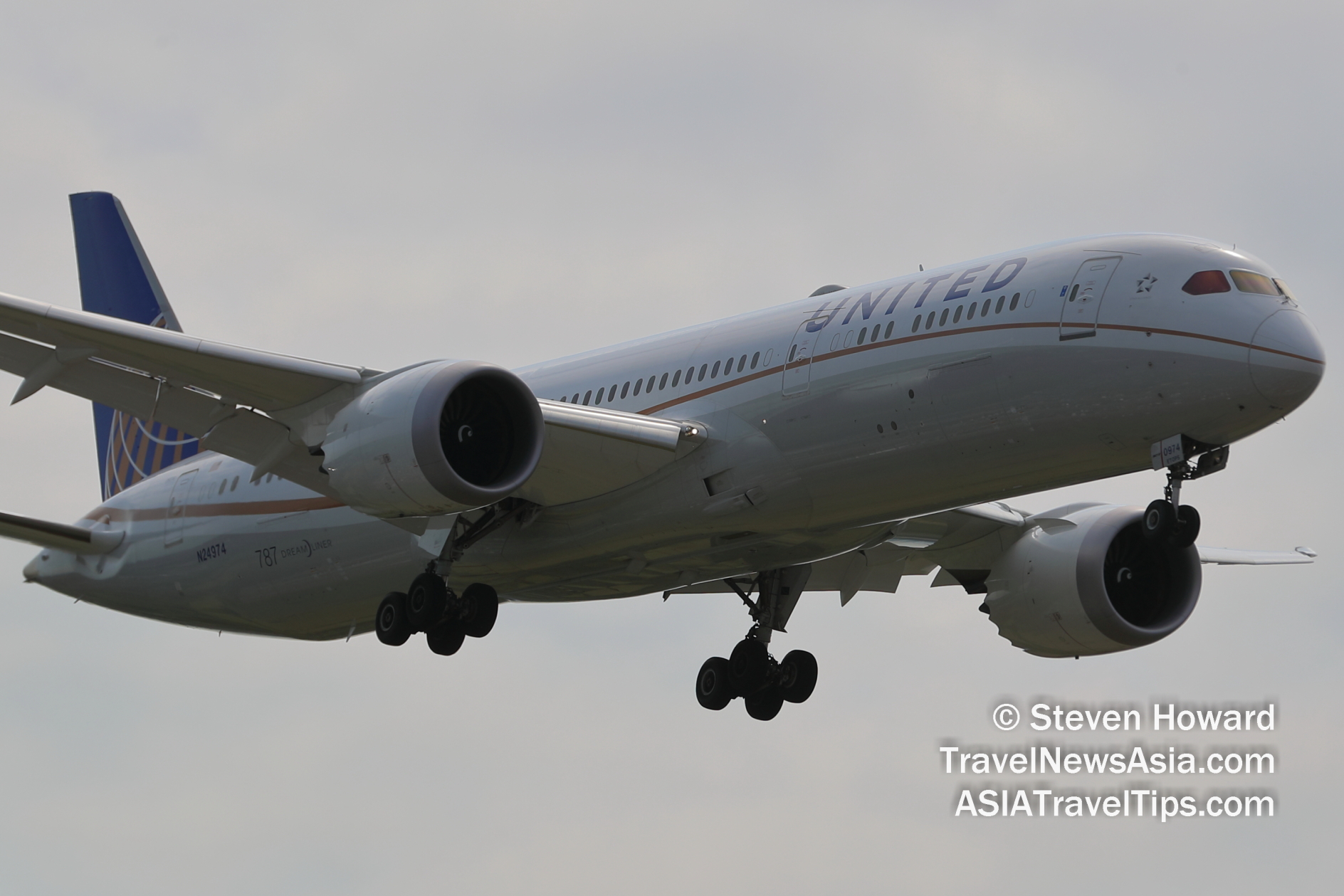 United Airlines Boeing 787-9 reg: N24974. Picture by Steven Howard of TravelNewsAsia.com
Approximately
100 planes of the new widebody order are expected to replace older
Boeing 767 and Boeing 777 aircraft, with all 767 aircraft removed
from the United fleet by 2030, resulting in up to an expected 25%
decrease in carbon emissions per seat for the new planes compared
to the older planes they are expected to replace.
The deal with Boeing is also is expected to lead
to increased hiring. The airline hired 15,000 people in 2022 and
is on track to add another 15,000 next year.
"This order solves for our current widebody
replacement needs in a more fuel-efficient and cost-efficient way,
while also giving our customers a best-in-class experience," said
Gerry Laderman, United's EVP and Chief Financial Officer. "And if
the future of long-haul flying is as bright as we think it will
be, United is able to capitalize on those opportunities by
exercising these new widebody options – I look forward to the
incremental margin and earnings these aircraft will generate."
Additionally, United continues to upgrade
the interiors of its existing fleet. More than 90% of the
carrier's international widebodies now feature the United Polaris
business class seat, as well as United Premium Plus seating with
upgrades for the remaining aircraft scheduled for completion by
summer 2023.
United will also retrofit 100% of its mainline,
narrow-body planes with its signature interior. About 100
aircraft are scheduled to be completed in 2023 with the remaining
expected to be completed by the end of 2025.
Latest HD video interviews: Amari
Watergate Bangkok – 4K Video Interview with Sukamal
Mondal, Area GM, Bangkok Riverside Fest 2023 – 4K Video
Interview with Frederic Kolde, Business Travel Trends in Asia Pacific – Video Interview with Brett Thorstad, Sabre.
[ad_2]

Source link