VFS Global Reports 576% Increase in Visa Applications in Thailand
[ad_1]


(27/02/23)
 VFS Global has reported that Thailand recorded a five-fold surge in visa
applications in 2022, highlighting an accelerated rebound in
travel sentiments.
Applications across all visa categories, from 1 January 1 to 31 December
2022, grew by 576% when compared to
the whole of 2021 owing to unexpected surge in demand with
the opening of international borders and resumption of regular
international flights across many markets. Applications were
however, still below the pre-pandemic levels.
"The
significant surge in visa applications from Thailand indicates
that travellers' confidence has rebounded faster than expected.
With the peak outbound travel season expected to start in March,
we expect this momentum to grow further and therefore those
planning foreign travel outside of Thailand must apply for visas
well in advance to avoid the last-minute rush," said Kaushik Ghosh,
Head – Australasia, VFS Global.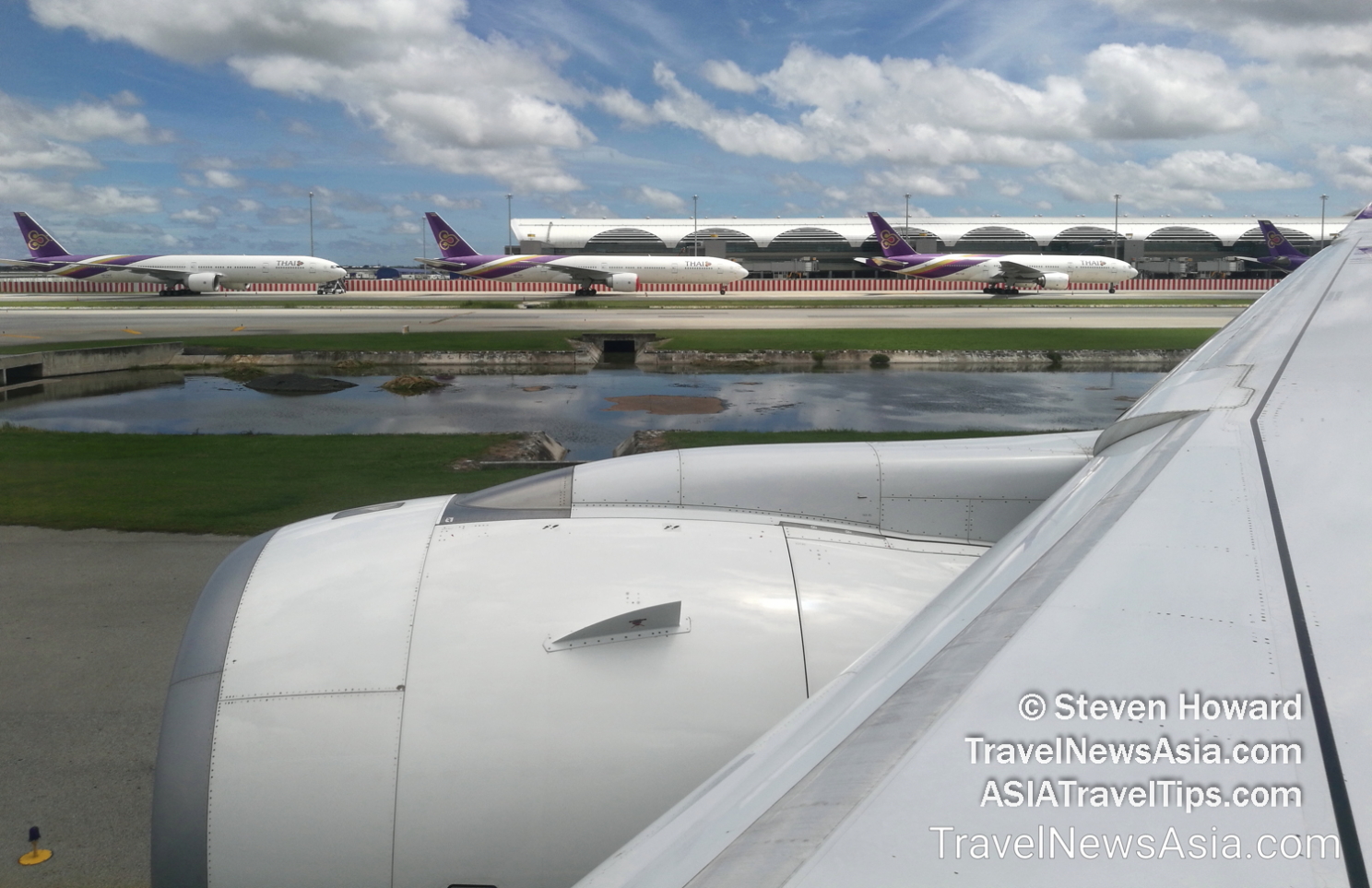 Aircraft at Suvarnbhumi Airport (BKK) near Bangkok, Thailand. Picture by Steven Howard of TravelNewsAsia.com
Strong demand for
personalised services was a defining trend noticed in the 2022
visa application patterns.
VFS Global recorded a strong uptick in customised services such as the Visa At Your Doorstep (VAYD)
service that empowers applicants to complete their entire visa
application submission process from the comfort of their homes, or
any other location of their choice.
Through this premium service,
customers can submit their applications, enroll for biometrics
and get their passport couriered back to their location of choice.
VAYD bookings in 2022 more than
doubled on 2019's figures, growing by 27% on 2021.
VAYD services are
available in Thailand for travel to Austria, Czech Republic,
Croatia, Denmark, Finland, Germany, Italy, Switzerland and the UK.
"An increasing number of discerning travellers are opting for
contactless and personalised services post the pandemic," added Ghosh.
"With
health considerations becoming a key determining factor in foreign
travel, many applicants prefer services such as VAYD or the
Premium Lounge that enable a seamless visa application experience
without having to stand in a queue. Going forward with the digital
consumer experience evolving rapidly, we foresee higher demand
for such premium services that enable customers to prioritise safe
travel."
VFS Global caters to 23 sovereign
governments from Thailand comprising Australia, Austria, Canada,
Czech Republic, Denmark, Finland, India, Italy, Germany, Japan,
Netherlands, New Zealand, Norway, Singapore, Sweden, Switzerland
and the UK.
Latest videos: Noise
Cancelling Ear Plugs for a Perfect Night's Sleep,
Running
Lights – Lumefit Premium 360° Reflective Vest Review,

Steven Howard Outlines Travel News Asia's Video and Podcast Plans
for 2023, Amari
Watergate Bangkok – 4K Video Interview with Sukamal
Mondal, Area GM.
[ad_2]

Source link