World's first self-driving bus gets in gear through UK government, industry funding
[ad_1]

Hoping that the business of self-driving vehicles could add tens of billions to the UK economy, the UK government has embarked on a financial support programme with industry worth £81m to support transport and technology firms in their quest to develop self-driving transport technology.
The grants – comprising £42m in government funding matched to the same tune by industry consortia – are being made available for seven projects from around the UK focusing on commercial self-driving passenger and freight services. They are part of the Centre for Connected and Autonomous Vehicles Connected and Automated Mobility (CAM) programme designed to help British companies seize early opportunities to develop experimental projects into offerings ready for the market.
The UK government believes this could revolutionise public transport and passenger travel, better connect rural communities, and reduce road collisions caused by human error. The government cited research predicting that 40% of new UK car sales by 2035 will have self-driving capabilities, with a total market value for connected and automated mobility worth £41.7bn to the UK, creating nearly 40,000 skilled jobs in connected and automated vehicle (CAV) technology.
Under a proposed "safety ambition" for self-driving vehicles to be as safe as competent and careful human driver, vehicles will need to meet certain standards to be allowed to "self-drive" on the roads throughout the lifetime of the vehicle. Organisations overseeing self-driving vehicles could face sanctions if standards are not maintained.
"Self-driving vehicles including buses will positively transform people's everyday lives, making it easier to get around, access vital services and improve regional connectivity," said UK transport secretary Mark Harper, commenting on the award. "We're supporting and investing in the safe roll-out of this incredible technology to help maximise its full potential, while creating skilled jobs and boosting growth in this important sector."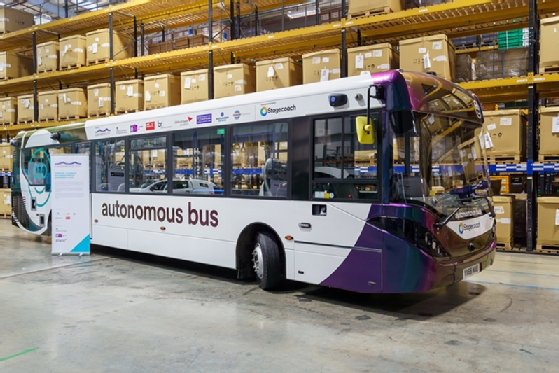 Funded projects will be expected to demonstrate a sustainable commercial service by 2025. Among the winning projects is the CAVForth II–Fusion Processing project, which has been awarded £10.4m to launch the world's first operational, full-sized, self-driving bus service with Stagecoach and Alexander Dennis in Edinburgh, which should be in action by spring.
Other winners include: Project Cambridge Connector–Greater Cambridge Partnership, which has gained £17.4m to trial on-demand, self-driving taxis, to complement existing transport services in parts of Cambridge; Sunderland Advanced Mobility Shuttle–City of Sunderland Council, with £6m to build and trial a self-driving shuttle service to the University of Sunderland and the Sunderland Royal Hospital; Project Harlander–Belfast Harbour, which has £11m to deploy a self-driving shuttle service around Belfast Harbour; Multi-Area Connected Automated Mobility–Conigital, with £15.2m to establish a remote driving control hub, and to oversee self-driving vehicles operating in Solihull and Coventry, with the NEC and local councils; V-CAL–North East Automotive Alliance, which has £8m to roll out self-driving and remotely piloted HGVs between the Vantec and Nissan sites in Sunderland; and Hub2Hub–HVS will use £13.2m to develop a zero emissions, self-driving HGV with Asda.
Almost £600,000 is also being awarded for feasibility studies, looking into how self-driving technology could improve public transport in four parts of the UK. These projects will look into potential routes where automated vehicles could operate exclusively from other traffic, to relieve congestion on the A414 through Hertfordshire and Essex, parts of Eastern Cambridge, Birmingham and Solihull, and Milton Keynes.
"The CAM sector is of crucial importance to the UK, with the potential to deliver safer, cleaner and more efficient transport systems across a wide range of settings," added Innovate UK executive director for Net Zero, Mike Biddle.
"This latest, multi-year round of government's commercialising CAM funds builds on the success of previous collaborative R&D programme, stimulating innovation to ensure the UK is at the forefront of the transition towards the commercialisation of self-driving services."
[ad_2]

Source link