Yotel to Open 237-Room Hotel in Geneva, Switzerland
[ad_1]

(22 Mar 2022, 10:47 +07)
 Yotel will open its first hotel in Switzerland
later this year.
Located in the Lake Geneva area, the 237-room
Yotel Geneva Lake, scheduled to open in Q4 2022, will offer the
group's signature technology and design features.
Check-in will be available via self-service
stations or the Yotel app, and mobile devices can be used as
SmartKeys for a seamless journey.
Each room will accommodate Yotel's adjustable
SmartBed, sensory mood lighting and Smart TVs which guests can
connect to their mobile devices.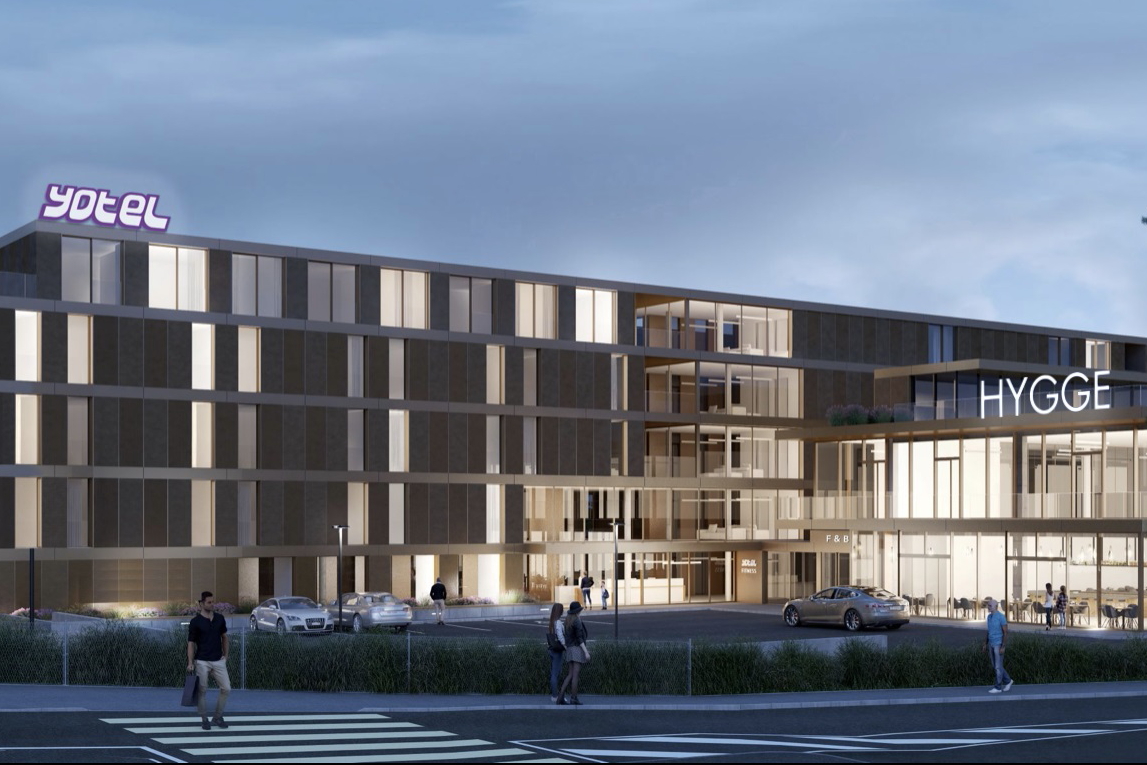 The 237-room Yotel Geneva Lake and HYGGE
The hotel is owned by Conamo SA and asset managed
by Stoneweg SA, while the architects for the projects are ris +
partenaires, and Creneau International was selected as the
interior designer for the hotel's public spaces.
"We are delighted to be adding to our overall
growth strategy by opening Yotel Geneva Lake in the metropolitan
region of Lake Geneva," said Hubert Viriot, CEO, Yotel. "The hotel
will offer easy access from all parts of Romandie and feature fun
and futuristic design coupled with state-of-the-art F&B and ample
co-working and meeting spaces … Yotel Geneva Lake will not only
revolutionise travel in the region but, in our innovative spirit,
offer the ultimate hospitality hub for both business and leisure
travellers alike."
At the heart of Yotel Geneva Lake will be HYGGE,
an entertainment, meeting and co-working destination developed by
one of the leading food and beverage operators in the Lake Geneva
region, Caviar House Airport Premium – Switzerland.
Covering over 2,000sqm (21,500 sqft), HYGGE will
feature a 24/7 indoor and outdoor Danish-inspired restaurant, bar
and café, cutting-edge meeting facilities, and ample co-working
space.
Featuring contemporary Nordic architecture, the
space is designed to constantly evolve to accommodate everything
from intimate dinners to large events, including sporting
showcases, weddings and product launches.
Other facilities at the property will include a
1,000 sqm (10,700 sqft) fitness centre which will also offer
memberships to residents and workers in the area.
"HYGGE will be Switzerland's first gastronomy
destination inspired by the Danish concept of hygge, providing
mouth-watering dining experiences in a cosy atmosphere and at an
affordable price," said Peter G. Rebeiz, Chairman & CEO, Caviar
House Airport Premium – Switzerland. "HYGGE will also offer
extensive meeting and co-working spaces, featuring the latest in
computer technology and telecommunication – perfect for supporting
global business meetings, organise sophisticated events, and an
ideal environment for freelancers, entrepreneurs and small
companies to work and socialise."
[ad_2]

Source link