ClearBank appoints Mark Fairless as CFO in drive for growth
[ad_1]

The former M&G, Santander, and Barclays executive will support ClearBank's accelerated growth in the UK, Europe and internationally

In addition to leading the bank's finance team, Fairless will also sit on ClearBank's UK Board and Executive Committee
London, UK, 17th January 2023 – ClearBank Ltd., the enabler of real-time clearing and Embedded Banking for financial institutions, today announced the appointment of Mark Fairless as Chief Financial Officer, subject to regulatory approval.
In addition to leading ClearBank's finance team, Mark will be an Executive Director on ClearBank's UK Board and a member of the Executive Committee. He will play an important role in supporting ClearBank's continued growth in the UK, Europe and internationally.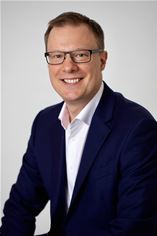 Mark Fairless
The appointment comes at a pivotal time for the business with ClearBank Ltd. reaching profitability in 2022. Off the back of this success, the business expects to roll out a range of new products and services, as well as launch into Europe later this year, with other markets to follow.
Mark joins ClearBank from M&G, where he was most recently CFO of the M&G Heritage Business. With over 17 years' experience in financial services, Mark has previously held senior positions at Santander UK and Barclays Investment Bank. In May 2022 he also became a finance trustee of Bore Place (Home of Commonwork Trust), a non-profit organisation committed to exploring ways of living sustainably which runs education programmes for schools and disadvantaged young people.
"I believe strongly in the potential of ClearBank to drive innovation within financial services, and of the significant opportunity that lies ahead. 2023 is set to be a hugely important period for the business," said Mark Fairless, CFO at ClearBank. "I've joined at the perfect time and cannot wait to help ClearBank achieve its sizable ambitions."
"Mark joins us at a truly exciting time for ClearBank, as we build on the achievements of 2022 and make progress on our growth ambitions for 2023. Mark will bring a wealth of global knowledge, expertise, and experience to the ClearBank team that will be critical to our future success," said Charles McManus, CEO at ClearBank.
-ENDS-
About ClearBank
ClearBank is a purpose-built, technology-enabled clearing bank. Through its banking licence and intelligent, robust technology solutions, ClearBank enables its partners to offer real-time payment and innovative banking services to their customers.
ClearBank is authorised by the Prudential Regulation Authority and regulated by the Financial Conduct Authority and the Prudential Regulation Authority (Financial Services Register number: 754568).
Visit www.clear.bank for more information.
PR Contacts
For ClearBank:
CCgroup
Cait Córdova / Daniel Lowther
[email protected]
[ad_2]

Source link