Marriott Opens Second St. Regis Hotel in Indonesia
[ad_1]


(12/12/22)
 Marriott has expanded its portfolio of luxury
hotels with the opening of the St. Regis Jakarta in Indonesia.
The hotel is located in the heart of the city's Kuningan, Sudirman and Thamrin
central business districts, within an exclusive enclave comprising
of foreign embassies, government and commercial spaces, as well as
upscale retail.
Soekarno Hatta International Airport is
approximately 45 minutes away by car.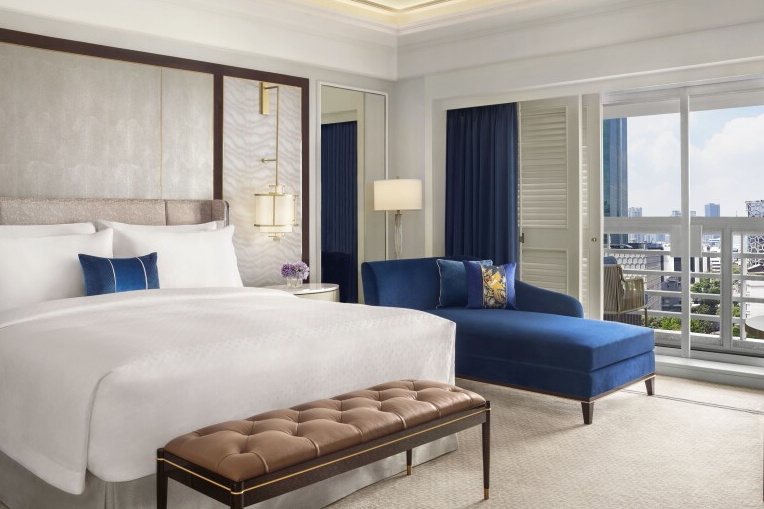 Deluxe Room at the St. Regis Jakarta
"When we think about luxury, we think about a legacy of shared
memories that transcends generations. Our aspiration is for the
St. Regis Jakarta to be that theatre of memories and a theatre of
culture where the symphony of Indonesia's cultural refinements –
design, music, and art – creates extraordinary spaces for the
next-gen and multi-gen connections, conversations, and
celebrations," said Shirley Tan, Chief Executive Officer, Rajawali
Property Group.
The design of the St.
Regis Jakarta was conceptualized by the New York-based
interior designer Alexandra Champalimaud and inspired by
Indonesia's rich musical traditions.
Guests are greeted in the lobby by a
kinetic chandelier titled "Sound of Light", which was created by
celebrated Czech glassmaker Lasvit and is synchronized with music
by Indonesian composer Andi Rianto.
The installation produces a
shimmering light that dances across surfaces and spaces,
showcasing the distinctive soundscapes of Indonesia and creating an
unique welcome for arriving guests.
The St. Regis Jakarta features 282 guest rooms, including 28 spacious suites ranging from
75 to 187 square meters, each featuring a private balcony.
Facilities at the hotel include a swimming pool; a
variety of F&B outlets; more than 2,500 sqm of dedicated event and
meeting space – including a ballroom that has a capacity of more
than 1,000 people; a spa; and a fitness centre.
"The opening of The St.
Regis Jakarta is the latest chapter in the marvelous history of
St. Regis, unveiling the best address where Jakarta's luminaries
can gather for private teas, midnight suppers, and glamorous galas
in this vibrant city," said Marc Handl, General Manager, The St.
Regis Jakarta. "We are looking forward to serving our guests in
the finest of these traditions, beautifully complemented by
exceptional Indonesian spirit, style and hospitality."
The St. Regis Jakarta is the second St. Regis
hotel to open in Indonesia after the St. Regis Bali which opened
in September 2008.
Latest HD video interviews: Amari
Watergate Bangkok – 4K Video Interview with Sukamal
Mondal, Area GM, Bangkok Riverside Fest 2023 – 4K Video
Interview with Frederic Kolde, Business Travel Trends in Asia Pacific – Video Interview with Brett Thorstad, Sabre.
[ad_2]

Source link