Qatar Airways Launches Flights to Kano and Port Harcourt in Nigeria
[ad_1]

(07 Mar 2022, 12:08 +07)
 Qatar Airways has launched four flights per week
to Kano (KAN) and thrice weekly flights to Port Harcourt (PHC),
with both services operating via the Nigerian capital, Abuja.
Flights to Kano will operate every Monday,
Wednesday, Friday and Sunday. Flight QR1431 is timed to depart
from Doha (DOH) at 02:50 and arrive in Kano (KAN) at 11:10. The
return leg, flight QR1432, is scheduled to leave Kano (KAN) at
16:50 and arrive back in Doha (DOH) at 04:10.
Flights to Port Harcourt will operate every
Tuesday, Thursday and Saturday. Flight QR1433 is slated to depart
from Doha (DOH) at
02:50 arrive in Port Harcourt (PHC) at 11:20. The return leg,
QR1434, is scheduled to leave Port Harcourt (PHC) at 16:40 and
arrive back in Doha (DOH) at 04:10.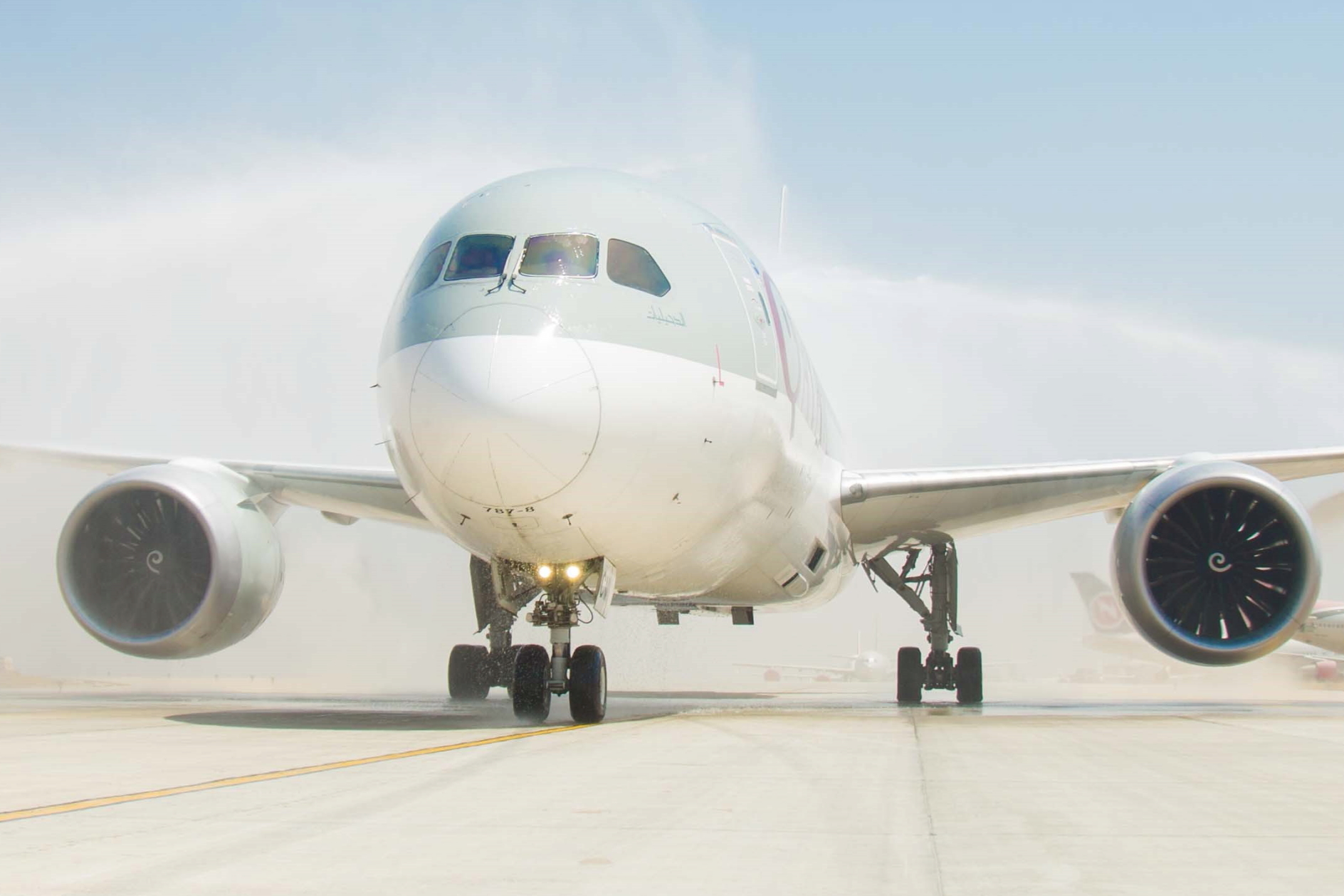 Qatar Airways Boeing 787 being greeted with a traditional water cannon salute.
Qatar Airways Group Chief Executive, Mr. Akbar Al Baker, said, "This is a defining moment
for Qatar Airways, with Nigeria becoming our most connected market
in Africa with the launch of our new services to Kano and Port
Harcourt. We see tremendous opportunity in the region and these
new routes are an important catalyst to further boost trade and
commerce in the country. Our presence in Nigeria now covers four
key markets and is a real affirmation of our support to the
country. Qatar Airways has stayed steadfast in its commitment to
Africa throughout the pandemic, operating continuously and
reliably to Nigeria. We have since increased frequencies and grown
our network, considerably, improving connectivity to and from the
continent and providing travellers with more choice and
convenience."
In Nigeria, the airline offers double-daily
flights to Lagos and now operates daily services to Abuja.
The two
new routes, (Kano and Port Harcourt), bring the number of flights
Qatar Airways operates between Africa and Doha to 188 weekly
flights serving 28 destinations across the continent.
Minister of Aviation, Federal Republic of Nigeria,
Hon. Sen. Hadi Sirika, said, "The new flights provide important
travel and trade links between Nigeria and the world. As the
largest economy in Africa, this enhanced global connectivity via
the new Qatar Airways service will provide a vital network to move
goods and people, as we recover from challenges of the pandemic
and prioritise growth. Kano and Port Harcourt are both important
to this recovery. This new service also reinforces the close ties
between Nigeria and Qatar, and it paves the way to explore new,
untapped opportunities."
Passengers flying to and from Kano will benefit from Qatar Airways' generous baggage allowances which
provides for up to 46kg in Economy class, split over two pieces,
and 64kg, split over two pieces, in Business Class.
[ad_2]

Source link