Sepang in Talks to Extend MotoGP Contract Until 2026 as Petronas Becomes Title Sponsor
[ad_1]

(24 Mar 2022, 11:53 +07)
 The
Sepang International Circuit in Malaysia has signed an agreement
with Dorna Sports to remain on the FIM MotoGP World
Championship calendar until at least 2024, with all parties
already in talks to extend the deal until 2026.
Dorna Sports has also expanded its partnership with
Petronas, signing a new deal that will see the Malaysian
energy giant become title sponsor.
Starting from 2022, the
event will be officially named the Petronas Grand Prix of
Malaysia, a substantial scale up from its existing role as
the Official Fuel Supplier to the Moto2 and Moto3 grid.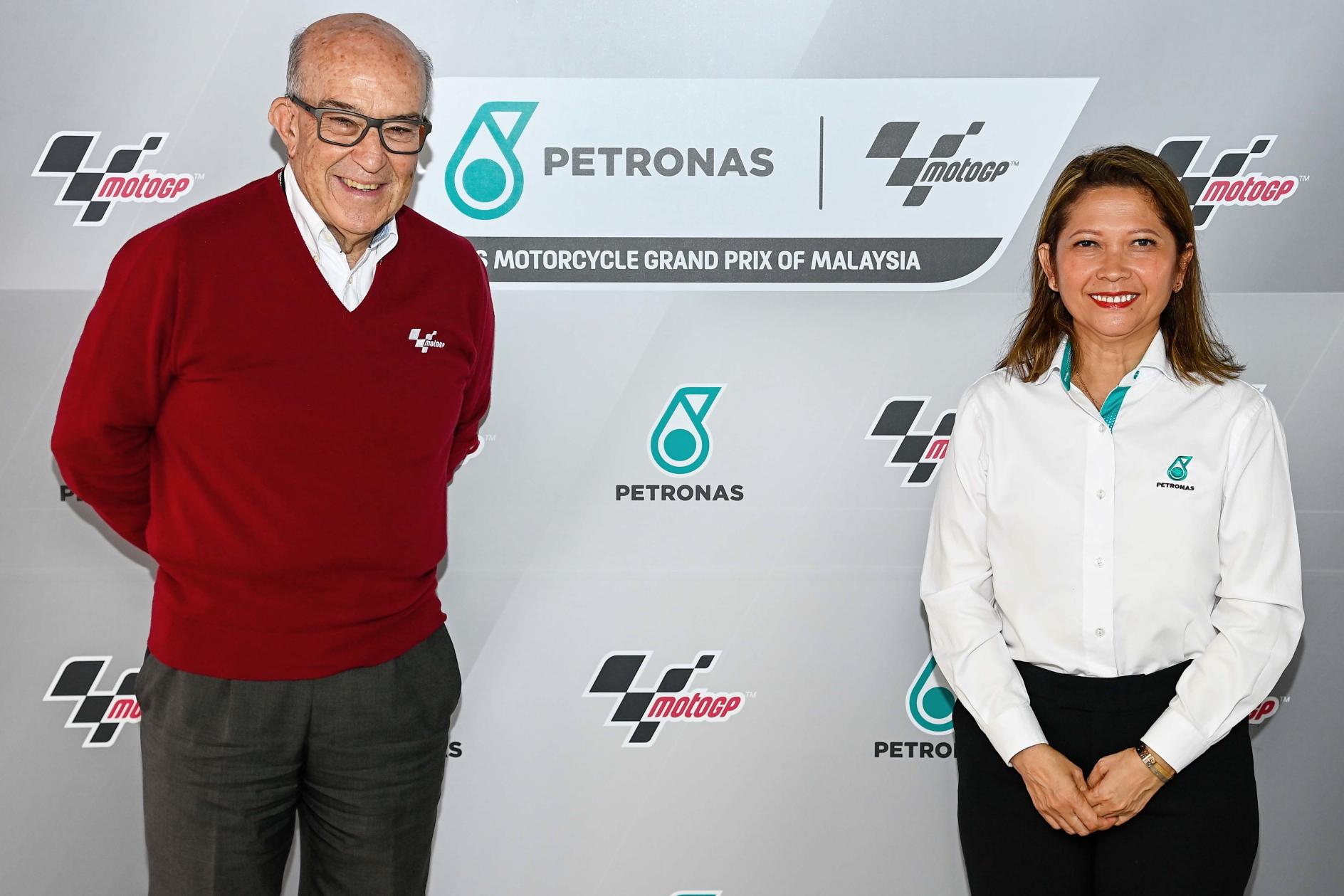 Carmelo Ezpeleta, Dorna CEO (left), with Datin Anita Azrina Abdul Aziz, Senior GM of Group Strategic Communications, Petronas.
Datin Anita Azrina Abdul Aziz, Senior General
Manager Group Strategic Communications Petronas, said, "Petronas is
extremely honoured to be the title sponsor of the Grand Prix of
Malaysia, largely considered a key sporting event in Malaysia and
Asia. The title sponsorship offers a unique opportunity for
Petronas to connect with the sport's massive fanbase and showcase
our brand and products. More importantly, through this strategic
partnership with Dorna Sports, we hope to help re-energise
Malaysia's sports tourism for the benefit of Malaysians and
visitors as the world collectively rebounds from the pandemic."
On the calendar since 1999, Sepang has staged more than 20 motorcycle Grand Prix
and quickly became a fan and rider favourite with its convenient
location just outside Kuala Lumpur.
Azhan Shafriman Hanif, CEO of Sepang International
Circuit, said, "With record breaking crowds year on year, we look
forward to welcoming the fans back to Sepang after a two-year
break due to the pandemic. In line with our #WelcomeHome theme,
this year is about the revival of international motorsports with
more unique offerings to the fans."
The Petronas Grand Prix of
Malaysia will this year take place from 21-23 October.
Carmelo Ezpeleta, CEO of Dorna Sports, said, "We're very
happy to confirm that the Grand Prix of Malaysia will remain on
the calendar until at least 2024. Malaysia is a vital market for
MotoGP and it is a pleasure to race at Sepang and witness the
incredible passion of the fans who fill the grandstands. After
proving able to return to Malaysia for pre-season testing this
year, we couldn't be more eager to come back and race. We all look
forward to the Grand Prix of Malaysia and seeing our Malaysian
fans for many more seasons."
See also:

Exclusive Travel Industry Interview with Kurt Ekert, President of
Sabre.
[ad_2]

Source link