Telent ensures mission-critical communications continue for Avon Fire and Rescue Service
[ad_1]

2nd March 2023 – Unfailing critical communications for Avon Fire and Rescue Service (FRS) will continue thanks to a major network upgrade by communications specialist Telent, it has been announced today.
Telent designed, tested and deployed a future-proof solution to replace the back-up Paknet service connecting the station end to the control room. Station End systems are the critical link between control rooms and fire stations, firefighters and fire appliances and are connected using a network that has both primary and secondary back-up bearers.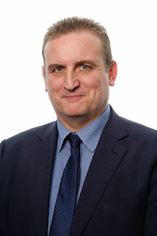 Barry Zielinski
Avon FRS turned to Telent when the technology it was using for secondary back-up bearers was scheduled to be withdrawn from service. The new solution ensures firefighters can respond to an emergency even if the main network goes down. Telent also upgraded the organisation's fire coders – the core hardware technology that mobilises crews.
"Avon FRS provides emergency and protection services to a population of over one million people and we helped the organisation replace existing systems that were imminent for retirement to ensure its fire stations remain connected," said Barry Zielinski, Telent's Operations and Services Director. "Telent is the partner of choice for emergency services organisations looking to work alongside a company with the knowledge, expertise and vision to innovate services in the years ahead."
Telent's solution, based on a powerful router device from technology partner Cradlepoint, uses a mobile network data service for over-the-air connectivity and is equipped with a multi network SIM. This allows the most appropriate mobile service provider to be automatically selected, eliminating any coverage issues in rural and remote based stations. It is also compatible with the ESN Connect service and ready for the future transition to the Emergency Services Network.
"Our collaboration with Telent has allowed us to upgrade and replace our legacy technology for our mission-critical station end communications in readiness for the transition to future technologies," said John Craig, Station Manager at Avon Fire and Rescue Service. "Working with Telent has provided us with the complete confidence that our firefighters have access to unfailing and continuous communications to effectively and diligently undertake their daily duties."
Many secondary bearers across the UK have been rapidly approaching end-of-life and need upgrading and replacing. PSTN is scheduled to be retired in 2025 and mobile operators announced the phased withdrawal of 3G and 2G networks from 2023.
Read the full case study here: https://telent.com/case-studies/telent-deliver-station-end-refresh-for-avon-fire-rescue-service-in-preparation-for-esn-transition. To find out more information about Telent, please visit: https://telent.com/.
ENDS
About Telent
Telent is a leading technology company and specialist in the design, build, support, and management of the UK's critical digital infrastructure, drawing on decades of experience in mission critical communications and technology. We enable organisations to create, improve and operate the ICT and communication networks that their businesses and operations depend on.
Telent are at the heart of many of the UK's and Ireland's best-known organisations, with a strong focus on key areas including transport, emergency services, network providers and the public sector. Our expertise, accreditations and knowledge make us a trusted partner for organisations at the forefront of the digital revolution.
Clients include Transport for London, National Highways, Maritime and Coastguard Agency, Ambulance Radio Programme, Virgin Media, Network Rail, Openreach, Merseyside Fire and Rescue and Hinkley Point C.
[ad_2]

Source link