Victor Pinchuk Foundation Opens UKRAINE IS YOU Project on the occasion of the World Economic Forum 2023 in Davos
[ad_1]

17 January 2023, Davos: Victor Pinchuk Foundation and PinchukArtCentre, in cooperation with the Office of the President of Ukraine, today opened the UKRAINE IS YOU project, on the occasion of the World Economic Forum 2023. The project showcases Ukrainians defending freedom in the face of Russian aggression.
Several world leaders attended the opening of the project. They stressed their admiration for the bravery of the Ukrainian people, and the importance of holding Russia accountable for its brutal full-scale invasion of Ukraine on 24 February 2022 and all the war crimes it has committed ever since. Speakers at the opening included Victor Pinchuk, founder of Victor Pinchuk Foundation; Andrzej Duda, President of Poland; Andriy Yermak, Head of the Office of the President of Ukraine (online); Pekka Haavisto, Minister of Foreign Affairs of Finland; Daria Herasymchuk, Advisor to the Commissioner of the President of Ukraine on Children's Rights and Rehabilitation; Oleksandr Radchuk, teenager who survived a Russian filtration camp, and Ivan Fedorov, Mayor of Melitopol. The discussion was moderated by Bjorn Geldhof, Artistic Director of the PinchukArtCentre.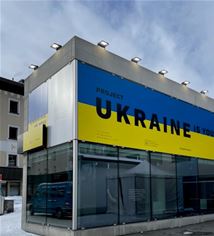 Ukraine Is You project
Opening the UKRAINE IS YOU project, Victor Pinchuk said: "What happened in Ukraine can happen to you, that's why we invite you to be Ukrainian for a moment here. Join Ukrainians in the moment of liberation, in the empowering moment of restoring freedom, in the moment of the liberation of Kherson, for example. But also join Ukrainians in their moments of suffering, because it's happening every day and every hour."
He expressed belief that this exhibition will contribute to Ukraine's victory: "This war has many fronts. Of course, the main one is the military front, where our heroes risk their lives and fight. But the cultural front is also very important, and I believe that art has potential to be a very efficient weapon. Maybe, it will convince decision makers to send necessary weapons much faster."
Recalling Russia's recent Kh-22 missile strike on Dnipro, Victor Pinchuk wondered: "How many Ukrainians must die before our enemy accepts the defeat?" In this regard, he called for the international community to quickly give Ukraine weapons capable of intercepting the missiles they currently cannot down, which have been destroying Ukrainian critical and civilian infrastructure for months, such as Patriot SAM systems.
Taking the floor, Andrzej Duda said: "It is very important to show all the participants of this World Economic Forum, these people who have come here from all over the world, the truth about the Russian invasion of Ukraine, about Russians' behavior during the invasion and the terrible war."
"People responsible for Russian war crimes in Ukraine, for everything that is taking place on Ukrainian soil today, in Ukrainian villages, for what happened in Bucha and other places, have to be held accountable in courts. And this criminal accountability has to be exercised, not only for Ukraine, but to stop such aggression from happening to all of us" he stressed.
According to Duda, the war in Ukraine doesn't differ from World War II: "It is not a delicate war of the 21st century or a war on TV screens. No, this is a brutal war, a horrible war, during which people lose their lives, they lose their livelihoods, they lose hope. This has to be stopped, Russians have to be stopped. This war can end only in one way – through the defeat of Russians, from forcing them out of Ukraine. We have to make sure that it happens."
Speaking via video-link Andriy Yermak, noted: "No victory is complete without the restoration of justice, which means that the guilty must be punished and the damages that were caused must be compensated. The repetition of the crime must be prevented." That is what lies at the core of the peace formula initiated by Ukrainian President Volodymyr Zelenksyy.
Ukraine has registered over 80,000 war crimes committed by Russia, Yermak stated. "Each criminal will be held accountable," he stressed.
He called for a special international tribunal to be set up to investigate Russia's war crimes. "The special tribunal would be able to progress much faster than the International Criminal Court. Therefore, we call on the international community to support the creation of such a tribunal as quickly as possible."
Pekka Haavisto said: "We are sure that Ukraine will win this war. But Ukraine, we know, will not win this war alone. You need support and we continue to try to mobilize that support."
In this regard, the Finnish minister announced the preparation of the 12th military assistance package for Ukraine.
"We have to focus on Ukraine, we have to make sure that this war comes to an end, that President Zelenskyy's 10 point peace plan is implemented and that all support from the EU and the UN is mobilized towards Ukraine. Thank you for your fight!" Haavisto said.
Ivan Fedorov shared his experience of resistance in the city under Russia's occupation. According to his information, up to 60,000 people are still living in Melitopol and have become hostages of Putin's regime. "Today, Melitopol is the largest prison in Europe. It is nearly impossible to leave it. And there are other occupied cities and towns that our enemy has turned into prisons and torture chambers," Fedorov said.
Oleksandr Radchuk shared his ordeal of surviving one of Russians' filtration camps, which saw him forcibly separated from his mother and deported to Russia. He told the audience that Russians told him he would never see his mother again, but that during a visit to the hospital for treatment for an injury, a kind member of medical staff lent him a phone and he was able to call his grandmother in Ukraine – who worked tirelessly with the Advisor & Commissioner of the President of Ukraine on Child's rights and Rehabilitation, to get him out of Russia. The audience was informed that he has unfortunately not yet been reunited with his mother.
UKRAINE IS YOU invites guests to be Ukrainian for a moment, while warning that what is happening to Ukraine is equally a threat to others. It is an experience enabling others to share some moments of power experienced by Ukrainians defending freedom, in the face of the suffering that many Ukrainians were, and still are, subjected to, during the Russian aggression.
At the core of the project is an exhibition with film works by Yarema Malashchuk and Roman Khimei from recently liberated Kherson, showing its beauty, as well as the threats and suffering resulting from the Russian siege. There is also a movie by Oleksii Say built from thousands of photographs and witness statements describing Russian war crimes in Ukraine, complemented by informative maps and statistics.
Complementing this experience, an ongoing 3-day discursive program brings together global thinkers, experts and people from the ground in Ukraine. They will discuss the assault on Ukraine, Russian war crimes and also the hope and empowerment of defending and reconquering life and freedom.
UKRAINE IS YOU is located at Promenade 59, Davos, as a private event on the occasion of the Annual Meeting of the World Economic Forum, in a space shared with Ukraine House Davos. (Tuesday, 17 January – Thursday, 19 January)
Details of the discursive programme of the project are available at https://www.ukraineisyou.org/.
To view the video of the opening event, and hear these speeches and testimonies for yourself, please visit our YouTube channel.
[ad_2]

Source link