AvaTrade Becomes Official Trading Partner of Aston Martin Aramco Cognizant Formula One™ Team
[ad_1]

Award-winning broker has secured a strategic partnership with iconic British Formula One™ team.
LONDON, UK., 8th February, 2023 – AvaTrade, the award-winning, established and renowned online trading broker, is thrilled to announce its exciting new partnership with Aston Martin Aramco Cognizant Formula One™ Team (AMF1). The Silverstone-based racing team is competing in the most prestigious automotive racing series in the world and is in year three of a journey aimed at establishing its position at the front of the grid.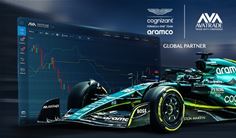 AvaTrade x Aston Martin
AvaTrade's partnership with AMF1, one of the famous brands in racing, is built on speed and innovation, as well as advanced technology and precision. AvaTrade is committed to revolutionising the online trading industry by providing a trustworthy and user-oriented trading environment that empowers users to invest and trade with confidence. Like the bespoke racing cars built and developed by AMF1, the AvaTrade platform offers advanced technology and innovation, in addition to providing full scale support for all its traders – the same way in which the pit crew at AMF1 supports the drivers in their aim for success. AvaTrade and AMF1s partnership is based on the core values that can make a successful trader as well as a competitive Formula One™ team like AMF1: constant excellence in every aspect, pushing the boundaries of speed and innovation, advanced technology, and success.
Dáire Ferguson, CEO at AvaTrade, said: "We are delighted to announce this partnership with AMF1. Traders and sports teams competing at the highest levels require a number of similar characteristics. They need to be driven, opportunistic and dynamic, whilst availing of professional support to get to the top of their game. This is why we're so excited to be working alongside AMF1, a team which shares our views and outlook on what is required to achieve success.
"As a global leader in online trading, we thrive to achieve success through calculated moves, efficiency, and ground-breaking technology, all of which are embodied by AMF1. We are dedicated to empowering our loyal traders to reach the top of their game, just like the talented racers, Fernando Alonso and Lance Stroll, do for AMF1.
"As one of the most regulated and trusted brokers in the industry, we are delighted to have AMF1 representing our brand and working with us to promote our commitment in providing traders with cutting-edge technology and the highest level of regulation to ensure they reach financial goals and lead the rest of the field in the race."
Jefferson Slack, Managing Director – Commercial & Marketing, AMF1 added: "It is hugely exciting to welcome AvaTrade as the Official Trading Partner of AMF1. As a racing team, we strive to improve ourselves continuously and stay ahead of the competition. But we cannot do this alone, we are supported by leading engineers, an expert pit crew, cutting-edge technology, and state-of-the-art tools which allow us to compete at the very pinnacle of motorsport. This draws parallels with the team at AvaTrade, which provides its traders with skilled expert advisors and personal account managers to guide them to maximise their full potential in their trading journey. As we seek to maximise our driving potential, AvaTrade seeks to drive investors trading potential."
Sean Ryan, CEO, Pan Sports commented: "Congratulations to these two powerhouse brands. This really is the joining of two companies that have so much in common – from integrity and history, to brand alignment and exciting plans on the horizon. We cannot wait to see what the future brings for both AvaTrade and Aston Martin F1 Team."
This partnership with AMF1 will enhance AvaTrade's position as a gold standard, world-leading online broker, which is focused on providing its clients with the best training, technology, risk management tools, and educational guides needed to be successful, ensuring this is with speed, efficiency and innovation.
Please see the official announcement video here: https://www.youtube.com/watch?v=hJeOH3OJOFI
For further information, please visit www.avatrade.com or www.astonmartinf1.com
About AvaTrade
AvaTrade is a leading online trading broker that supports investors of all kinds through a range of platforms, including MT4/5, AvaTradeGO mobile app, WebTrader, AvaOptions, DupliTrade and others. Traders benefit from tight spreads, a personal account manager, multilingual support, 1000+ instruments, and market-leading risk management tools such as AvaProtect, alongside real-time market access and immediate execution. Accounts are totally segregated and transactions fully encrypted. AvaTrade is regulated in the EU, Japan, Australia, Abu Dhabi and BVI, while holding a strong presence in Canada through a partnership with Friedberg Direct, a member of Canada's Investment Industry Regulatory Organisation.
About AMF1
The legendary Aston Martin marque first raced in Formula One in 1959 and returned to the sport in 2021 under the leadership of Canadian entrepreneur Lawrence Stroll. With a team of passionate people at its heart, and a talented squad of drivers – including double World Champion Fernando Alonso and Canada's Lance Stroll – this is a team with both a rich heritage and a fresh perspective. Alongside collaborative and strategic partners, the Silverstone-based team is bringing new energy to the sport with a determination to shake up the order and compete at the sharp end.
Media Contacts:
Daniel Levy, Jamie Sarao
Finn Partners for AvaTrade
E: [email protected]
T: +44 20 7046 8354
[ad_2]

Source link