Cathay Pacific Reports November Traffic; Begins First Class Rollout with LHR Flights
[ad_1]


(15/12/22)
 Cathay Pacific carried 526,827 passengers in
November, an increase of 652.1% compared with November 2021, but a
79.9% decrease compared with November 2019.
The month's revenue passenger kilometres (RPKs)
increased 565.5% year-on-year, down 73.7% versus November 2019.
Passenger load factor increased by 51.7 percentage
points to 78.5%, while capacity, measured in available seat
kilometres (ASKs), increased by 127.2% year-on-year, a decrease of 73.1% compared with November 2019.
In the first 11
months of 2022, the number of passengers carried increased by
220.5% against a 33.9% increase in capacity and a 211.9% increase
in RPKs, as compared with the same period for 2021.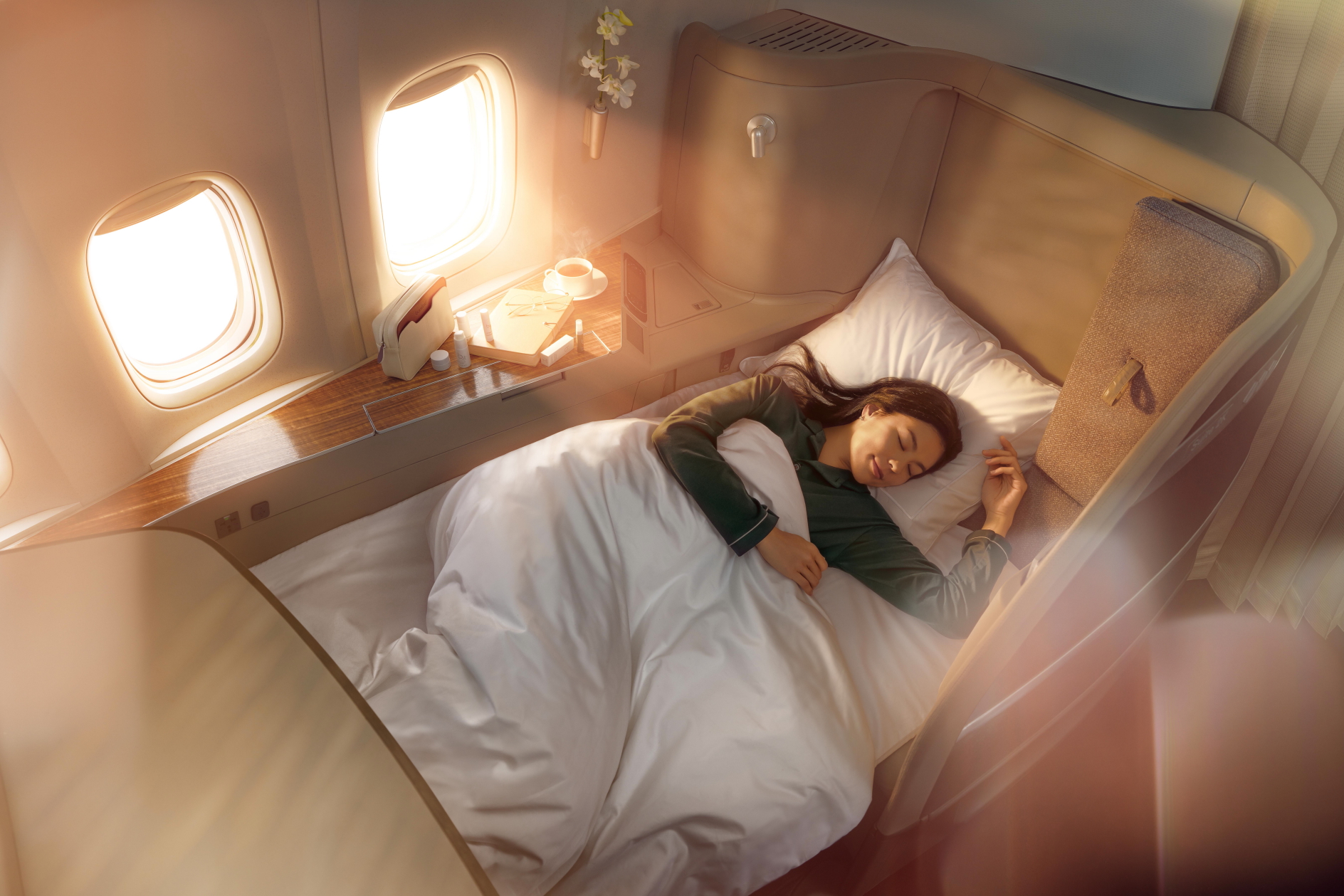 Cathay Pacific's new First Class cabin is now available on CX251/CX252
"We continue to see positive signs for our travel
business. Sentiment and demand for travel out of Hong Kong
continued to improve in November. We also saw increased visiting
friends and relatives (VFR) traffic into Hong Kong, particularly
from long-haul origins such as North America, Europe and the South
West Pacific. Transit traffic via the Hong Kong hub also improved
as we grow our network of destinations," said Ronald Lam, Chief
Customer and Commercial Officer. "On average, we carried about 17,600 passengers a
day in November, up from around 13,000 in October. Passenger
flight capacity increased about 16% versus the previous month.
Overall, we operated 27% of pre-pandemic capacity levels in
November. We continued to add more flights to more
destinations last month, in particular to and from popular places
in Japan as well as Southeast Asia, which saw huge demand from
Hong Kong. As expected, Japan was our top destination in terms of
passenger numbers while load factor on these flights stayed high
at 86%. November also saw the resumption of passenger flights to
Denpasar (Bali), Tokyo (Haneda) and Zurich."
Cathay Pacific Cargo
The airline carried 103,092 tonnes of cargo last
month, a decrease of 23.8% compared with November 2021, and a
42.1% decrease compared with the same month in 2019.
The month's
cargo revenue tonne kilometres (RFTKs) decreased 27.8%
year-on-year, down 38% compared with November 2019.
Cargo load factor decreased by 15.6 percentage points to 66.9%,
while capacity, measured in available cargo tonne kilometres
(AFTKs), decreased by 11% year-on-year, down by 36.4%
versus November 2019.
In the first 11 months of 2022, the tonnage
decreased by 12.6% against a 20.7% decrease in capacity and a
30.6% decrease in RFTKs, as compared with the same period for
2021.
"On the cargo side, demand remained flat in
November compared with the previous month despite it being the
start of the traditional peak cargo period. We carried 103,092
tonnes of cargo last month, approximately 6% less than in October,
while cargo flight capacity was down about 2% in November compared
with the previous month. Overall, we operated about 64% of
pre-pandemic capacity levels," Mr. Lam said. "Production activities in the Chinese Mainland and
trade flows remained constrained. While we did witness a mild
uptick in e-commerce movements into the Americas around the Black
Friday shopping period, a similar surge on regional lanes was more
short-lived. Conversely, movements of perishable goods from
South America as well as Australia and New Zealand were relatively
active. As such, we operated five non-scheduled services from
Darwin, Australia carrying fresh seasonal produce into North Asia
to capitalise on this activity. Building on the experience gained over the past
few years and the evolving needs of the pharmaceutical industry,
last month we refreshed our pharmaceuticals solution under a new
name, Cathay Pharma. This has seen us enhance our customer
proposition, making it easier for customers to identify all of the
possible options for pharmaceutical shipments in a more
streamlined way."
Looking Ahead
The Hong Kong government removed the Amber Code restrictions
under the Vaccine Pass for inbound persons entering Hong Kong
this week.
"As we approach the festive Christmas and New Year
holiday period, travel demand continues to improve. We are further
increasing our passenger flight capacity and resuming more
destinations, including Sapporo, Fukuoka, Penang and Dhaka in
December, as well as Phuket and Nagoya in January next year. We
expect that short-haul routes to leisure destinations such as
Japan and Southeast Asia will remain strong, continuing on into
the Chinese New Year holiday peak as well," added Mr. Lam. "We are also extremely excited for our customers
to be able to experience our elevated, premium First class service
again, which is now available on our prime London Heathrow flight,
CX251/CX252. First class will be coming to our Paris flight,
CX261/CX260, from 18 January 2023 and our Tokyo (Haneda) flight,
CX548/CX549, from 1 February. Customers departing Haneda Airport
can also enjoy our signature Cathay Pacific Lounge, which reopened
earlier this month. Regarding cargo, our expanding passenger travel
network will provide our cargo customers with more destinations
and greater frequencies to choose from as well. However, we expect
headwinds in the air cargo market to continue in the short term
until supply chains in the Chinese Mainland become more stable and
inventory levels in key consumer markets reduce."
Cathay Pacific's New First Class
Cathay Pacific has partnered with Bamford to provide First
Class passengers with 600-thread count sustainably sourced cotton bedlinen, men's and women's natural
skincare products, and amenity kits.
Customers can
select their choice of pillow from the pillow menu and, when they
are ready for their turndown service, cabin crew will transform
their space into one of the softest beds in the sky.
First Class passengers can dine at their preferred
time choosing from a wide variety of dishes that include not just
hearty favourites, but more nutritious wellness options and
authentic Hong Kong dishes.
The airline has sourced some of the best
ingredients from producers that support sustainable and ethical
practices, including pork from Dingley Dell Farm, certified
sustainable Nordic Skrei cod, organic free-range eggs from Sunny
Queen Farms in Australia, and more.
Customers flying First Class from Hong Kong before
31 December will also be able to enjoy Cathay Pacific's special
Christmas-themed menus.
The First Class dining service is complemented by
contemporary tableware, including chinaware from Noritake, cutlery
from Robert Welch and restaurant-range wine glasses from Riedel.
To celebrate the return of its First Class
service, Cathay Pacific is introducing a celebratory limited
edition Krug 2004 Vintage Champagne from the House of Krug as well
as a special celebratory edition of Blanc de Lynch-Bages 2018 and
Château Lynch-Bages 2000. Available in First Class on flights to
and from London in December, this special offering celebrates the
airline's long-standing partnership with House of Krug and Château
Lynch-Bages, with whom it has partnered since 1986 and 1989,
respectively.
First Class will return to Cathay
Pacific's Paris flight CX261/CX260 on 18 January 2023, followed
by Tokyo (Haneda) flights CX548/CX549 from 1 February 2023.
Latest HD video interviews: Amari
Watergate Bangkok – 4K Video Interview with Sukamal
Mondal, Area GM, Bangkok Riverside Fest 2023 – 4K Video
Interview with Frederic Kolde, Business Travel Trends in Asia Pacific – Video Interview with Brett Thorstad, Sabre.
[ad_2]

Source link