New Zealand Beat Argentina to Win Los Angeles Sevens
[ad_1]


(27/02/23)
 New Zealand
beat Argentina 22-12 in the Cup Final of the Los Angeles Sevens on
Sunday, becoming the first men's team to win two tournaments in
the HSBC World Rugby Sevens Series 2023.
Leroy Carter was the hero for the All Blacks Sevens on day two, scoring five tries, including two in the showpiece
match, to help his side win their second successive title.
In winning in the USA, the All Blacks Sevens avenged their defeat
to Argentina in their home Cup Final in Hamilton last month and
solidified their position at the top of the standings.
With
six of eleven 2023 Series tournaments played at the end of the HSBC
Los Angeles Sevens, New Zealand have amassed 107 points, 21 more
than Los Pumas Sevens, who are now second.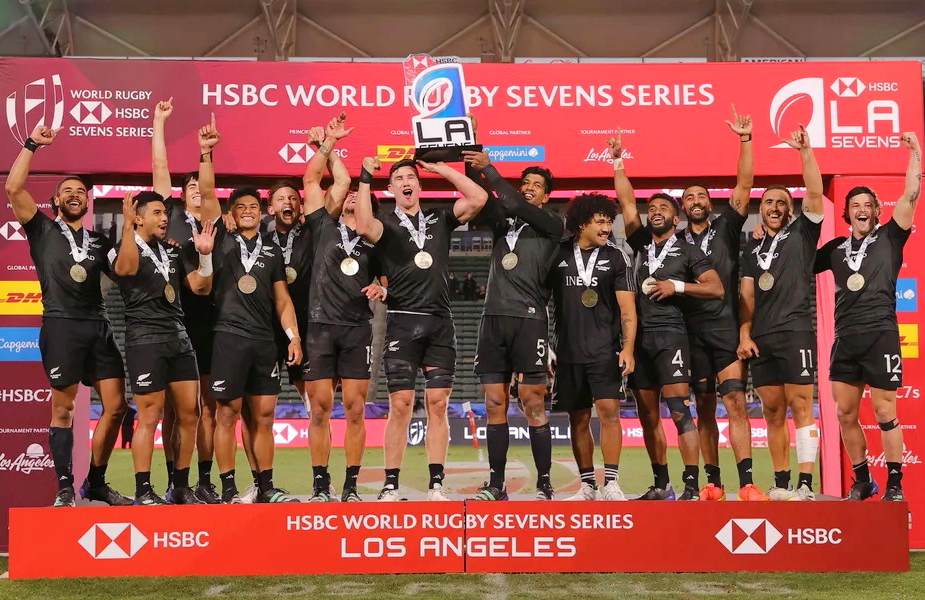 New Zealand beat Argentina to win Los Angeles Sevens 2023
"We've been
working hard for a few years now," said New Zealand captain, Sam Dickson. "We made a few finals last year and now we're finally clicking.
That hard work's paying off."
Moses Leo opened the scoring in the Cup
Final, outpacing Marcos Moneta to score in the left corner and
give the All Blacks Sevens a 5-0 lead.
That soon became
12-0 as Carter crossed for the first time, converted by Akuila
Rokolisao, who had notched his 60th Series try in the 33-12
semi-final win against Australia.
The All Blacks Sevens had
conceded a 12-point lead in losing the Hamilton Cup final to
Argentina in January, but any nerves were eased in first-half stoppage time as Carter went over again.
Los Pumas Sevens
hit back with tries from Tobias Wade and Agustin Fraga to set up a
tense final two minutes, but it was New Zealand who held their
nerve.
Brady Rush made sure of the victory and the
tournament as he produced a stunning dummy to fool the Argentine
defenders and canter over.
"It was a different weekend than normal with the
delays on the first day due to lightning, so we just had to adjust
on the go and we got through the first day and we managed to come
here today and play pretty well," said Dylan Collier, New Zealand
forward. "This season is extremely competitive. There's eight
teams in the running to get in the top four and full credit to all
the teams for how much everyone has improved. Every game is tough,
and we knew that if we did well this weekend, and next weekend, we
can pull away a little bit and create a bit of a buffer and it
will go a long way to winning the World Series."
Fiji were
undone by indiscipline in their 20-17 Cup semi-final defeat to
Argentina, but it looked as though they were cruising to victory
in the bronze final.
Anasa Qaranivalu stormed through the
Australian defence to score the first try of the match within the
opening minute at the Digital Health Sports Park.
Rokoua
Rasaku crossed the whitewash to double the Fijian advantage before
half-time and it was 21-0 in the ninth minute when Manueli
Maisamoa cut through before handing the ball off to Rauto
Vakadranu to score his first Series try.
Australia had less
than five minutes to mount a comeback, but they gave it their all
as Maurice Longbottom, Dietrich Roache and Nathan Lawson all touched down.
Ultimately, though, Longbottom's missed
conversion from his own score – which hit the crossbar from the
right touchline – proved decisive and enabled Fiji to hold on to
win bronze.
"These games are crucial," Fiji coach, Ben Gollings said. "They've regrouped well, and it was a big
performance."
The men's teams move straight on to Vancouver,
Canada and join the women's teams for the next round of the HSBC
World Rugby Sevens Series 2023 on 3-5 March.
The men's pools for Vancouver have HSBC Los Angeles winners
New Zealand in Pool A alongside Cape Town champions Samoa, Spain
and the United States. Pool B includes silver medal winners
Argentina with South Africa France and Japan. Bronze medal winners
Fiji will meet Great Britain, Uruguay and Kenya in Pool C, while
Australia lead Pool D alongside Ireland, Canada and Chile.
The women's pools for Vancouver have New Zealand, Fiji, Great
Britain and Colombia in Pool A. Reigning Series champions
Australia will be looking to bounce back in Pool B against France,
Japan and Spain. Pool C sees the USA together with Ireland, Canada
and Brazil.
Next weekend's tournament marks the first time
the women's Series will be played inside BC Place Stadium
alongside the men in downtown Vancouver.

Rugby pictures:
Pictures from 2019 Cathay Pacific / HSBC Hong
Kong Sevens,

Pictures from 2018 Cathay Pacific / HSBC Hong Kong Sevens,

Pictures from 2017 Cathay Pacific / HSBC Hong Kong Sevens,

Pictures from 2016 Cathay Pacific / HSBC Hong
Kong Sevens,

Pictures of Cathay Pacific / HSBC Hong Kong Sevens 2015,

Pictures of the Asia Rugby Sevens Olympic Games Qualifier in Hong
Kong,

Pictures of Singha Thailand Sevens 2015,

Pictures from the 2013 British & Irish Lions Tour in Hong Kong,

Pictures of Hong Kong Sevens 2014,

Pictures of Hong Kong Sevens 2013,
Pictures
of Chartis Cup 2012 and
Pictures of
Cathay Pacific / HSBC Hong Kong Sevens 2012.
Latest videos: Noise
Cancelling Ear Plugs for a Perfect Night's Sleep,
Running
Lights – Lumefit Premium 360° Reflective Vest Review,

Steven Howard Outlines Travel News Asia's Video and Podcast Plans
for 2023, Amari
Watergate Bangkok – 4K Video Interview with Sukamal
Mondal, Area GM.
[ad_2]

Source link